Nektar Technology, Inc., California, April 4th, 2019 - Nektar's new SE25 and SE49 entry-level MIDI controller keyboards combine compact footprints with essential control for music production setups.

SE25 and SE49 build on Nektar's experience in designing MIDI controller keyboards and make Nektar DAW control available at a new price point.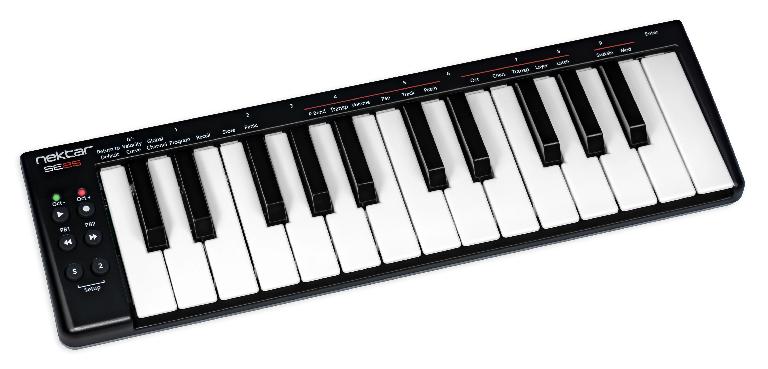 The SE25 mini MIDI controller weighs in at 400 grams, is USB-powered and has roughly the same width as a 13" laptop. It is ideally suited for mobile applications – and today's restrictive airline carry-on baggage policies. The newly developed keybed sports 25 velocity-sensitive mini keys with a defined and expressive playing feel. Six buttons give direct access to features such as sustain, pitch bend or modulation and – for the first time in this product category – Nektar DAW control. What's more, the "Part Two" function lets you change to a second MIDI-channel, layer a sound on top or shift octave and transpose at the touch of one button. This unique feature extends the SE25's reach quite literally beyond its minuscule size.

The SE49 MIDI controller stands out from the crowd with its black and red multi-color housing. It offers 49 velocity-sensitive full-size keys, pitch bend, and modulation wheels as well as a footswitch connector. Four buttons and one 30 mm fader provide access to system settings and Nektar DAW control. The SE49 is ideal for anyone looking for a solid and easy-to-use keyboard controller with enhanced workflow.
The SE25 and SE49 are USB-compliant, USB-powered and work with any MIDI music software on Mac, Windows or iOS (requires Apple camera kit). Additionally, Nektar DAW Integration software for no less than 12 DAWs (including Logic, Cubase, Reason, Bitwig or Studio One) speeds up the workflow by providing transport control, track or patch switching directly from the hardware. What's more, even a license for Bitwig 8-Track is included to get users going right away, making both keyboards complete and very affordable entry-level solutions.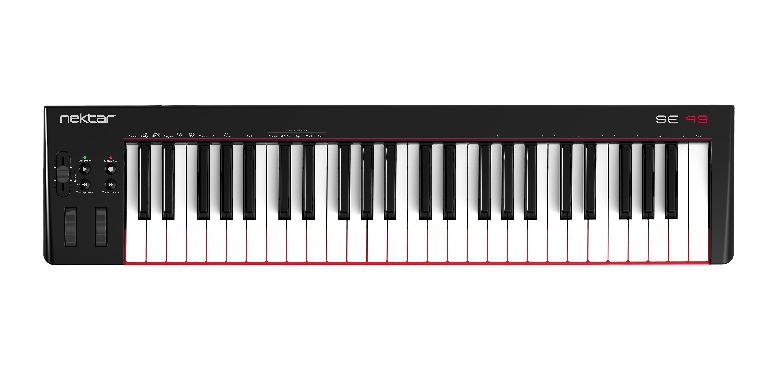 FEATURES AND SPECIFICATIONS
SE25 mini MIDI controller
25 velocity-sensitive mini keys
3 velocity curves (default, soft, hard)
6 buttons: Octave Up/Down, PB1/PB2, Sustain, Part 2
PB1 & PB2 buttons (assignable) to: Pitch Bend, Transpose, Vol, Pan, Track* or Patch* change)
PartTwo button: Assignable to Octave, MIDI Channel, Transpose, Layer and Latch (momentary)
"S" button: Assignable to Sustain or Modulation
Transport control via secondary button function (requires Nektar DAW Integration)
USB Class Compliant. Works with any DAW or MIDI music software.
Connections: Micro USB port (USB-powered)
SE49 MIDI controller
49 full-size velocity-sensitive keys (synth action)
4 velocity curves plus 3 fixed
4 buttons (Octave Up/Down, Transpose Up/Down), 1 x 30 mm Fader
Transpose buttons (assignable) to: Transpose, MIDI Channel, Program, Track* or Patch* change)
Wheels: Pitch Bend and Modulation
Transport control via secondary button function (requires Nektar DAW Integration)
USB Class Compliant. Works with any DAW or MIDI music software.
Connections: Footswitch, USB port (USB-powered)
Pricing and availability (MSRP):
SE25 – 49.99 USD / 43.99 GBP / 49.99 EUR (Available from mid April 2019)
SE49 – 69.99 USD / 59.99 GBP / 69.99 EUR (Available from mid April 2019)