December, 2014'"This new course by Dream Theater's keyboard wizard, Jordan Rudess, is shot on location in Rudess' private studio, and takes you deep into the world of modern harmonic progressions. Jordan explains the theory while demonstrating the construction of various kinds of chords and their relationship to baselines, melodies and motifs as he leads you through the fundamental architecture of cutting edge pop/rock harmonies.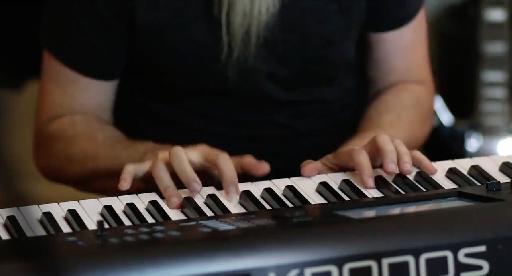 Jordan is a brilliant teacher and he generously shares his vast knowledge gleaned from years of performing and collaboration with the best musicians on the planet. Whether you play keyboards, guitar, bass or compose songs or dance music, you will find that the musical ideas demonstrated in this harmony course will inspire you to break out of your comfort zone and experiment with a new kind of harmonic language.

Shot in multi-cam, with lots of closeups of Jordan's hands and with onscreen, notated, musical exercises, this course is designed for every musician from beginner to advanced. The exercises are also available as a downloadable PDF resource file directly from the link at the top of this page. So sit back, explore and enjoy learning the harmonic universe of interplanetary rock wizard Jordan Rudess!
Watch this introductory video from Jordan's course on harmony here:
Watch complete video course at AskVideo here:
https://www.askvideo.com/course/music-theory-301-jordan-rudess-harmony-explored