Good news for fans of Eurorack synthesis who like to keep their gear virtual. Friedrichs Audio is offering its most in demand module for VCV Rack at its absolute lowest price for a limited time. Floats is on sale for only $10 until Monday, April 15th. People who use Floats regularly to build creative modulation into their patches love the snappy response of the envelope as well as being able to modulate the shape of the curve smoothly with other modulation sources.
The latest update to Floats adds the comparator and hold functions from the venerable Serge SSG module. This only adds to the plethora of use cases any single DUSG can do at once! Floats also comes with another simpler module that can be used in places where less complex modulation is desirable. This module also retains the unique time-warping, waveshaping function that many modified Serge DUSG panels added as a stock feature. Whether you are looking to learn more about modulation in a modular context, or add an ideal version of a hardware module to your setup, you can't go wrong with Floats.
What Is Floats?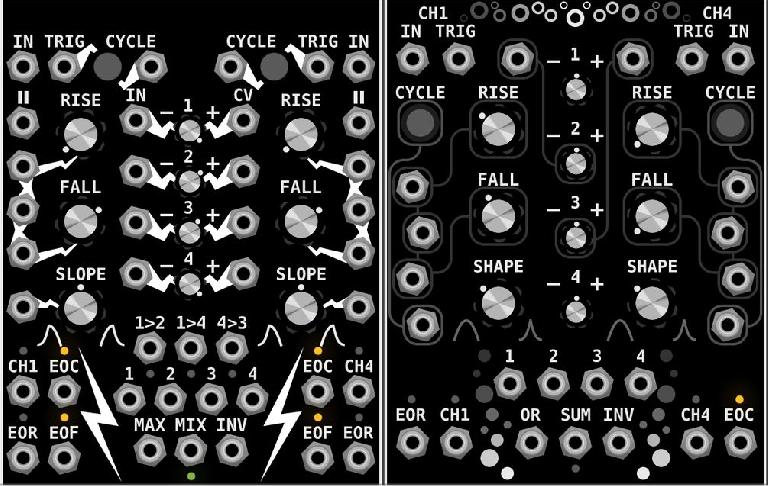 Floats is a module that can become anything with creative patching, but its three main uses are as an envelope, LFO, and audio rate oscillator. As an audio rate oscillator, Floats is antialiased through the whole audio range resulting in a stable and warm timbre. As an LFO, Floats can reach times as low as 8.5 hours per cycle! Floats can also be used as a mixer, logic comparator, clock source, envelope follower, low pass gate, complex oscillator, and gate delay. Those and many other uses are covered in the online manual.
Floats also fixes the common complaints musicians have with West Coast slope generators. Floats has a snappy attack time of less than 1 millisecond when the maximum fall time is set to 30 minutes while other slope generators have sluggish attack times with fall times set to 60 seconds. The shape knob only changes the shape of the oscillation, and not the rate of the oscillation. The exponential input tracks V/OCT perfectly over a 20 octave range from -10 Volts to 10 Volts.