PunchBOX is a virtual instrument designed for creating high-quality kick drum sounds.
The heart of the plug-in is comprised of four sound generators, each of them standing for a key component of the final kick sound;
Click - Sample-based, produces Kick accent
Tops - Sample-based, produces e.g. hihats, percussion and noise
Tools - Sample-based, produces almost full Kicks without sub
Kick - Sample-based or Synth-based, produces the Kick's body. The generator working as
synthesizer offers four Bass Drum generating algorithms to select from; D16 emulations of classic drum machines; 606, 808, 909 and one additional, customly designed, Sine-based percussive synthesis.
Further sound processing enables built-in FX rack equipped with 5 different algorithms working in series. The effects are re-orderable via simple drag'n'drop action and whole fx chain is fed by generators independently (with different amount set per generator).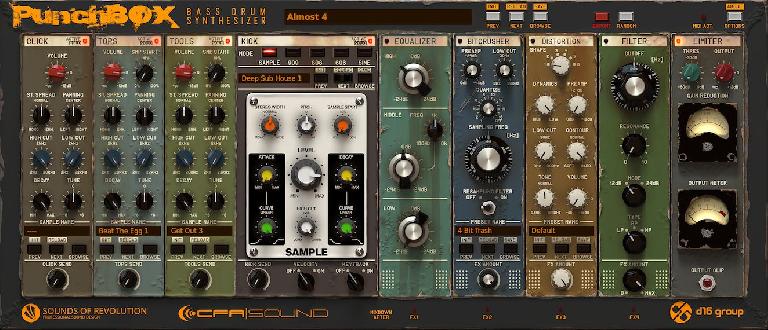 Included vast factory content was delivered by industry-standard sound designers Sounds of Revolution and CFA-Sound; A collection of 1100 samples and 800 presets suitable for pretty much all contemporary subgenres of electronic music. Additionally a user can import its own samples to expand already substantial sound source.
Format: VST, AU, AAX - 32/64-bit
Price: €79 / $89 / £60 (incl. all taxes - if applicable)
Web: http://www.d16.pl/punchbox