Superbooth16 is just 3 days away... and there' such a buzz about it, with so many big and small manufacturers getting involved. One of these, audiowerkstatt have an announcement that'll be available to demo in Berlin.
The audiowerkstatt mini-midi-step-seq is a MIDI-sequencer (no gate/CV), which is based on a classic analog step-sequencer:
Programming with potentiometers (no endless-dial and no detent)!
Only one track!
No pattern-storage!
No internal clock (only usable as MIDI-slave)!
No display!
It is optimized for live use, especially jam-sessions, but can also be used to give you new ideas, if you are stuck in your main sequencer.
All settings can be changed while it's running
2x 8-step-patterns, that can be chained to a 16-step-pattern
Possibility to jump from one pattern to the other
Possibility to edit the pattern that is playing or the other pattern
LEDs next to the knobs display their status
One pattern can be copied to the other
Several steps can be put together, to get different note-lenths
First step and last step can be adjusted
Clock-divider can be set in 8 steps (1/1 to 1/32)
Velocity can be set in 7 steps (1 to 127)
Special mode for random velocity
Range can be set in 7 steps (13 notes to 128 notes)
Special mode where the knobs are used to program pitchbend
The lowest note can be set in 8 steps to transpose (C0 bis C7)
The gate-length can be set in 16 steps
Possibility to get polyphonic patterns similar to "chord memory"
Can be pushed forward or backward a step or midi-clock-tick
Can restart the sequencer without stopping the master-clock
All settings are stored after powering down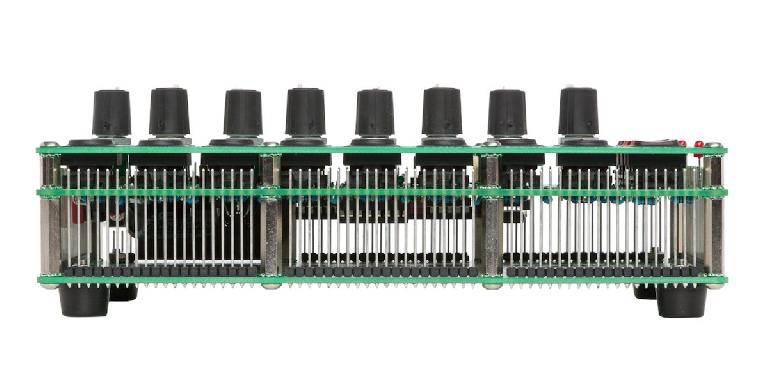 Price is currently set at either €329 inc. tax / €276,47 (for export only)
Web: http://www.audiowerkstatt.de/en/mini-midi-step-seq
It can be tested, as well as all other audiowerkstatt products, at Superbooth16 at booth BL260.