Akai Launch MPC Live: Full Details Here
Designed for studio and stage, the new MPC Live is a standalone music production centre with new functionality and power over its predecessor in a portable easy to use box. No computer required.
Disregard any "leaked" info you've seen for the MPC Live. Some is accurate and some less so. Why? Because many of those sites are using leaked text which is old. We've decided to wait until the embargo time and day to give you the full official details straight from our friends at Akai Pro instead.
And without further ado, here is everything you need to know about the newly announced MPC Live.
Cumberland, RI USA (January 9, 2017) — Akai Professional, a leading manufacturer of music equipment for performers and producers, today announced the newest addition to the iconic MPC line, the MPC Live. Starting with the immersive production workflow and performance breakthroughs introduced by the MPC Touch, Akai Professional ratchets up the stakes with MPC Live by adding standalone functionality and a revised feature set empowering musicians, producers and DJs with MPCs unrivalled workflow and reimagined performance capability.
At the heart of the new MPC Live is a beautiful, full-colour 7-inch multi-touch screen, 16 amazingly responsive, velocity- and pressure-sensitive RGB pads, four touch-capacitive Q-Link controls and a large, clickable master encoder knob. Featuring multicore processing technology, 2GB of RAM and an expandable 16GB of on-board storage, Live is as powerful as any MPC that has preceded it. Thanks to a ultra-portable lightweight footprint (5.5 lbs) and battery powered operation via the internal, rechargeable lithium-ion battery, MPC Live provides an unleashed creative experience honed for expressive live performances and immersive, self-contained production – launch clips with real-time time-stretching; sample, grab, pinch & edit waveforms; program the step sequencer; record, sequence & edit audio/MIDI live; apply XY FX in real-time, and much more directly from MPC Live's gesture controlled capacitive color screen.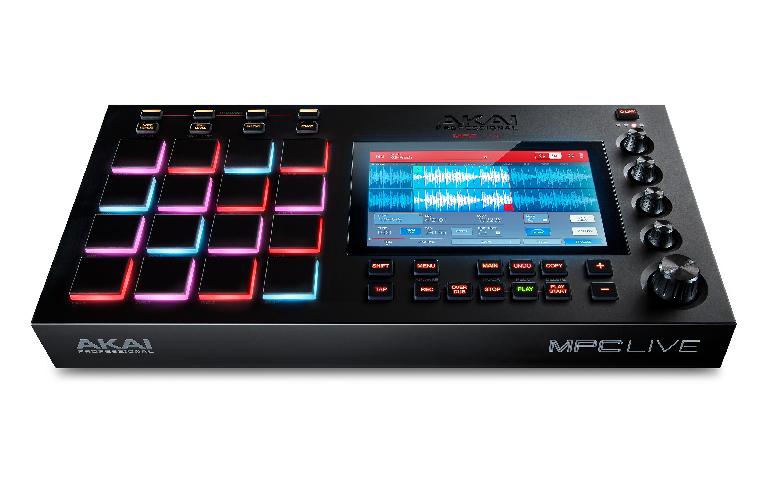 With the MPC Live, seamless integration into production and live performance scenarios is a breeze thanks to a range of conveniently-located studio-grade inputs and outputs. A 2-in/2-out MIDI interface connects to controllers and MIDI compatible sound modules, drum machines and synthesizers – the perfect solution for unprecedented control of outboard equipment using MPCs unrivalled MIDI sequencing capability. Combining two selectable audio inputs (RCA and balanced 1⁄4-ich jack), plus 6 configurable 1⁄4-inch jack outputs, MPC Live connects to virtually all studio and live equipment providing core recording, monitoring and playback functionality.
Here's how MPC Live handles audio tracks:
Powering Live is MPC Software 2.0TM, Akai Professional's reimagined update of the critically acclaimed MPC software. Capable of running natively on the MPC Live in standalone mode, MPC Software 2.0 can also be run from a Mac or PC as a plugin in all popular DAWs, or as a full-featured standalone application.
Features
Also acts as a control surface for MPC 2.0 software, compatible with Mac & PC

Internal, rechargeable lithium-ion battery

Selectable inputs: Turntable (RCA) with ground peg and stereo balanced 1⁄4-inch jack

6 configurable 1⁄4" balanced jack outputs

1/8" headphone output
2 pairs of full-size MIDI inputs and outputs

16GB of on-board storage (over 10GB of premium sound content included from leading sound

designers including CR2, TOOLROOM, Loopmasters, Capsun Pro Audio, and more)

User-expandable 2.5" SATA drive connector (SSD or HDD)

2 USB-A 3.0 slots for thumb drives or MIDI controllers

SD Card slot for loading samples and projects
"The MPC Live is a turning point for mobile producers, live performers and DJs. It truly represents a huge step forward in the product category," said Dan Gill, Product Manager for Akai Professional. "MPC Live is the most powerful MPC we've made to date and yet it's portable enough to take anywhere."
MPC Live will ship with an MSRP of £799.99 and will be available Q1 2017. For more information, visit akaipro.com.
Web: www.akaipro.com