Berlin, Germany, November 1st, 2016
Following the success of the popular Dub Machines Pack (soon to be released as expanded VST/AU plugins), Surreal Machines returns with Transient Machines, a new set of Max for Live devices aimed at bringing studio-quality transient shaping to Ableton. Modelled after the transient-shaping units essential to today's professional recording studios, Transient Machines is a versatile tool for reshaping the dynamics of drums, loops, and much more.
Designed to seamlessly integrate into Ableton (and also compatible with Push right out of the box), the Transient Machines Pack is split up into two separate devices: Impact, a multi-band drum processing channel strip, and Crack, a more compact transient shaper. While Impact is ideal for use with full-frequency material and Crack is designed to help shape individual samples and loops, both can be thought of as a contrast dial for your sound — using either device, you can quickly add more punch, make a sound more distant, dial down reverb or rattle in a recording, or achieve a more natural gating effect with your audio.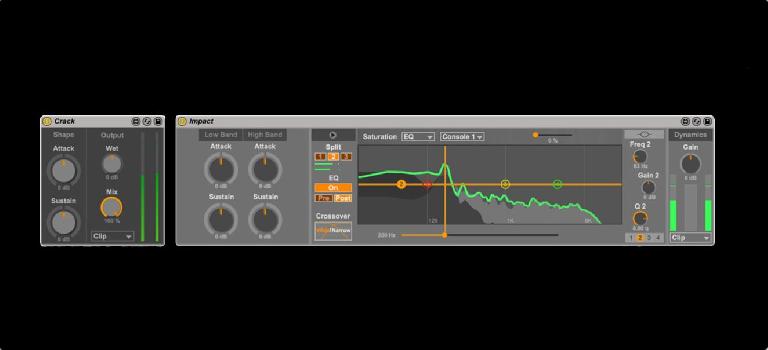 Impact
Impact is a multi-channel dynamic processor switchable between one, two or three bands of transient modification. This means that different frequency bands can be adjusted independently, so that if you want to cut the reverb tail from a snare drum, while in the same group, boost the boom of a kick drum, you could simply adjust the sustain on the mid-band and increase the sustain on the bass-band.
Crack
Crack is a more compact and streamlined transient shaper ideal for more straightforward sound-shaping purposes such as adjusting the dynamic properties of a single drum sound or quickly adjusting a loop. In addition, Crack also features Dry/Wet signal controls, enabling users to make interesting blends using both the processed audio and the original signal.
Dynamic Processing
Both Transient Machine devices include a signal chain designed specifically to process transient material, making it easy for users to add additional layers of sonic character to the sounds they've chosen to shape. As part of its dynamic processing chain, Impact includes four switchable styles of analog-modelled saturation and four-bands of parametric EQ along with a clipper, limiter and maximizer. Like Impact, Crack also features a custom limiter for peak reduction, soft analog-modeled clipping and a maximizer.
Transient Machines by Surreal machines is available immediately for $49/ €39..