Synthbox is a new polyphonic Eurorack module from 1010music that lets anyone simply connect a MIDI controller and start jamming immediately with 50 sound presets. Then for the ultimate in tonal tweakability, the built-in touchscreen provides total control for choosing and shaping waveforms, adjusting envelopes, adding modulation, applying filters, effects and composing with step sequencers.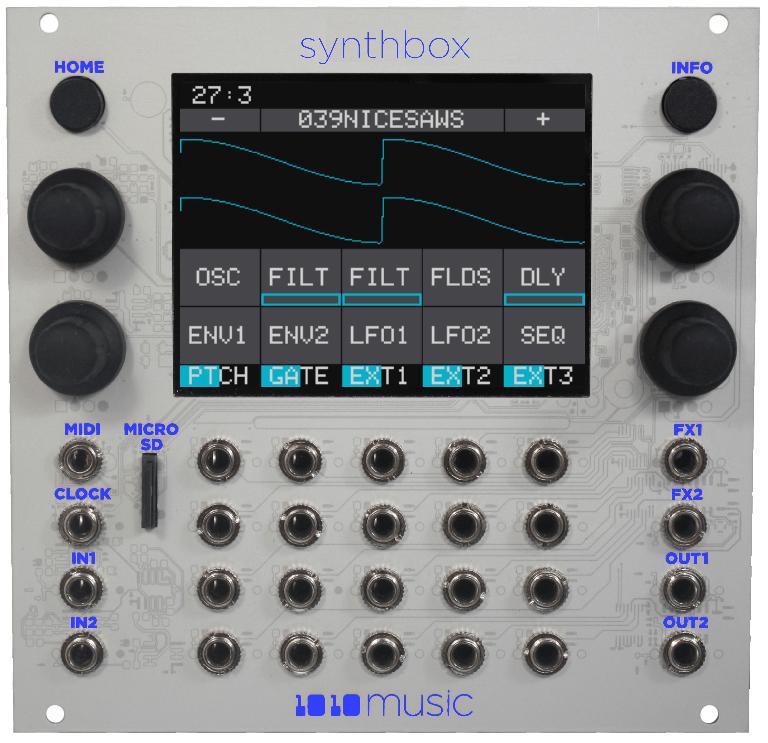 In addition, hard-wired CV inputs and external clock or MIDI sync allow easy interfacing with other Eurorack modules. Featuring an expandable library of 100 wavetables, high-quality 24-bit audio path, and versatile control - synthbox looks like a lot of fun. Check out the brief video demo below.
Here's a list of the main features:
MIDI controllable with support for velocity, pitch bend, and modulation wheel
CV controllable with pitch, gate, and 3 assignable modulators per voice
24 bit DACs and internal processing
8 wavetable oscillators, 2 per voice
4 waveform oscillators, 1 per voice
2 envelopes, 2 LFOS, and a step sequencer per voice
Dual biquad resonant filters (configurable as HP or LP)
Global flanger, distortion, and stereo delay effects
Semi-modular control
Stereo or individual voice outputs
100 wavetables
50 presets
User wavetables via WAV files and a microSD card
26 HP Eurorack compatible. +12V: 350mA, -12V: 0mA, 5V: 0mA
The RRP for Synthbox is $599.95
Find out more at the website here.