This Moog Prodigy Analog Synth Clone (Not From Behringer) Sounds Stunning
This new Moog Prodigy modified clone by Ensure Sound in Eurorack 42HP module format sounds really, really great. If you've got a hankering to get that Prodigy sound in your eurorack system this is it.
Interesting thought to mull over here. If the Prodigy ER-16 was a Behringer clone of the Moog Prodigy would it affect your opinion or make you want it less or more? Behringer synth clones have been making headlines over the past 6 months. But being impartial, we wanted to ensure non-Behringer led clones also got some of the synth spotlight.
The Prodigy ER-16 is a modified clone of the original famous and popular Moog Prodigy analog synthesizer. The original dual-oscialltor 32-key Prodigy was used as a bass synth by many, and became a very popular entry-level monsynth, even though apparently Bob Moog wasn't involved in its development.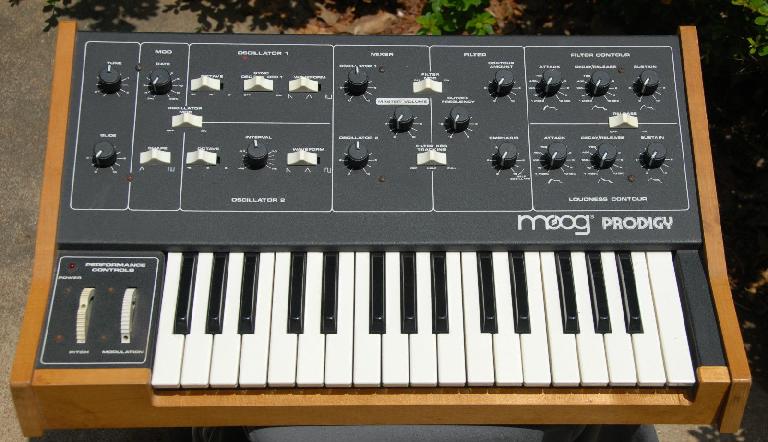 (photo: courtsey of MatrixSynth)
Artists like Depeche Mode, Fatboy Slim, Prodigy, Blur, and 808 State used the original synth in their productions.
But let's focus a little more on this modified clone of the Moog Prodigy. The Prodigy ER-16: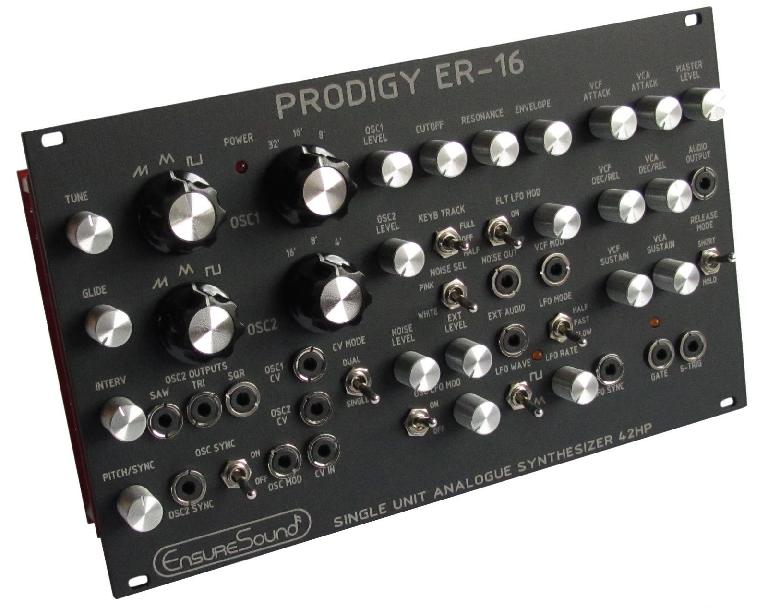 The maker of the Prodigy ER-16 says it sounds as good as the original. Watch the video and take a listen to the audio samples below. This synth, however, dispenses with the keyboard in favor of being a Eurorack 42HP.
This Polish-made module is being made in limited quantities by Ensure Sound and is available via eBay for approx. $650 USD plus shipping.
Prodigy ER-16 Tech Spec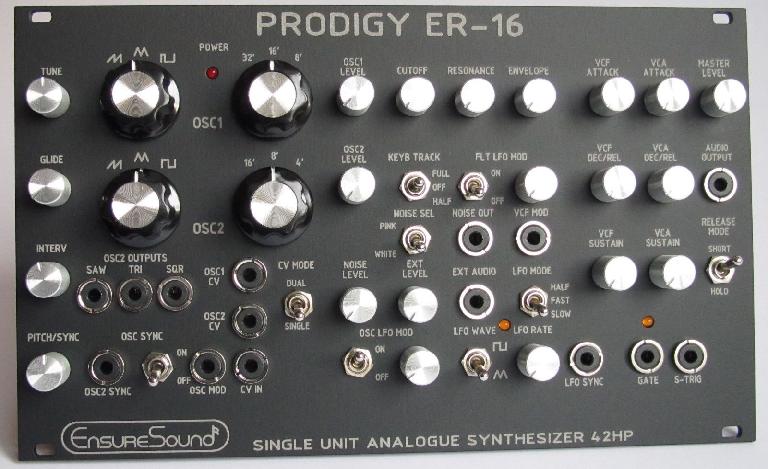 Two voltage control oscillators VCO1 (SAW, TRI, PULSE) and VCO2 (SAW, TRI, SQR)
Two octave dividers VCO1 (32', 16', 8') and VCO2 (16', 8', 4')
Mixer for OSCs and NOISE
PITCH/SYNC for control VCOs
GLIDE, TUNE, INTERVAL for control VCOs
Classic Moog ladder VCF -24dB/oct
One LFO (TRI, SQR)
OSC and FILTER modulation inputs
Two Envelope generators (A, D/R, S)
Black matte aluminum panel, ascetic vintage design 42HP, thickness 2mm
Standard MINI-JACK 3mm input/output connectors
Depth about 45mm
PSU current about 320 mA +12V (160mA +/- 5%), -12V (160mA +/- 5%)
5V not required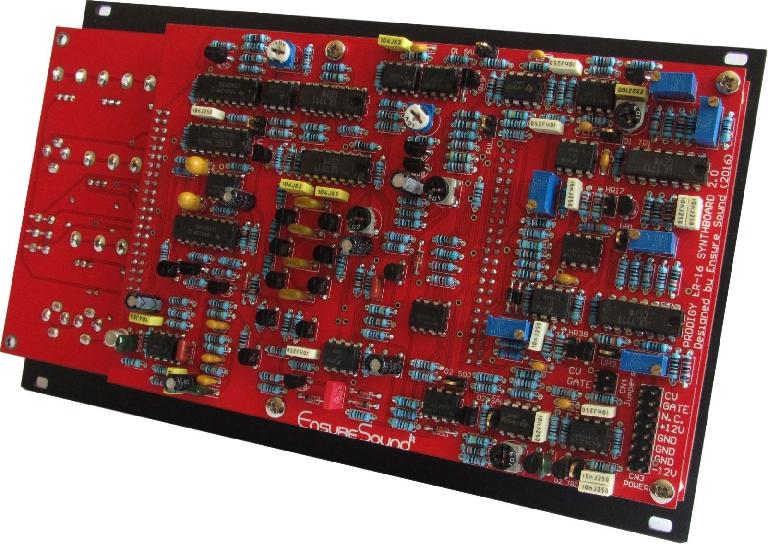 Modification:
Dual and Single oscillators CV input (2 voice poly emulation in dual mode)
SYNC OSC2 input for external OSC2 synchronization
Noise generator (pink, white) with level control
S-TRIG input, GATE (5-12V) input with LED control
External audio input with level control
OSC2 signal outputs (SAW, TRI, SQR)
LFO synchronization trig with LED control, 3 band divider for LFO speed
Two modulation switches for OSCs and VCF with potentiometer control
Standard DOEPFER power connector 16 pin with internal CV/GATE
Jumpers for ON/OFF internal CV/GATE
[Via: Dmitry Shentyapin]