Roland Combines Classic JUNO-60 and JUNO-106 In New Boutique JU-06A Synthesizer
Roland's new JU-06A combines the best of the JUNO-60 and JUNO-106 in a modern and compact, battery-powered instrument that's convenient to play anywhere.
Los Angeles, CA, September 5, 2019 — Roland, a leading manufacturer and distributor of electronic musical instruments and professional video products, announces the debut of the Roland Boutique JU-06A Synthesizer, a compact, accessible instrument that combines the best of vintage sounds and function from Roland's legendary JUNO 6, 60 and 106.
Wait... before you read more, how about watching this video comparing the new Roland JU-06A against the original JUNO-60, courtesy of Loopop:
Musicians can seamlessly access the high-pass filter of the 106 and the envelope-controllable pulse-width-modulation of the 60 directly from the JU-06A's front panel. The JU-06A is a nostalgic homage to Roland's famed synths of the 1980s, complete with the iconic, swirling chorus, and builds upon its Roland Boutique JU-06 predecessor with improved sequencer, interface, trigger in, arpeggiator and more. The JU-06A will be available in the U.S. in September 2019, delivering the classic JUNO sound at an affordable $399.99.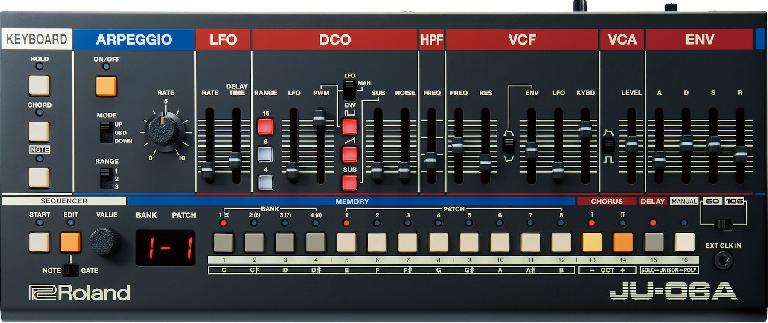 Roland's attention to detail extends to the JU-06A's design, appealing to the aesthetics of its predecessors, complete with authentic vintage styling along with tough metal panels and shafts built to withstand any performance or tour. Small, but powerful, the JU-06A blends classic and modern features, including chord memory, an onboard sequencer, and the JUNO-60's arpeggio, into an instrument compact enough to fit inside a backpack. The JU-06A is designed for creative music makers who want the vintage JUNO sound at an accessible price, who want to find inspiration from a fun-to-use piece of hardware, and who want the convenience of using gear that works equally as well during a live performance or in the studio.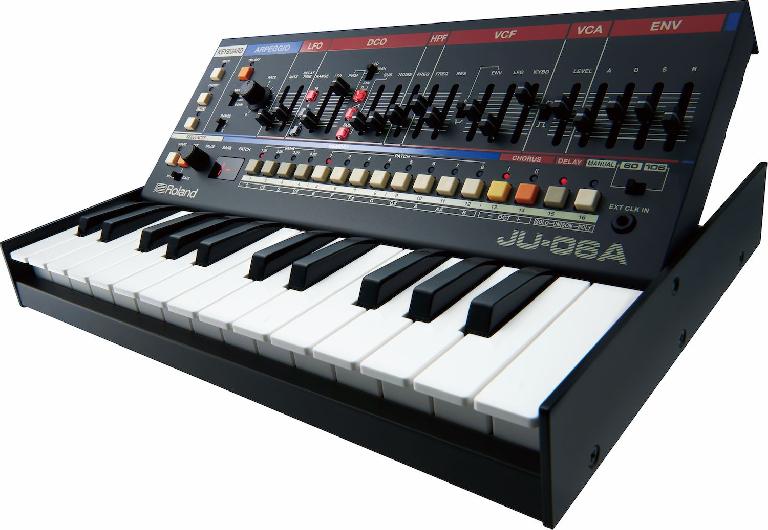 Beyond design, the JU-06A is a master of versatility, incorporating both USB audio/MIDI and full-sized MIDI jacks, giving performers the ability to play and synchronize with nearly any other piece of gear in their set-up. The 1/8" jack and USB connection lends to a clean setup with no clutter while the JU-06A's compact size fits into multiple music setups and can easily connect to a master keyboard, DAW, K-25m Keyboard Unit, and DK-01 Boutique Dock. As the newest addition to the Roland Boutique family, the JU-06A maintains the brand's timeless sound and industry-best technology while moving musicians towards the future of creation.
Price: $399 USD
Available: September 2019
Web: Roland.com.