Our friends at Kilpatrick Audio have teased the upcoming release of their "Next-generation stereo algorithmic reverb processor" named Redox. This hardware reverb unit runs off USB and can be controlled by MIDI. "REDOX reverb algorithms offer both classic and modern sounds that use a number of proven reverb structures to create subtle and rich reverb sounds to suit a variety of uses including synths, drums, vocals and more. All effects allow their filter and size controls to be adjusted in real-time from the front panel, as well as an additional parameter based on the algorithm chosen."
There are additional MOD effects included which can be placed before or after the reverb and enable "effects such as phasing, flanging, vibrato and panning and various distortions can be used to create special sounds" and textures.
According to their Facebook post it's going to be available in November 2018, just a few days away. Although the official price hasn't been released yet, the estimated price is $489 USD.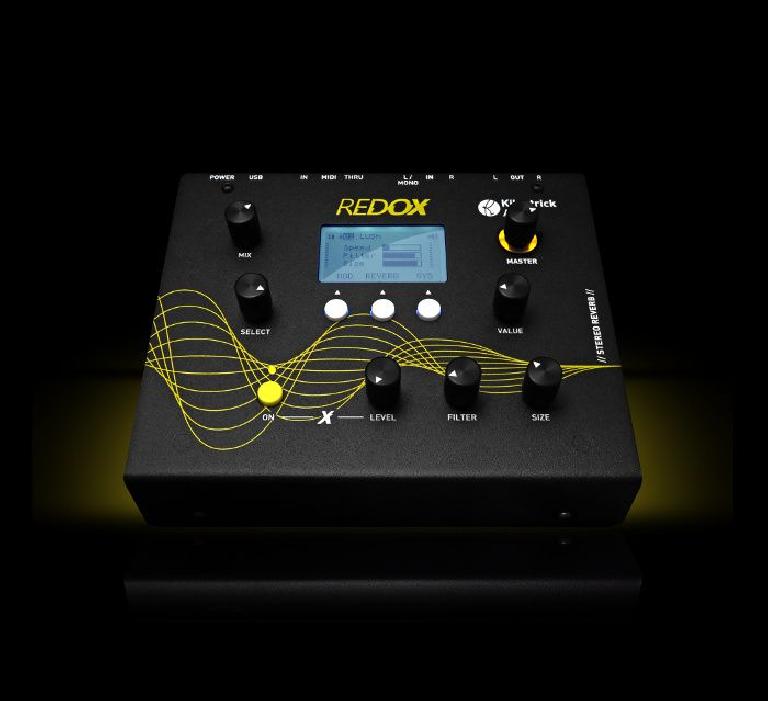 REDOX Specs and Features: (preliminary)
Stereo algorithmic reverb with high dynamic range processing
Many reverb algorithms to choose fron, including:

Kilpatrick Audio's signature Lush Puppy algorithms great for fast synths, drums and guitar
Classic old-school reverbs perfect for old-school synth sounds
Multi-tap delay effects with a selectable number of taps
Smooth hall and room types perfect for vocals and instruments
Super long and smooth reverbs perfect for creating ambient textures

MOD effects work along with reverbs to create other kinds of effects
Adjustable predelay on all reverbs up to 200ms
Pristine analog audio front-end with 24 bit converters and >100dB dynamic range (ADC to DAC)
High dynamic-range floating point signal processing prevents internal clipping
Low-latency signal processing of less than 1ms
High-quality LCD screen shows settings and metering
Quick-access parameter controls for MOD control, reverb filter and size
Dedicated MOD controls allow the MOD effect to be controlled in real-time
1/4" line audio jacks using Neutrik connectors
MIDI control of all functions via USB or DIN MIDI
Internal memory for storage of up to 99 presets plus live settings
5V USB powered - great for portable use
Integrated VESA mounting holes permits secure mounting
Dimensions, weight and more details coming soon
Price: $489 USD aprox.
Available: November 2018