We're getting used to Elektron releasing new gear and fairly frequent updates for existing ones too. Looks like the machine makers from Sweden have given back some love to the Digitakt community after releasing its sibling, Digitone, at NAMM 2018.
There's some useful new minor features added, workflow improvements and plenty of bug fixes, including that MIDI freeze one which reared its head for a few users. Pick of the new improvements is being able to use sound locks on sequencer steps!
Here's the full release notes of changes frmo Digitakt 1.0.4 to 1.0.5:
Elektron Digitakt 1.0.5 Improvements
Sound pool is added to the project. It is now possible to use sound locks on sequencer steps.
Previewing Sounds in the Sound browser temporarily disables the [FUNC] + [UP/DOWN] page scrolling.
Encoder click sensitivity is adjusted for better usability.
The Track level graphics is now differentiated from other volume parameters graphics.
There is now an indication that tells if the user tries to load a sample which exceeds available RAM in size.
The active track indicator now has inverted graphics.
The active page name is shown in the title bar when changing pages.
Added a new Storage view to see the used/total amount of memory and the number of projects, Sounds, and samples. The Storage view is available in the SYSTEM menu.
LFO speed parameter snaps to powers of two.
Added sysex dump functionality.
Added warning when trying to load more samples than there are slots available.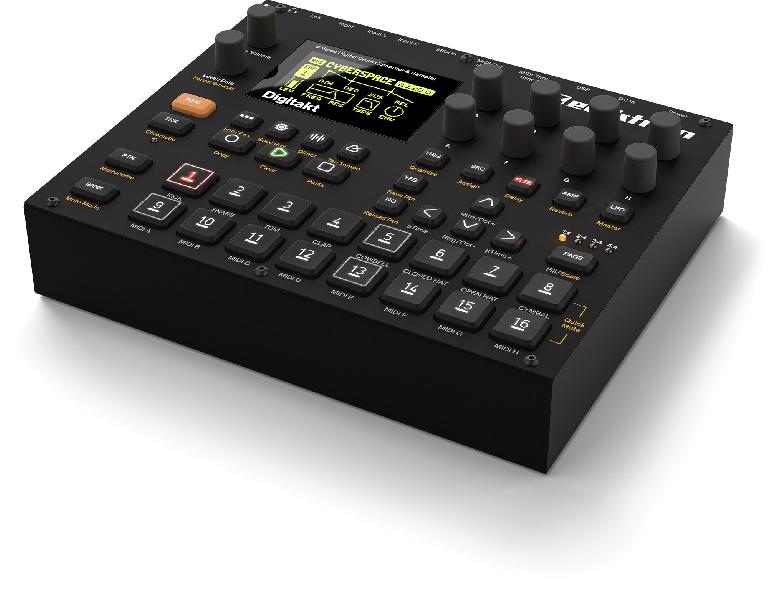 Elektron Digitakt 1.0.5 Bug fixes
Allowed more headroom in the bit-crusher to improve audio quality.
Main output had inverted polarity. The main output polarity has been reversed.
The Sound browser would change the preview sound immediately when highlighting it in the list. The Sound browser now changes the preview sound only when you press [FUNC]+[YES].
LFO Depth parameter locks were sometimes lost when saving.
Outgoing MIDI CC data from the FX parameter pages were under some circumstances sent to the wrong MIDI channel.
BPM fraction would sometimes be incorrectly displayed.
The filter trig parameter had no effect. The filter envelope was always triggered by a note trig but never triggered by a lock trig. All patterns will be automatically upgraded to compensate for the changes introduced by this fix.
Lock trigs affected the release timing of the amplitude envelope.
Page LEDs would not be fully lit when expanding pattern length in the SCALE menu.
MIDI sequencer would crash under certain circumstances.
Selecting OS Upgrade while unit was playing audio would output a static high pitched tone.
After nudging the tempo, the tempo would change to the value set in Global tempo mode, even if Pattern tempo was enabled.
Consecutive clear/paste of parameter pages would not work as intended.
Sample selector and modulation destination selector would flicker if they were changed at the same time as another parameter.
Unit would sometimes freeze during the startup sequence.
MIDI CC was not transmitted from the Master page.
Tune and Note params would skip two octaves instead of one, when dialed with [FUNC] pressed.
In some cases MIDI tracks would stop sending CC values.
Holding down [FUNC]+[CLEAR] while in grid recording mode would rapidly toggle between undo and redo.
NRPN was not received.
When pressing [FUNC]+[TEMPO] Mute mode would get activated until [FUNC] was pressed again.
Track sound name would not be updated after sound export. Sound list would not be closed after saving a sound.
Note length when recording multiple Audio tracks (i.e when not in chromatic mode) would not work properly.
The unit would freeze when having external clock and selecting OS Upgrade. Lock trigs would always affect the note value.