Dave Smith Instruments Announces Prophet Rev2 Desktop Synth
The 16-voice polyphonic analog synthesizer, Rev2, from Dave Smith Instruments just got a desktop version. Here's more about it.
Dave Smith Instruments has just announced a desktop module version of their popular Prophet Rev2 analog synthesizer. It should be available in October 2017. Like the keyboard version, it features two DCOs per voice, Curtis filters, plus two types of sequencers, digital effects and other enhancements designed to make it even more powerful that its predecessor, the Prophet '08.
The Prophet Rev2 retains all of the key features of the Prophet '08 and expands on them. It has twice the polyphony, twice the mod matrix, waveshape modulation on all waveforms, digital effects per layer in stacked or split voice mode, a polyphonic step sequencer per layer, and more. The result is a true analog powerhouse.
You can download any of the many existing libraries of Prophet '08 sounds and they will not only sound identical, but can be enhanced with the new features.
An 8-voice version of the Rev2 will be available for $1,299 US MAP.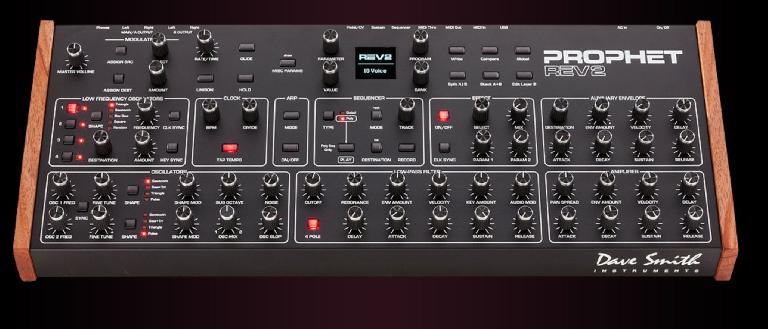 Prophet Rev2 Specifications
OSCILLATORS
2 digitally controlled analog oscillators (DCOs) per voice (plus sub octave on oscillator 1) with selectable sawtooth, triangle, saw/triangle mix, and pulse waves (with pulse-width modulation)
Glide (portamento): separate rates per oscillator
White noise generator
Analog VCAs
Hard sync
FILTERS
1 analog Curtis low-pass filter per voice, selectable 2- and 4-pole operation (self-resonating in 4-pole mode)
ENVELOPES
3 envelope generators: filter, VCA, and assignable (four-stage ADSR + delay); Envelope 3 can loop.
SEQUENCER
Polyphonic step sequencer with up to 64 steps (6 notes per step), and ties and rests. Separate 16 x 4 gated step sequencer. Each layer can have a separate sequence.
LFOS
4 LFO's with key sync per LFO
MODULATION
8-slot modulation matrix
22 sources
53 destinations
5 additional dedicated sources: mod wheel, pressure, velocity, breath controller, footswitch
ARPEGGIATOR
Programmable arpeggiator with up, down, up+down, random, assign modes
Selectable note value: 16th note, 8th note triplet, 8th note, dotted 8th note, quarter note
One, two, or three octave range
Re-latching arpeggiation
Note repeat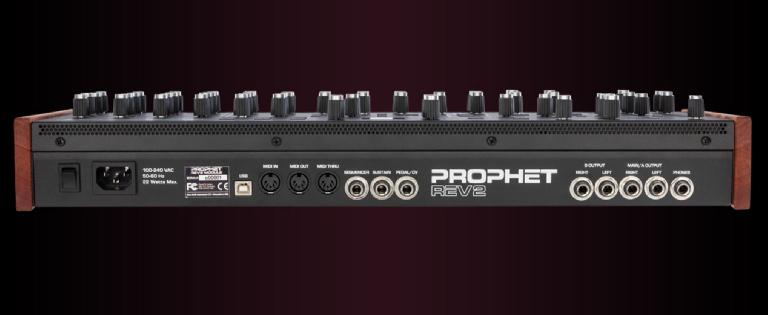 CONTROLS
55 knobs and 35 buttons enable deep and comprehensive editing with little to no menu diving.
MEMORY
512 Factory Programs (4 banks of 128) and 512 fully editable User Programs with 2 layers (2 separate sounds) in each Program
IN/OUT
MIDI In, Out, Thru
Main stereo audio output: 1/4″ unbalanced
Output B stereo audio output: 1/4″ unbalanced
Sustain pedal input: accepts normally on or normally off momentary footswitch.
Pedal/CV input: responds to expression pedals or control voltages ranging from 0 to 5 VDC (protected against higher or negative voltages).
Headphone output: 1/4″ stereo phone jack.