BlinkSonic's VOZ Is A Stunning Virtual Vocalist Instrument For Reaktor
Using the human voice as its source, Blinksonic's VOZ is a unique concept for a Native Instruments Reakor instrument. Over 1,500 vocal waveforms are resynthesized as the source for you sound design.
Well, well, well. Here's something rather unique and awesome at the same time. Sound designers sit up and read this!
Blinksonic have created an impressive new tool for Reaktor they describe as a virtual vocalist generator. It's called VOZ, and you really owe it to yourself to check this out even if you're a tiny bit interested.
It's a hybrid sampler/synth with 4 loop sampler engines. Aside from resynthesising over 1,500 recorded waveforms, VOZ also allows you to load in your own waveforms and use it as a tone sampler.
Here's the info from the Blinksonic site about VOZ:
THE INSTRUMENT CONCEPT
What about using human vocal formant as an oscillation source inside an enhanced sampling tool ? VOZ° is an instrument which synthesizes a real singer from a list of vocal articulations samples.
This original concept rests on a complete sampling engine which enables the creation of multi layer evolved voice combinations.
From choirs pads introduction, backing vocals, rising screams, funky hits, experimental sound fx, to playable vocal parts…
VOZ° explores various aspects on how vocal sound material can be operated in a virtual instrument and allows to inject a dose of human soul in modern electronic composition.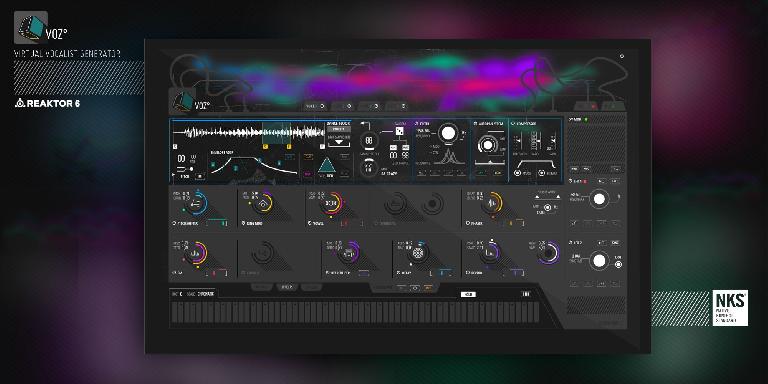 THE SOUND BANK
VOZ° comes with a collection of 1520 basic waveforms including elements of speaking, screaming, whispering, breathing, yelling, laughing, growling, throating… All kind of vowels, phonetics, accents and onomatopoeias.. even whole words and piece of phrases.
All are classified in 16 categories following an index of intensity in the voice presence and musical tendencies. During the resynthesis process, I took care to maintain vocal sources in their best expressive forms.
All original curves, glides, bends, vibratos and natural dynamics levels have been preserved. I only retuned most of the samples for being harmonized and chromatically suited. The instrument also comes with synthesizers and instruments tones from the previous release AETONZ°, to give complementary basis on some presets.
THE SOUNDS ORIGIN
I have been involved as a singer during 15 years on various projects and this collection got its origin from my own recordings.
It's not my intention to turn VOZ° project as a self celebration. It's just that I found in my archives, enough sound material to be extracted in order to create a consistent audio raw files database.
Essentially connoted with an english accent, all the samples mainly recall the energy of the « nineties ».
Along these years of recordings, everything have always been commanded by an irreverent and rebellious attitude, that's finally makes this sound bank very singular, with a unique character and animated soul.
THE SOUND PROCESS
VOZ° presents itself as a modern GUI experience with an hybrid sampler/synth of 4 loop sampler engines.
The 4 engines include coarse parameters, ADSR envelopes, filters, stereo imaging and dynamic effects.
These 4 sources, combined via the mixer, can be shaped and modified through a complete line of 10 effects : Pitchshifter, Ring Modulator, Vowel, Overdrive, Phaser, Freq modulation, Chorus, Bit Reducer, Delay and Reverb.
The essential of theses options can be controlled by modulations generators (2 LFO, XY pad modulation recorder) and aswell 2 new concepts of crossfading.
One which consists to crossfades the signal sources of the 4 voices, the second (UNO FX MOD) crossfades the signal through only one of the ten effects at time.
THE RANDOM MODE
This emulation is enhanced by a random engine which can be defined with a specific range of execution order of the selected audio chops of each voices.
With this function, all sounds are aleatory launched on every incoming gate events, creating kind of « instant chaos » that makes possible subtle changes in real time, and unpredictable voice movements.
In fact, it makes resulting tones more expressive and humanized.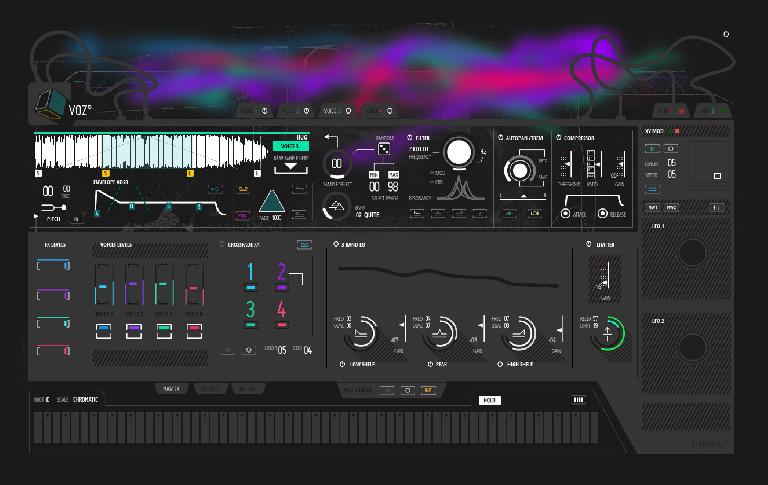 THE REAKTOR 6 LEGACY
In addition to achieve a striking sound design, the instrument draws the best features from Reaktor and offers extended functions to control the expressiveness of your tones with a smart modulation engine, inspired by the BLOCKS framework.
Note that it's a real tone sampler, so it's also possible to load your own external waveforms inside it, thanks to the powerful Reaktor Table Framework, available since the release of Reaktor 6.
Voz° is also ready to be hosted in Komplete and Maschine with a full NKS integration (Automation ID and color Keymap ready).
FEATURES & SPECIFICATIONS
1520 raw audio files (around 600 Mo on disk)
100 snapshots
4 sampler engines with granular loop functions (Start/End points, Sustain loop Start/End points)
Drop your own wave files*
Pitch, Fine tuning parameters*
Reverse sample playback*
Polyphonic or Monophonic switch*
ADSR enveloppe*
Selectors for the 16 banks of 99 samples*
Random trigger mode with definable minimum and maximum range*
Filter with 4 types (Lowpass, Bandpass, Highpass, Notch)
Stereo imager with a switchable Autopan/Tremolo*
Compressor*
Loop control modulation. Enable the movement of the Start/End loop points over the waveform following modulation sources*
*On each sampler engines.
10 effects : Pitchshifter, Ring Modulator, Vowel, Overdrive, Phaser, Freq modulation, Chorus, Bit Reducer, Delay and Reverb.
A minimum of 2 parameters for each effects and the ability to receive external modulations.
Uno FX mode : Crossfade the main audio signal through one effect at time.
4 tracks mixer with send effect buses and mute buttons
4 voices pad crossfader (XY movement loop recorder)
3 band equalizer
Limiter
2 LFOs with expressive options ( dose, random, x/speed for creating wobble modulation effects )
XY modulation pad recorder
Switch to external Modwheel modulation sources
Virtual touch keyboards for playing notes with the cursor (glissando mode)
Latch/Hold button.
Keyboard note range selector
Root note and scale selector
Midi note loop recorder ( for recording sketches and melodic phrases ideas)
Modern graphic interface with a blurry color scope.
NKS support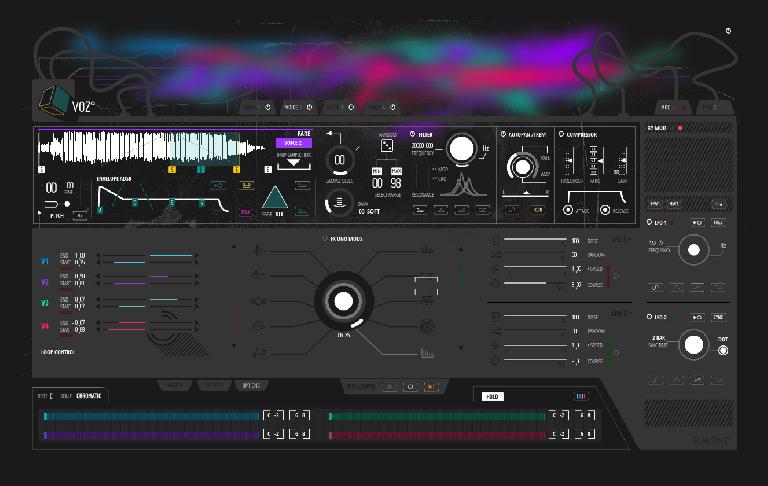 PRICE & REQUIREMENTS
89€
MAC or a PC with the full version of Reaktor 6 . Not compatible with free Reaktor player, even Reaktor 5.
A screen resolution with a minimum of 1920x1200 megapixel for a full display on screen. VOZ° is 1300x820 megapixel.
Intel Core 2 Duo equivalent must be enough with 4 GB of Ram. To give an idea this ensemble has been created on a 2,7 Ghz Intel Core i7.
CPU usage : Around 30% and 70% with a 2,7 GHz Intel Core i7, 16G Ram and Reaktor 6. Depends how many sample engines and effects in use.
An internet connection to download the files and potential updates.