As if we needed reminding. Behringer are serious about making analog synths, and classic synthesizers in general, accessible to everyone. I'm losing count of the number of classic synth models they're remaking and reimagining, from the RD-8 (TR-808) to the Odyessy, Moog Model D to the K-2 (MS-20). One thing is for sure, excitement levels in the synthesizer community haven't been so high and it's likely to push other synthesizer makers to up their game too.
On top of the synth gear that's being made was the recent announcement that the inventor of the Korg MS-20, Hiroaki Nishijima, has joined Behringer to lead the Innovation Synthesizer Center in Japan. He's now busy recruiting the best in the business for more synth projects.
It doesn't stop there either. Today Behringer have announced their collaboration with GliGli, also with an eye to creating more classic analog synthesizers. Here's what Uli Behringer has told Ask.Audio and what we can expect in the future:
Fabrice, aka. GliGli stated: "Behringer reached out to me to help them bring iconic synthesizers back to life. For many years it has been my passion to create a much improved firmware for the Sequential P-600 and to design my own poly synth projects. Uli's synthesizer Vision provides a fantastic opportunity for me to contribute to the re-imagining of some of the best synthesizer designs from the 1970's, and to make them accessible to everyone - a Vision I profoundly believe in and want to be part of."
GliGli continues: "My goal with P600fw was to have the vintage polysynth of my dreams. I used my computer science and electronics knowledge to make something that was both easy to install, capable of getting the most out of the analog hardware and most of all, fun to make!"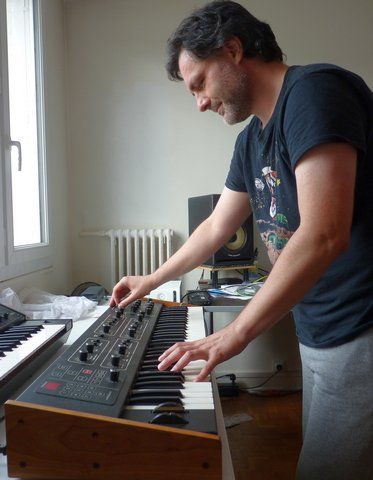 GliGli on his upgraded Sequential P-600
Uli Behringer, Founder of Behringer and Music Tribe commented: "It's an honor to have GliGli on our team - Fabrice is an amazing synth designer and I am so proud that we could win him for our ambitious Vision.
Ever since I designed my own synthesizer in 1977, I have been passionate about synthesizers and today, Behringer is on a mission to bring back classic synthesizers as well as design completely new instruments and make them available at prices everyone can afford. We at Behringer believe that everyone should have access to the amazing synthesizers and sounds of the 70's and 80's."
Uli continues: "This partnership also demonstrates that we welcome collaborations with boutique manufacturers as we believe we can perfectly coexist and complement each other. We are currently recruiting 70 experienced synth engineers from all over the world to join us in our synthesizer mission. People interested can directly contact me at uli.behringer@musictribe.com."
Uli Behringer
It almost doesn't need repeating... but, as soon as we get more news of new Behringer synths we'll tell you about it.
In the meantime, visit our Academy which has an excellent selection of synthesis and synthesizer video courses by some of the best influencers like Marc Doty, Rishabh Rajan and DivKid Ben to name but a few. Click here to watch them now.