Arturia Announces MiniBrute 2 Semi-Modular Analog Synth
Improved in almost every way possible, the follow up to Arturia's incredibly popular analog synth, MiniBrute, hits version 2 and there's plenty of reasons to be excited as you'll see below.
Arturia are thrilled to announce the imminent release of a new synthesizer, one of three new products which will all be available at stores from late February 2018.
We've got all the news on the MiniBrute 2 below, plus a review from AskAudio-friend, Loopop:
MiniBrute 2 is a 25-key analog monosynth with semi-modular architecture, bridging the gap between the traditional synthesizer instruments and the exciting world of modular. MiniBrute 2 shares many of the same iconic features that made its predecessor such a success, including mixable oscillators, the acidic Steiner-Parker filter, and the chaotic Brute Factor. While keeping many of its signature elements, the tone-shaping potential of MiniBrute 2 has been almost exponentially increased.

To get a good look at MiniBrute 2 in action, and to hear how it sounds, check out the official Arturia MiniBrute 2 announcement video, featuring London-based trip-hop act The Salvador Darlings.
The reimagined MiniBrute now features semi-modular architecture, adding a comprehensive CV/Gate patch matrix that allows users to both rework its internal signal routing, but also expand into the blossoming world of modular. It also features the same high quality, aftertouch-enabled keybed found in their flagship MatrixBrute synth, making it a joy to play. Truly an instrument designed for musicians by musicians.

Arturia's latest small-but-mighty monosynth is the successor to their debut analog instrument, the MiniBrute. The first incarnation was released in 2012 and turned the industry on its head, offering a unique, affordable analog synth experience with attitude.
MiniBrute 2 also features exciting new features that greatly expand its potential, both as the focal point of a creative studio, and as a road-ready performance platform. One of these features includes the new Arturia Link, an exciting innovation that will help unify and democratize your creative environment.
Main MiniBrute 2 Features
Fully analog signal path
2 multi-waveform voltage-controlled oscillators (VCOs)
VCO1: Sawtooth, square, and triangle waveforms (VCO 1)
Ultrasaw, Metalizer, and pulse width modulation (PWM)
VCO2: Sawtooth, square, and sine waveforms
FM modulation between oscillators
Random noise generator
Steiner-Parker multimode filter with FM and RM (Resonance Modulation)
48-point patchbay
Hard sync input for VCO1
Separate VCA for modulation routings
Two envelopes: ADSR (filter) and AD (amplitude)
Loopable AD envelope
Two multi-waveform LFOs with free-run or sync modes
Brute Factor: overdrive the filter input with the audio output
External audio can be routed through the Oscillator mixer or directly to the output
Sequencer and arpeggiator, syncable to external clock: MIDI, USB, or CLK (1 step, 1 pulse, 24/48 ppq)
MIDI input and output connectors
USB port for use with a DAW
Audio and headphone outputs
Use with Arturia's MIDI Control Center for device configuration and sequence archival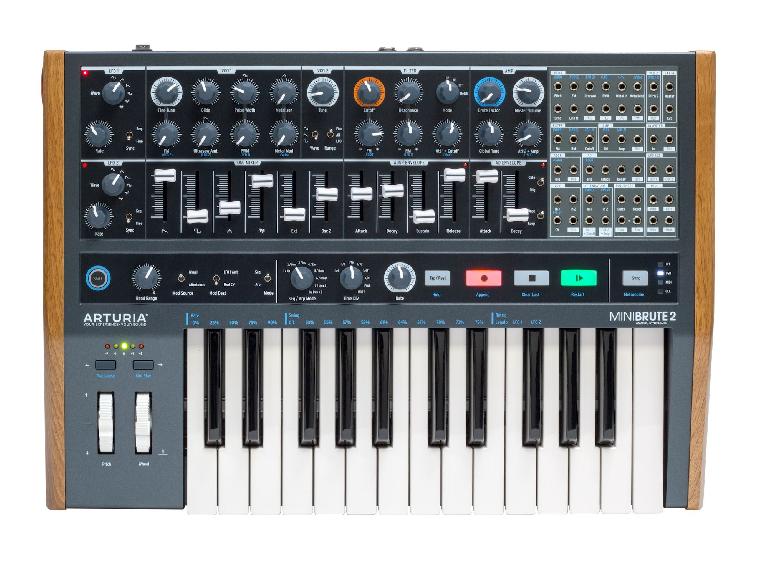 More information on the Link system and how it integrates with other devices will be released shortly. Stay tuned for more Arturia product announcements, and all of your questions shall be answered.
To get hands on with all 3 of the new products, find Arturia at NAMM 2018. They'll be at booth #11910.
It is not over! Tomorrow we will announce another product. Make sure to check the Arturia website to be part of the first to know!