Alter Audio Timetosser Is A Unique Live Performance Tool For DJs and Musicians
alter.audio have revealed their first machine for DJs and musicians: Timetosser. It's like a playable delay which syncs via MIDI and Gate and is now on Kickstarter.
If you've ever dreamed of being able to re-sequence audio on the fly during a live performance using a standalone instrument, then alter.audio's unassumingly compact hardware box, Timetosser, is something you'll want to check out.
Timetosser is already almost 30% funded after one and a half days.
Timetosser is a new kind of live performance tool. It enables you to playfully loop and reorder any kind of musical input in real time. Use it as a standalone device, or connect it to your computer to control the Timetosser audio plugin in your favourite DAW software.
Think of it as a playable audio delay with a unique built-in tempo detection system that can also be synced through Midi and analog gate. By playing Timetosser you can rhythmically reorder parts of the incoming audio and shuffle them around. This way you are able to create and add infinite variations to your tracks and loops.
Richie Hawtin - "The perfect way to take a step beyond the 1s & 2s of classic DJing!"

alter.audio have developed Timetosser as far as they can: the only step left is production. The regular Kickstarter price is set to €295 (Early Birds aside) and their 30-day campaign will start on the 1st of June.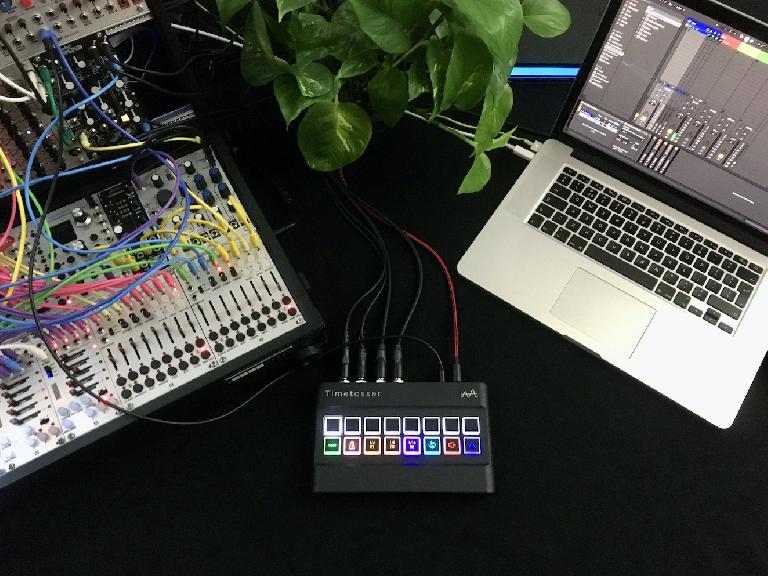 Features
Dimensions: 200mm x 120mm x 25mm
Weight: 380 grams
Powder coated aluminium hardtop casing with lasered labels
16x full colour LED backlit key switches
60 FPS smooth animation feedback CPU
180 MHz 32-bit ARM micro controller for real-time audio analysis and smooth visual feedback
Digital audio: Up to 24-bit / 192 KHz Low noise, high quality codec
USB connection for use as controller and audio interface
Dual purpose sync input: Tempo sync to MIDI and analog gear
What's in the box?
1 x alter.audio Timetosser
1 x Quickstart guide
1 x USB cable (Timetosser is USB powered)
1 x DIN-5 to mini jack MIDI adapter cable