Zvuk9 is an expressive MIDI controller designed to allow you to express yourself with every touch & motion. You could be forgiven for seeing the giant pads and simply thinking they are only good for beat makers. Well, Zvuk9's capabilities go well beyond triggering beats on the pads.
The large pads allow for expressive performance as well as modifying values for whatever you map them to as an XY pad due to them being pressure and position sensitive. Expect you have 9 of them on this controller! There's so much more to Zvuk9, so we'd recommend you check out the features below and visit them on crowd funding site, IndieGoGo to check out all the videos.
Currently, you can pledge as little as $678 USD for a Zvuk9 controller.
Zvuk9 has also been designed to be used with hardware synths without needing to connect to a computer thanks to the controller featureing 5-din MIDI as well as USB MIDI connections.
Another benefit of the Zvuk9 is that you don't need a computer to edit the main features and functions, from the X Y values and notes too.
Expressive playing using Zvuk9:
Live performance using Zvuk9 and FL Studio: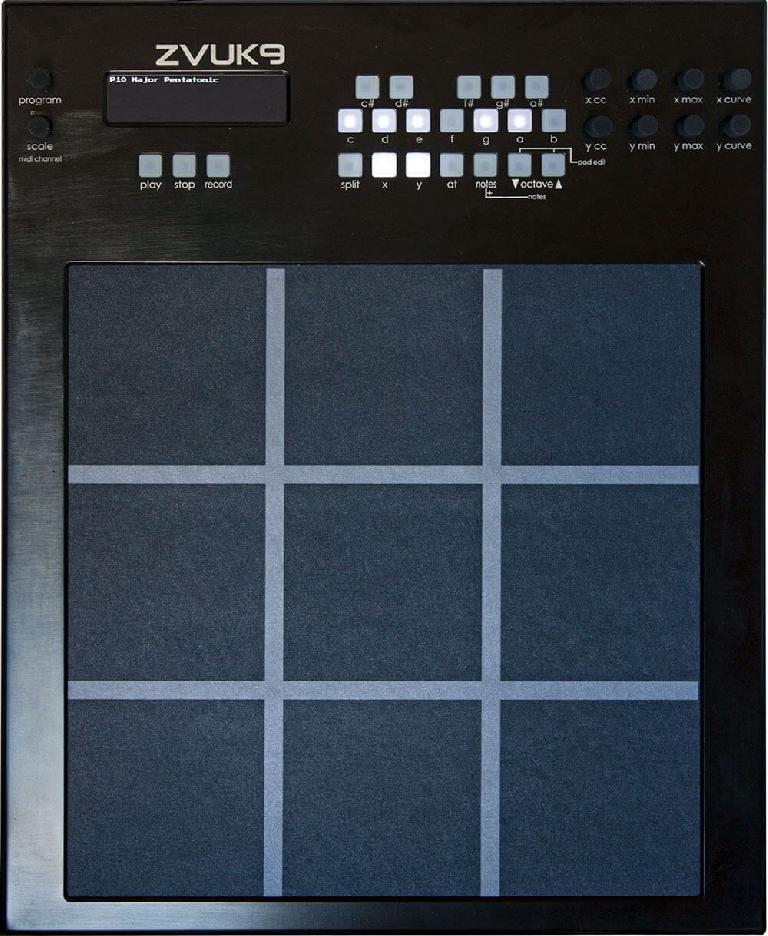 Zvuk9 Feature List
9 pressure and position sensitive pads
Velocity sensitive (3 levels of sensitivity and 3 velocity response curves)
X and Y MIDI assignable to CC. CCs can be the same for all pads or unique per pad
X or Y can be set to send pitch bend instead of CC
Aftertouch (channel or polyphonic)
15 programs for storing settings (scale, tonic, split status, X & Y controls, on/off status for notes, aftertouch, and X and Y)
7 predefined scales available: natural minor, harmonic minor, melodic minor, major, harmonic major, pentatonic minor, and pentatonic major
10 user scales available so you can set which pad will play which note or notes
Chords can be assigned through user scales, a maximum of 7 notes can be assigned to a pad
Tonic can be set with Notes buttons
Notes buttons are illuminated, showing which notes are currently available and which note is currently playing
By default, tonic goes on Pad1; by using Notes up/down function, all notes can be moved
Encoder controls for X & Y: CC, min, max, curve
Total of 13 response curves available for X and Y
4 on/off buttons: notes, X, Y, and aftertouch
In Split mode, all controls for X and Y, state of 4 on/off buttons, and MIDI channel are unique per pad
Transport controls: play, stop, and record can be set to MCC, CC, or MCC+CC
Note off type choice (off channel, on channel/0 velocity)
All settings saved during reboot
MIDI over USB and MIDI through 3.5mm mini jack out (cable mini jack to MIDI DIN included)