Puc is a clever device from Zivix ommunicates directly to the iPad via WiFi directly as a device using Core MIDI. The video below explains in more detail:

Wireless link connects MIDI compatible musical instruments with iOS devices via Wi-Fi, providing seamless music creation.

MIDI interface directly connects instruments to the iOS device wirelessly without a host Wi-Fi network to create music

Integrates with MIDI-enabled keyboards, DJ controllers, drum pads, floor pedal controllers and more for ultimate portability and to minimize cable clutter

Leverage your existing iOS apps to create music and experiment with MIDI devices

Proprietary MIDI interface is designed specifically for iOS devices

For use in both studio or live applications to wirelessly connect to Logic, Pro Tools, Live, Cubase, Sonar, Reaper and Garageband

Can be switched to function as MIDI input or output

Features MicroUSB port for charging, or two AA batteries for up to 15 hours of continuous use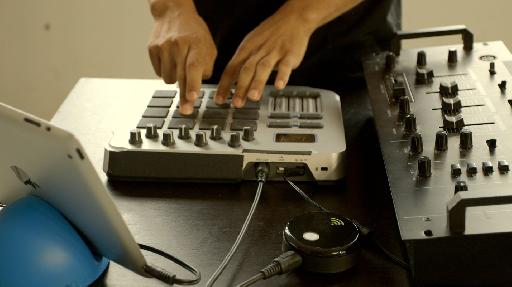 The PUC in a home studio / performance setting.
Available at: mipuc.com, apple.com
Price: $99.99
Website: www.mipuc.com