BUENA PARK, Calif. (September 17, 2014)—Yamaha today introduced the MG REC & PLAY iPhone/iPad app that allows MG Series XU Mixers to provide high quality recording and playback via an attractive, easy-to-use interface. It is now available at the Apple App Store for free download.
The MG Series is a comprehensive lineup of mixing consoles ranging from compact models ideal for music production and sub-mixing applications to more versatile models capable of handling live sound reinforcement for medium scale events. The third-generation MG Series released earlier this year offers notable improvements in sound quality, design, operability and durability, as well as several impressive new functions.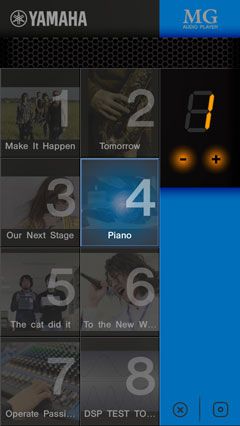 The new MG REC & PLAY app enables high-quality recording, as well as fast and easy playback of songs and sound effects, by simply connecting an iPhone/iPad to any MG Series XU model via an Apple Camera Connection Kit or Lightning to USB Adapter. This intuitive application can be used for a wide range of purposes, including recording songwriting sessions, band rehearsals and live gigs, or providing background music or sound effects for parties, live concerts and other entertainment events.
The audio recorder function lets users record two tracks from the stereo bus on the MG Series XU models in high-quality WAV format. The sampling rate ranges from 44.1 kHz, 48 kHz and 96 kHz depending on the requirements. A simple, user-friendly interface allows for visual monitoring of the recording settings and status. It also provides users with instantaneous playback of recently recorded material, which is particularly useful for sound sketching or song composition.
The audio player function features nine separate banks with eight tiles that can each be assigned up to eight songs or sound effects from an iPhone/iPad music library. This provides users with high quality playback of up to 72 songs and sound effects by simply touching the assigned tile image of each corresponding audio file. The instantaneous playback afforded by MG REC & PLAY lends valuable flexibility to live performance applications requiring background music, triggered backing tracks and musical accompaniment, along with other situations that require the use of sound effects.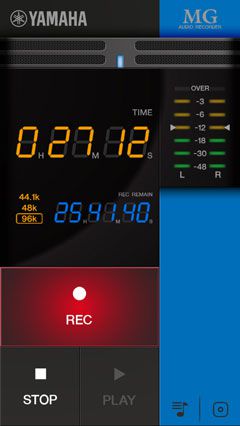 "The MG REC & PLAY app is a practical, user-friendly tool that adds flexibility to the MG XU consoles and lets them make the most of their mixing experience," said Nithin Cherian, marketing manager, Live Sound, Yamaha Corporation of America.
Compatible Mixing Consoles: MG20XU, MG16XU, MG12XU, MG10XU

Compatible Apple iOS Devices: iPad Air, iPad, iPad Mini, iPhone 5s, iPhone 5c, iPhone 5, iPhone 4s, iOS 7

Apple's Camera Connection Kit or a Lightning to USB Camera Adapter, and USB cable are required to connect an iPhone or iPad to your MG Series consoles.