GRENOBLE, FRANCE: first available as Synthix back in 2011 before being relaunched to widespread critical acclaim in 2015 as Syn'X 2, audio software company XILS-lab is proud to announce availability of Syn'X 2 v2.5 — elevating its exciting-sounding subtractive synthesis polytimbral powerhouse to higher heights with a welcomed upgrade duly delivering several serious additions.
With origins dating back to its original release as XILS-lab's third soft synth, Syn'X 2 is a polytimbral subtractive synthesis powerhouse, paying homage to the legendary (early-Eighties-era) Elka Synthex — much loved by the likes of famous French electronic music pioneer Jean-Michel Jarre, who still uses it to this day to create the distinctive sound of his onstage laser harp — from an original-sounding sonic standpoint with the striking sound of clear and punchy DCOs (Digitally-Controlled Oscillators), but brilliantly balanced against a multilayer card-based architecture that is inspired by similarly sophisticated hardware analogue synthesizers — such as Oberheim's mighty (mid-Eighties-era) Matrix 12 — to create a powerful and complex virtual analogue instrument fit for 21st Century discerning DAW users.
Ultimately, by drawing its inspiration from two distinctive design classics, it combines eight fully-independent layers with multitimbral flexibility; up to 72 oscillators; eight exciting-sounding ZDF (Zero Delay Feedback) filters; 32 envelopes; 32 LFOs (Low Frequency Oscillators); eight glides; and more than 500 possible modulation combinations — 'hardwired' or user-customisable — per patch!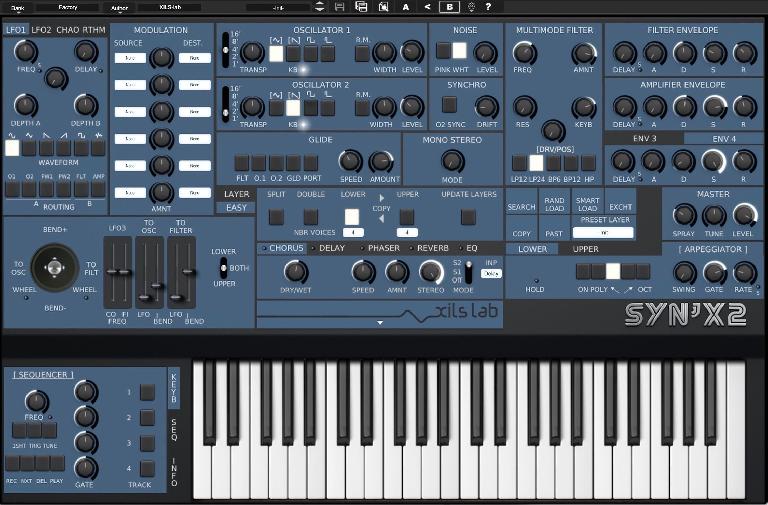 Several serious additions to the Syn'X 2 v2.5 upgrade elevate this exciting-sounding subtractive synthesis polytimbral powerhouse to higher heights — namely, a new natural-sounding vintage reverb effect with high-pass filter; customisable signal path for all effects and keyboard performances, so the chorus could be positioned before the reverb or visa-versa, for example, or the chorus could be applied to a lower bass split while an upper pad feeds into the phaser and then the reverb; single-window integrated preset manager for finding patches in seconds, managing presets and sound banks, and creating customised tags; revamped 1,536-pixel-wide GUI with Easy and Complex modes; more factory presets with widened scope for covering more musical styles; powerful InterLayer Modulation, whereby layers can now source modulations from other layers; and integrated help engine. Meanwhile, MacOS 10.15 Catalina compatibility is a given from the outset.
Syn'X v2.5 is available to purchase as a USB eLicenser or iLok (1 and 2 dongle hardware or software) protected plug-in priced at €169.00 EUR from XILS-lab.(Note that the Syn'X v2.5 upgrade is free for owners of Syn'X 2.)