GRENOBLE, FRANCE: first available as PolyKB in 2010 before being updated to 2011's polished PolyKB II followup, finally making its innovative musical mark on the VI (virtual instrument) scene at the tail end of 2016 to widespread critical acclaim as a more majorly updated 'third time lucky' reimagining of a venerable vintage analogue polysynth.
Literally thousands of onboard presets are often available to today's software-savvy VI users, so content management has fast become key to fully facilitating an enjoyable experience when playing synthesizers. Speedily following in the improved footsteps of the latest versions of StiX by Xils — a virtual analogue and multi-synthesis-driven drum machine with sophisticated sequencer plug-in — and XILS 4 — effectively emulating a conceptual 'blend' of the legendary VCS4, a 'dual VCS3' analogue matrix modular synthesizer prototyped by British trailblazing entity EMS (Electronic Music Studios) back in 1969 but never commercially released, PolyKB III v3.5 also benefits from XILS-lab's integrated, single-window preset manager. From finding the right preset in seconds to creating custom tags, multi-selection/multi-tagging to exporting/importing and managing banks, projects, and selections… everything needed to make working with PolyKB III easier, faster, and more intuitive is right there.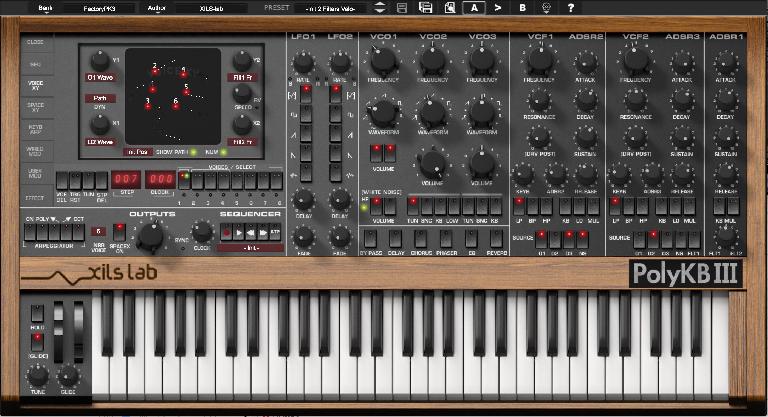 The way PolyKB III v3.5 looks has also been improved, courtesy of the revamped GUI (Graphical User Interface) with reduced shadowing around the knobs to improve legibility of function wording, as well as redesigned tab selection and associated content. Not content with improving looks alone, a natural-sounding reverb now compliments already existing effects, ensuring PolyKB III v3.5 always sounds as good as it looks!
Pricing And Availability
PolyKB III v3.5 is available to purchase as a USB eLicenser or iLok (1 and 2 dongle hardware or software) protected plug-in at an introductory promo price of €89.00 EUR until May 31, 2019 — rising thereafter to an MSRP of €149.00 EUR — from XILS-lab here: https://www.xils-lab.com/products/polykb-iii-&-ii-p-159.html (Note that PolyKB III v3.5 is free for owners of all earlier versions of PolyKB III.)

PolyKB III v3.5 can be directly downloaded as a multi-format (AAX, AU, VST), 32- and 64-bit soft synth
and virtual effects plug-in for Mac (OS X 10.7 and later) and Windows (7, 8, 10) from here:
https://www.xils-lab.com/products/polykb-iii-&-ii-p-159/download.html#FullInstallerPK3