Apparently, white noise (what some may call static) is all the rage. In fact, a mistaken 8 seconds of White noise appeared as its own track in the new Taylor Swift album, 1989, titled, "Track 3" on the iTunes Store. The gloriously cool aspect is that lots of Taylor Swift fans bought the rogue track as part of the new album. When we say lots of, we mean enough fans to temporarily take "Track 3" to top spot on the Canadian iTunes chart!!
Even better are some of the responses from fans: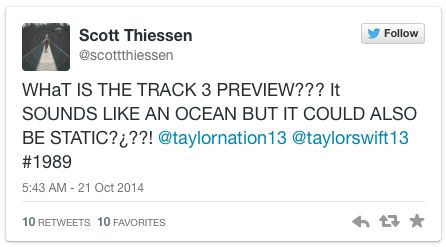 In case you didn't already know, this is what 8 seconds of white noise sounds like:
(no copyright was breached... it's dead simple to make your own white noise in Logic Pro using the Test Oscillator for example)
However, before you ditch the idea of mixing in white noise to your sonic creations, or go all out and bounce down a track of pure white or pink noise for your next album, know that unless you share the same name as Taylor, your single probably won't reach the top 10 in iTunes!
"Track 3" was an apparently caused by a glitch when making Taylor Swift's album ready for iTunes. Though Apple have been unerringly quiet on this front so we can't be sure of the cause. Either way, "Track 3" has since been pulled from the store.
Read more on CBC News Canada here.
Thanks to Steve H for the tip.
Interested in learning how to use white noise creatively in your productions? Check out video #7 from Deepchild's Electronic Artists Revealed course here.