World's Smallest Modular Synthesizer System, Pico I, Now Available
We've been waiting for this one for a while now. Erica Synths Pico 1 is now available and still holds claim to be the smallest modular synthesizer in the world (with its level of functionality).
December 21, 2016
Erica Synths team can't imagine Christmas without some great news to spread out - the long-awaited Pico System I is now available!
We proudly can say that Erica Pico System I is the world's smallest modular synthesizer of its functionality. It contains wisely selected modules so that beginners are introduced with basics of modular synthesizers and advanced users can play hours long live gigs.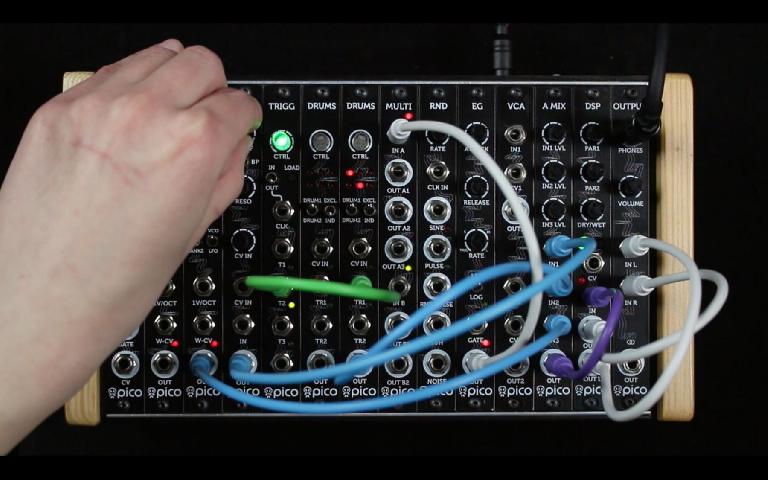 Erica Pico System 1 includes:
 SEQ – powerful 16 step sequencer with 16 pattern memory

 2xVCO – 32 custom waves in 2 banks, great 1V/oct tracking and LFO mode

 VCF1 – Polivoks-inspired LP/BP VCF, ideal for acidish basslines

 TRIGG – 4 trigger pattern generator that also serves as a master clock for the system. Web-based pattern designer app allows user to upload own patterns

 2xDRUMS – 64 sample player with 3 adjustable parameters and CV control over them. Web-based app and Pico Programmer (included) allows user to upload his own sound samples

 MULTI – buffered audio/CV/clock signal splitter

 EG – lin/log ASR envelope generator that works also as LFO

 VCA – dual linear VCA

 RND – sine/pulse LFO and random events (random trigger, S&H and noise) generator

 DSP – stereo effects processor with 8 great sounding custom effects

 A MIX – 3 input audio mixer

 OUTPUT – stereo output module with headphone amplifier

Pico case
External, universal PSU module
Horizontal wooden side panels
Pico Drum Programmer
Wrench key
20 patch cables
User manual which contains pages for your patch notes