Che tu sia un principiante di produzione musicale per computer o un professionista, una cosa che tutti gli artisti di registrazione e produttori possono concordare è che se non gestito in modo efficiente, il processo di registrazione può diventare molto confusa e frustrante. Ciò è particolarmente vero se si sta creando produzioni con numerose tracce, ecc sovraincisioni Il modo migliore per assicurarsi che il processo rimane sotto controllo e in pista è quello di sviluppare un solido sistema di flusso di lavoro dal principio in modo che una volta che il progetto comincia a prendere forma, grow di portata e richiede solo un'altra direzione gli aspetti tecnici di gestire l'applicazione software non si ottiene nel modo del vostro processo creativo.

In questa serie di post sul blog vorrei disposizione alcuni semplici passaggi ma non sempre ovvio che possiamo prendere in Reason per preparare i nostri progetti e semplificare alcune delle azioni ripetitive del processo di registrazione all'interno
Tastiera di controllo Edit Mode
Keyboard control edit mode is a function within Reason that allows the user to map certain task commands of the Transport bar to your computer's keyboard. The value of this function lies in that you can essentially create a personalized key command language to your liking. Having mastered your key commands you will save a tremendous amount of time in keeping your workflow moving in those crucial creative moments. First let us take a look at the transport bar and decide which controls we want to edit.


La barra di trasporto è quello che chiamerò il centro centrale di controllo del sequencer di Reason. Tutte le funzioni principali di voi sequencer si trovano qui. La maggior parte, ma non tutti, le funzioni della barra di trasporto sono personalizzabili. Questi 3 aree sono quelle che userete di più:

Vediamo ora iniziare il processo di configurazione. Prima andare alla barra dei menu e selezionare il menu Opzioni nella parte superiore del programma.

Selezionare la modalità di controllo della tastiera Modifica dal menu a discesa.

Quando hai fatto la tua barra di trasporto è andare a guardare in grigio come questo:


Ora cliccare ovunque all'interno della barra di trasporto. Quando avete fatto la vostra barra di trasporto devono ora mostrare frecce gialle su tutti i controlli di trasporto che sono assegnabili:


Il passo successivo è quello di cliccare sul controllo di trasporto che si desidera assegnare una scorciatoia o un comando da tastiera per. Noterete che ho scelto la funzione Click e dopo aver fatto questo, la freccia gialla ha cambiato in arancione:


Dopo aver selezionato il controllo si desidera mappare abbiamo bisogno di tornare alla barra dei menu in alto e questa volta selezionare il menu Modifica:

Dal menu Modifica che stiamo per selezionare Modifica Mapping tastiera di controllo:

Una volta selezionata questa opzione una piccola finestra chiamata di controllo della tastiera: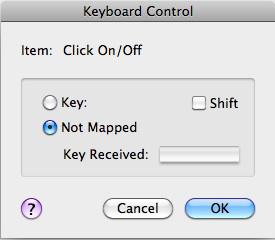 Quando questa finestra è apparso quello che vuoi fare è premere il tasto o una combinazione di tasti che si desidera essere il comando per l'azione sulla barra di trasporto. Mentre selezionando il comando chiave vedrete attività nel settore chiave ricevuta che indica che il programma ha ricevuto la tua richiesta. Come potete vedere qui sotto ho selezionato 'C' la chiave per controllare la funzione di trasformare il metronomo Click on e off: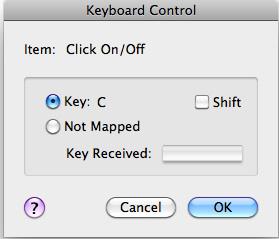 Quando avete fatto la vostra scelta di comando chiave che si rifletterà sulla barra di trasporto con il comando scelto chiave in una casella gialla il pre-selezionati funzione.

Ora che cosa farai da qui in poi è ripetere la procedura sopra la barra di scorrimento o solo per le funzioni che si sa si utilizzerà il più mentre si lavora su progetti.

Trovo questa funzione molto utile perché la maggior parte del tempo, sia esso il mio progetto o un progetto di produzione per un altro artista, io sono quasi sempre suonare tutti gli strumenti in modo da essere in grado di raggiungere velocemente e braccio registrare o spostare i localizzatori con facilità al posto di doversi fermare e utilizzare il mouse è molto utile.

Infine, vorrei lasciarvi con una lista dei miei comandi personali Trasporto Bar chiave nel caso in cui si riscontrano chiave blocco di comando scrittori! Anche sapere che per default la barra spaziatrice funziona come l'arresto e giocare comando quindi non c'è bisogno di mappare i due meno che non abbiate qualche ragione intelligente e convincente per farlo. Nel mio prossimo post continueremo a imparare nuovi modi di padroneggiare il flusso di lavoro di Reason. Vi mostrerò come assegnare comandi sul controller MIDI per le funzioni di dispositivi di Reason. Fino alla prossima volta, soggiorno creativo.
Comandi principali di trasporto
Click-C
Pre-X
Rewind:Shift+R
Fast Forward:Shift+F
Record:Shift+S
New Dub:Shift+D
New Alt:Shift+A
Loop on/off:O
Left Locator: Shift+1
Right Locator:Shift+2

Puoi diventare un maestro di registrazione con