Quando usar a razão para construir as suas faixas, talvez, a melhor característica é a capacidade de "hands on" projetar seu set up como você gosta. Razão só tem um mixer 14 canais, e isso pode aparecer para apresentar algumas limitações no número de faixas e da quantidade de controle que você tem sobre o processamento dessas faixas. Mas as aparências podem ser enganadoras.
Uma das técnicas mais eficazes de reforço e criatividade que eu uso no Reason é criar sub-misturas para todas as partes diferentes da minha faixa. O sub-mix, que é sempre de interesse para pessoas com quem trabalho é a mistura de tambor sub especialmente ao trabalhar com MC. Eles, por natureza, estão sempre preocupados com a forma como o som da bateria. Eu criei um tambor especial mix-sub que eu sempre uso quando um MC aparece na porta.
Passo 01

Let's build a drum sub-mix from the ground up. First lets create a
Combinator
: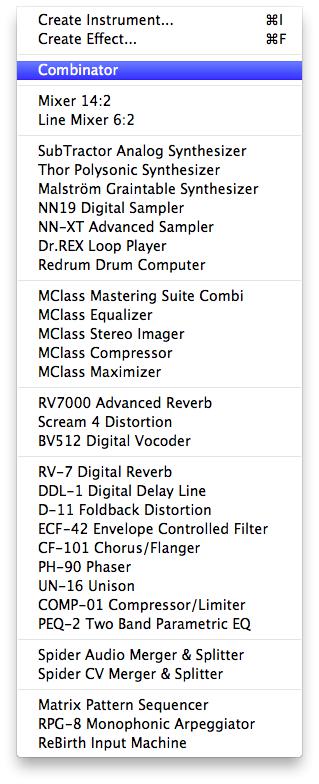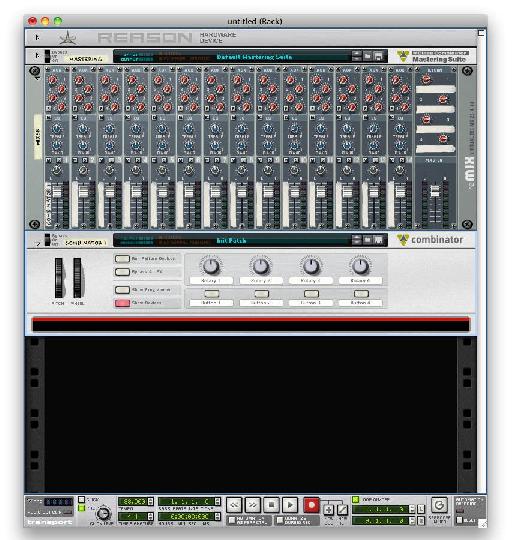 Passo 02

No combinator vazio vamos adicionar um Mixer 14:02

Passo 03

Em seguida, vamos adicionar o nosso efeitos e permitir que elas sejam auto encaminhado para o mixer. Nesta ordem, vamos acrescentar:
an M-class compressor
M-class Equalizer
Scream 4 and
an RV7000 reverb
Agora você deve ter um patch Combinator que se parece com isto: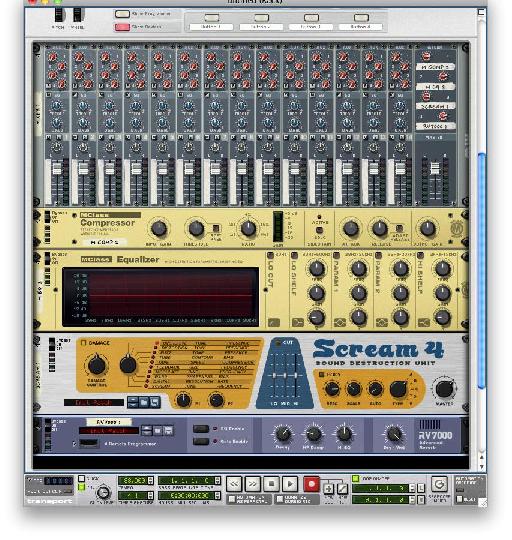 Etapa 04

Agora vamos adicionar um Redrum mas nós estamos indo para contornar roteamento automático. Fazemos isso por ir para o menu Criar, manter pressionada a tecla Shift e selecione Redrum. Agora que você adicionou o Redrum ao rack pressione a tecla Tab para girar em torno do rack. Seu Redrum deve ficar assim: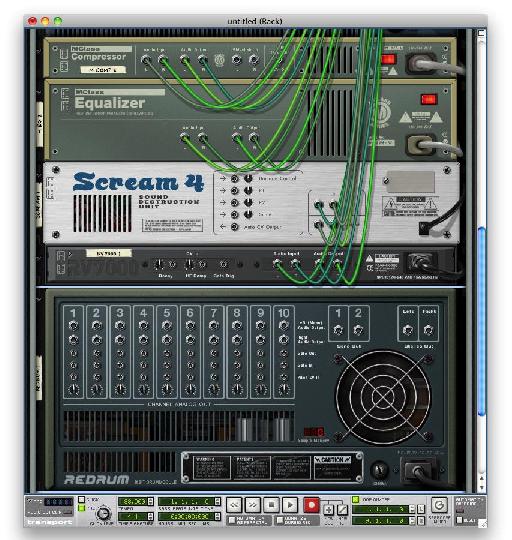 Passo 05

Agora o que nos dará a liberdade para corrigir os nossos Redrum no mixer o que quisermos. Este é o lugar onde os segredos um primeiro tambor na produção de mentiras. O que vamos fazer é corrigir cada um dos 10 canais em Redrums é próprio canal do mixer. Isso nos dará o poder para, individualmente, cada processo de som de bateria do nosso Redrum o que nos agrada, sem ser limitado pelo processamento de sinal do mixer principal.
Click and drag your mouse over the channel of the Redrum. Having done this a grey patch cable should appear. Drag the cable up to the mixer above your effects and patch it into the input of the first channel on the mixer in your Combinator. You will notice that by doing this once both the left and right outputs are patched to the mixer, which is a nice time saver. Your connection should look like this: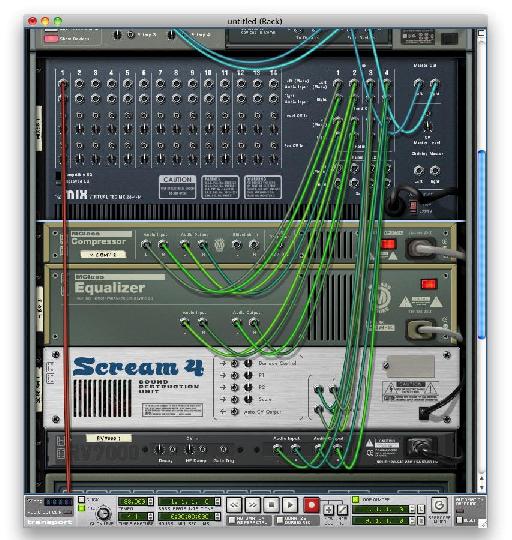 Um trabalho de conclusão de patch ficará da seguinte forma: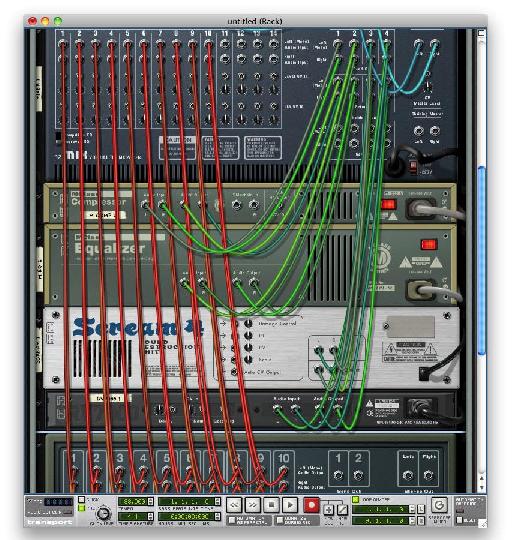 Você também vai notar que seu mixer na parte da frente vai ser rotulado em conformidade também:

Retoques finais

O toque final é salvar este patch Combinator e talvez até mesmo configurá-lo como o seu modelo padrão para aparecer quando você iniciar o Reason. Fazemos isso clicando no ícone de disquete na frente do Combinator:

Nome do seu patch: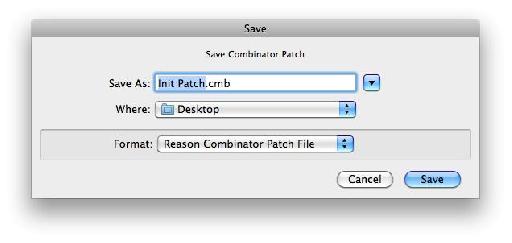 Se queremos salvar este configurado como nosso modelo padrão na inicialização simplesmente guardá-lo como uma canção usando o atalho: Comando de Controle Nome S. a sua música e escolher onde você quer salvá-lo.
Em seguida, iremos a nossa janela Preferências: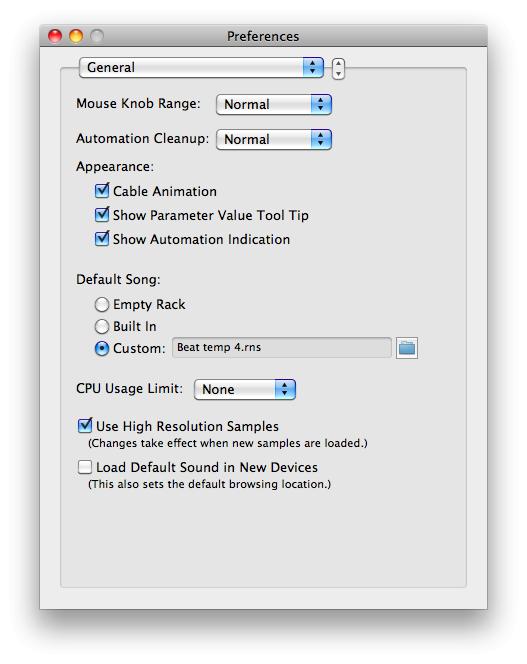 Selecione Personalizar sob 'Song Padrão "e clique no ícone do arquivo para a direita do nome atual canções padrão. Isso fará com que sua lista de projetos Razão salvos (músicas):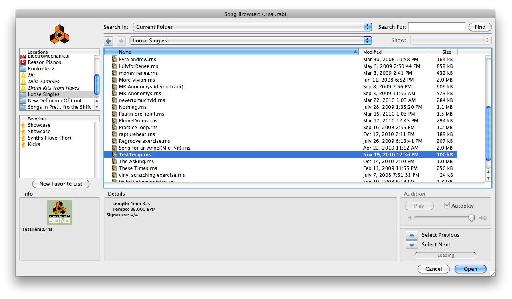 Selecione a sua música e escolha Open. Você verá que a sua música seleccionada é agora a música padrão personalizado. Quando você reiniciar Reason este modelo será carregado e você está pronto para iniciar no lançamento, com a elaboração de uma batida.
Eu faço esses modelos para todos os tipos de situações diferentes que vão desde batidas, vocais e idéias synth como você nunca sabe o que o dia pode pedir. Mas estar preparado para qualquer coisa é a chave. Eu sugiro que você tome algum tempo e fazer o mesmo com seu criado pela pré-fazendo templates a seu gosto e salvá-los.
Até a próxima vez .. Fique criativa e confira esses tutoriais Razão para saber mais.