Quando si usa la ragione per costruire le tracce, forse la caratteristica migliore è la capacità di "hands on" progettare il vostro impostato come volete. La ragione ha solo un 14-canale del mixer e questo può apparire per presentare alcune limitazioni nel numero di tracce e la quantità di controllo si hanno a trattamento di tali tracce. Ma le apparenze possono ingannare.
Una delle tecniche più efficaci e la creatività di miglioramento che uso di Reason è la creazione di sub-mix per tutte le diverse parti del mio brano. Il sub-mix che è sempre di interesse a persone con cui lavoro è il mix Drum sub soprattutto quando si lavora con MC. Essi, per loro natura, sono sempre interessato di come il suono batteria. Ho creato un tamburo particolare sub-mix che io uso sempre quando un MC si presenta alla porta.
Passo 01

Let's build a drum sub-mix from the ground up. First lets create a
Combinator
: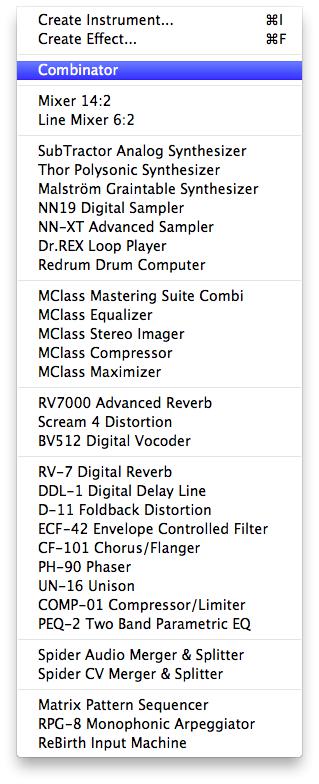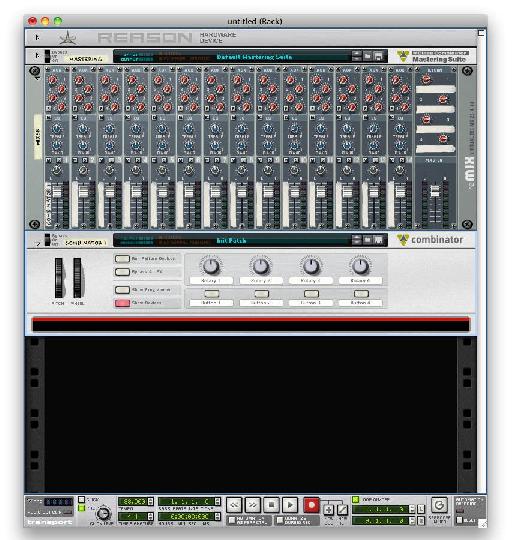 Step 02

Nel combinatore vuota stiamo andando aggiungere un Mixer 14:02

Step 03

Prossimo abbiamo intenzione di aggiungere la nostra effetti e permettono loro di essere automaticamente indirizzato al mixer. In questo modo andremo ad aggiungere:
an M-class compressor
M-class Equalizer
Scream 4 and
an RV7000 reverb
Si dovrebbe ora avere una patch Combinator che assomiglia a questo: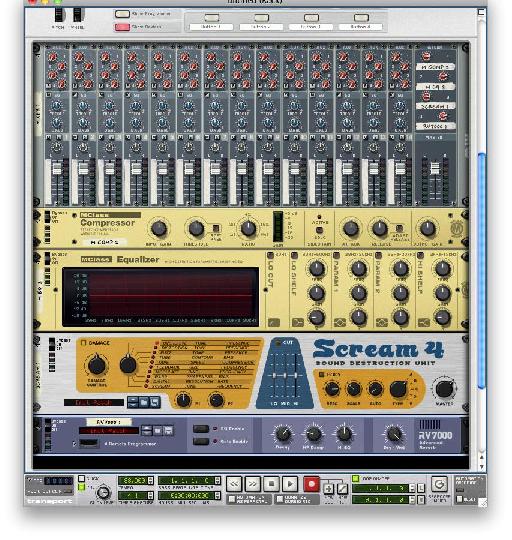 Passo 04

Ora stiamo per aggiungere un Redrum, ma abbiamo intenzione di bypassare il routing automatico. Facciamo questo andando sul menu Crea, tenere premuto il tasto Shift e selezionare Redrum. Ora che avete aggiunto il Redrum al rack premere il tasto Tab per girare intorno al rack. Il tuo Redrum dovrebbe apparire così: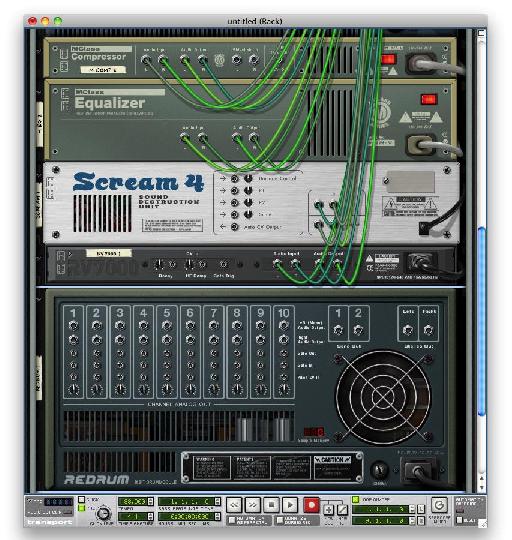 Passo 05

Ora, questo ci darà la libertà di patch per i nostri Redrum nel mixer come ci pare. E 'qui che uno dei primi segreti della produzione di tamburo bugie. Ciò che ci accingiamo a fare è di patch ognuno dei 10 canali in Redrums è proprio canale del mixer. Questo ci darà la forza per elaborare individualmente ogni suono del tamburo dei nostri Redrum come ci pare senza essere limitato dalla elaborazione del segnale del mixer principale.
Click and drag your mouse over the channel of the Redrum. Having done this a grey patch cable should appear. Drag the cable up to the mixer above your effects and patch it into the input of the first channel on the mixer in your Combinator. You will notice that by doing this once both the left and right outputs are patched to the mixer, which is a nice time saver. Your connection should look like this: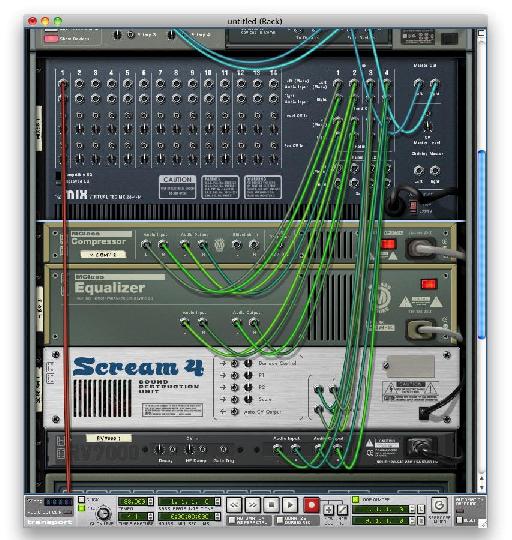 Un lavoro di patch completato avrà il seguente aspetto: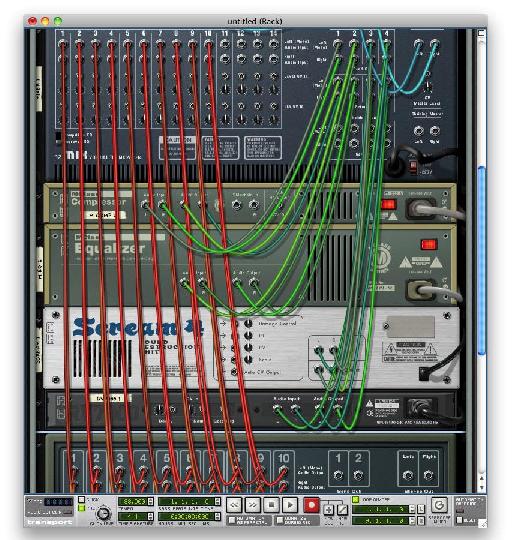 Noterete anche che il mixer sul lato anteriore sarà etichettato di conseguenza anche:

Tocchi di rifinitura

Il tocco finale è salvare questa patch Combinator e forse persino impostato come il modello predefinito che appare quando si avvia Ragione. Lo facciamo cliccando sull'icona del floppy disk sulla parte anteriore del Combinator:

Il nome del vostro patch: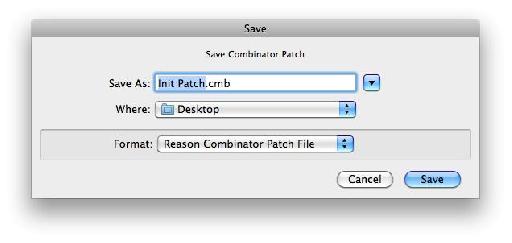 Se vogliamo salvare questo set up come il nostro modello predefinito all'avvio semplicemente salvare questo come una canzone usando la scorciatoia: Nome Comando Controllo S. vostra canzone e scegli dove vuoi salvarlo.
Prossima andremo nella nostra finestra delle preferenze: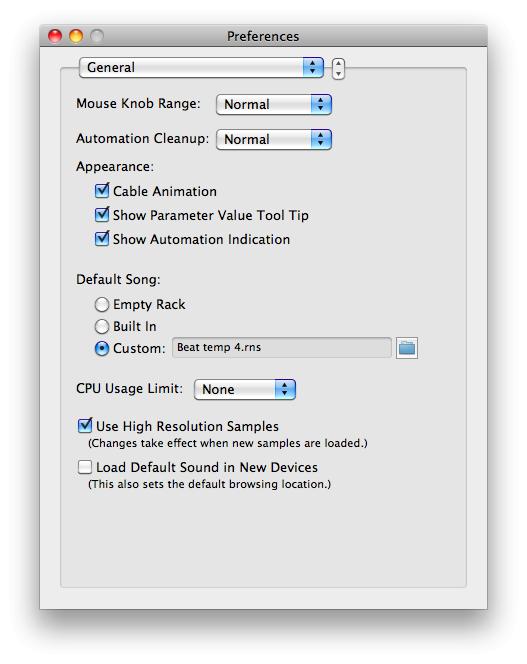 Selezionare Personalizzata con 'Canzone di default' e fare clic sull'icona del file alla destra del nome attuale canzoni di default. Si aprirà l'elenco dei progetti Motivo salvato (canzoni):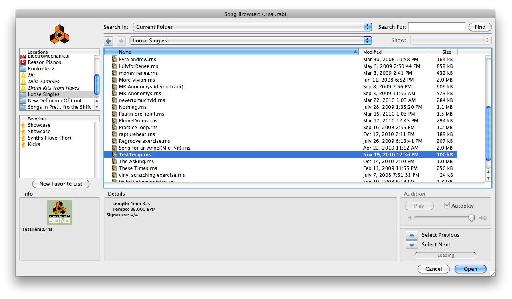 Seleziona la tua canzone e scegliere Apri. Vedrete che il vostro brano selezionato è ora la canzone di default personalizzati. Quando si riavvia Motivo questo modello verrà caricato e si è pronti per iniziare al momento del lancio con un ritmo di lavoro.
Faccio questi modelli per tutti i tipi di situazioni diverse che vanno dal beat, voce e synth come le idee non si sa mai quello che il giorno possono richiedere. Ma essere pronti a tutto è la chiave. Vorrei suggerire di prendere tempo e fare lo stesso con il tuo istituito dalla pre-making template a proprio piacimento e salvandoli.
Fino alla prossima volta .. Soggiorno creativo e verificare queste esercitazioni Motivo per saperne di più.