WMD Unveils Singular-Sounding Fracture Multi-Particle Percussion Synth Module
This new Eurorack module features a number of outstanding sound-sculpting tools packed into its slender (8HP width) frame, with a focus on percussion generation.
DENVER, CO, USA: modular synthesizers, guitar pedals, and standalone musical instruments manufacturer WMD is proud to announce availability of Fracture — a multi-particle percussion synthesizer module for small-format Eurorack modular systems that applies concepts from classic analogue clap circuits to granular synthesis techniques to generate a wide palette of sounds while maintaining a simple, intuitive interface.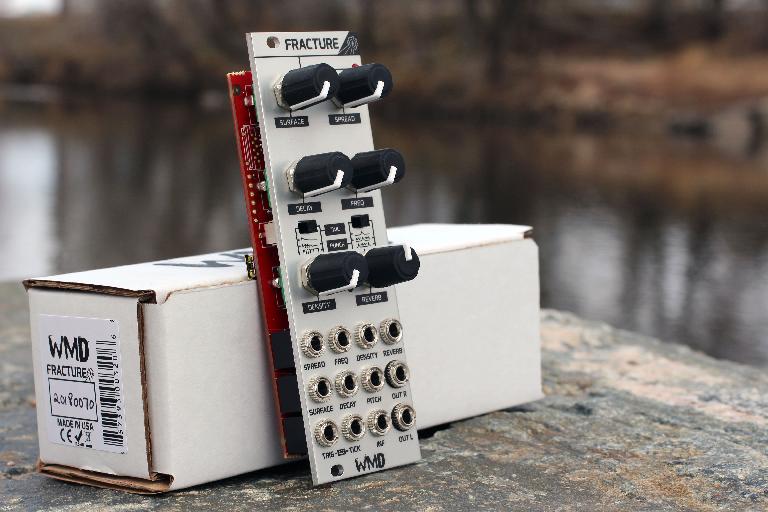 Proprietary micro-samples — specifically recorded for this purpose by WMD — is where it all starts for Fracture. It ends with an engine built to suit those samples, ultimately. Unlike WMD's first Eurorack percussion synthesizer module, Chimera, which involves impulse-rich samples at its tonal centre, Fracture uses single-impulse samples such as claps, ping-pong balls, opening a beer can, and many more. Moreover, it then plays back a group of similar such samples in a pseudo-random order resulting in unique hits. DENSITY, DECAY, and TAIL settings all affect tone and how 'tight' the user's virtual clappers are to playing together.
Fracture features a number of other outstanding sound-sculpting tools packed into its slender (8HP width) frame, including a stereo output (OUT L and OUT R); built-in H (Hall) and R (Room) REVERB; two trigger inputs for different sound types — TRIG triggers a burst of particles and TICK triggers a single particle (independently of the TRIG input); three types of filter; three types of envelope; and a free-running, voltage-controlled 'applause' capability. CV (Control Voltage) over all parameters is also available of course.