FRIDAY, JANUARY 02, 2015'"Winter NAMM 2015 is coming on January 22nd. Source Audio is introducing an unprecedented number of amazing new products this year. We will be updating this page every day or two with sneak peek news blasts of what we have in store. I don't want to give it all away at once, but I will say that we are doing BIG things. The concept is called "NEURO" and we promise that it will change the way musicians of all styles interact with their effects pedalsboards. Stay tuned to this page for updates and info, and be sure to visit our NAMM booth in Anahiem on the 22nd.
SNEAK PEEK #1: One Series Pedals
This is MAJOR - the new Source Audio One Series pedals. Out of the box, these sleek new pedals are super intuitive with an easy to use front control panel, but just hook them into the NEURO Effects Editor for Mac/Window or the NEURO App for iOS and Android and access an extensive world of additional adjustable parameters. Program your own distinct tone and save it to your One Series pedal - AWESOME. And of course, they sound amazing - that's the way we do it.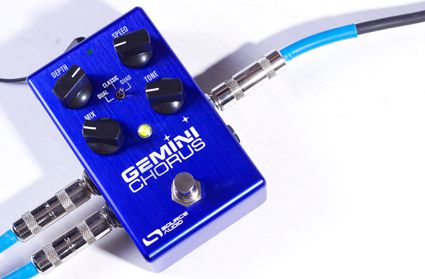 Source Audio Gemini Chorus.
Check out this amazing blue beauty, oooh that's pretty - The Gemini Chorus. It's got three amazing chorus effects - Classic (single voice), Dual, and Quad. This creamy stereo chorus is an absolute wonder with its incredible warmth and depth. Here is a quick look at this sweet new box, please feel free to bask in its glory.

SNEAK PEEK #2: The Reflex Universal Expression Controller
Ladies and Gentlemen, this is the The Reflex Universal Expression Controller. The Reflex is a massively versatile and programmable expression pedal that allows its user to simultaneously send up to three standard expression or CV signals, MIDI continuous controller messages, as well as six LFO wave shapes. With the control panel you can program which outputs are active, the depth and direction of the expression signal, and the curve of the tapers. You can also assign one of its six LFO wave shapes with expression control over the LFO speed. Plus, the Reflex can save up to 128 pedal configurations, recallable via the onboard controls or external MIDI program change messages. Now that is power.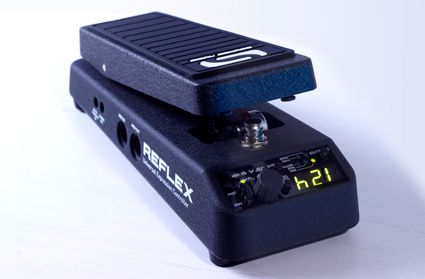 Reflex Universal Expression Controller.
The Reflex has three standard ¼' expression jacks with a separate set of DIP switches for each. This allows the user to select individual plug configurations or CV (Control Voltage) output mode to accommodate any brand of effects pedal. Reflex also includes a 5-pin MIDI output for sending MIDI CC messages and a USB port so the pedal can be used as a class compliant USB-MIDI device with any digital audio software.

Check out this video of The Reflex in action, simultaneously controlling 4 different effects pedals from Line 6, Eventide and Source Audio

SNEAK PEEK #3: The Kingmaker Fuzz
This thing is ferocious. The Kingmaker Fuzz is a seriously nasty installment to our amazing One Series family of pedals. Out of the box this pedal has three styles of Fuzz: a hyper saturated, hyper fuzzed, violin like tone reminiscent of the Big Muff, an extremely input sensitive fuzz in the tradition of the Fuzz Face that cleans up nicely with a low input signal but explodes with a twist of your guitar volume, and an other worldly Octave Fuzz in the style of an Octavia.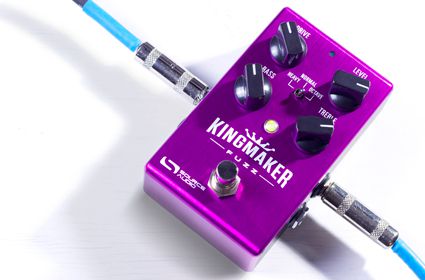 The Kingmaker Fuzz.
Like all the One Series pedals, The Kingmaker has a simple control panel with Drive, Level, Bass and Treble, but hook it in to your Mac or Windows PC with the built in USB or connect to any iOS or Android mobile device and enter a tweaker's paradise. The Kingmaker's free Neuro Effects Editor Software lets you dive in to an additional 8 flavors of overdrive, fuzz and distortion with massive equalization control.

Let's take a quick look at the Kingmaker!