Will This Touch Screen Trackpad Change The Way We Produce Music?
The mouse was followed by the trackpad and along came the touch screen. What if your next laptop had a touch screen in place for a trackpad like the Asus ZenBook Pro? How would that help musicians?
Those prone to dramatic sayings will claim the new Asus ZenBook Pro 15 UX580GD is an Apple MacBook Pro killer. It's not. The MacBook Pro has its macOS market and the ZenBook Pro appeals to Windows users. Case closed. This aside, the new "Screenpad" on this powerful Asus laptop is a noteworthy evolution of the humble trackpad that deserves as much focus as if Apple had announced it.
Apple made a lot of noise about its Touchbar that resides at the top of the keyboard area below the screen. It doesn't fit everyone's needs, but has been adapted by a number of app makers and does provide an interesting alternative for Logic Pro and GarageBand users to perform quick shortcuts, navigate the arrangement areas and even play it like a MIDI controller. However, being a thin strip above the keyboard makes it an odd position to ergonomically use for prolonged periods of time. It's really designed to replace the Function keys but isn't always more efficient than using dedicated keys for certain functions.
So, what if you could replace your laptop's trusty trackpad with a touch screen? In essence swap it with your smartphone's screen. Asus had the same idea and hence the Screenpad was born. Not to be overly dramatic ourselves, but we might be witnessing the next major advancement for input devices since the introduction of the touchscreen... or perhaps even the trackpad.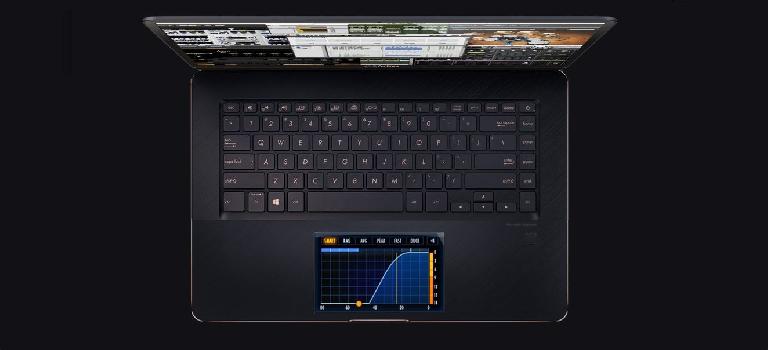 For musicians, producers and DJs we can see creative and practical uses. Rather than reach up to the computer's screen to touch, tap, swipe controls which can get tiring, the Screenpad is in a more intuitive position, one where our finger muscle memories are already trained to be.
With the right support from PC DAWs like Steinberg Cubase, FL Studio, Ableton Live, Reaper, Studio One, Pro Tools, etc, we could soon be editing audio, navigating the arrangement, adjusting plugin controls, and, arguably most interestingly, doing a full mix and writing in automation, using a touch screen track pad!
Anyone that's used an iPad or Android tablet to produce music knows the benefits and immediacy of hands on control. But for those that miss the tangible, dedicated controls a physical keyboard allows, the Asus ZenBook Pro looks to merge both worlds together. And this could be a trick Apple has missed… we hope they're working on their own version for a future MacBook Pro as the TouchBar is useful, but not a tech to completely shout about.
Here's a few more mock-ups of how the Asus Screenpad could operate as a more intuitive controller or as a second screen with some popular DAWs.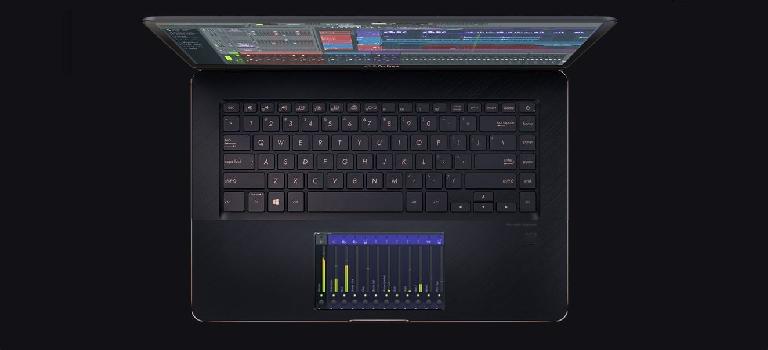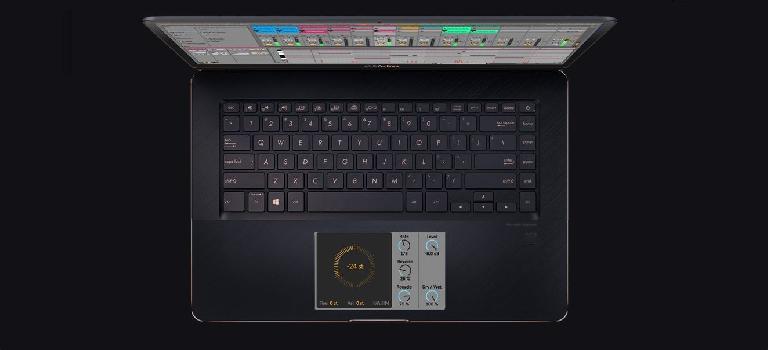 In terms of raw computing power this machine isn't shy. It can be configured with an Intel Core i9 processor, has a 15.6" 4K display, up to 16GB ram, 1TB of storage, USB 3.1 and USB-C support, and Harman Kardon speakers. ZenBook Pro 15 will go on sale in mid-July for a starting price of $2,299. There will be a 14-inch model coming in Q4 this year too.
Not quite as immediately cool, but extremely useful, is the app AudioSwift which transforms your Apple trackpad into a MIDI and DAW controller. We can't stress how cool this is. So if you're a Mac music maker it's well worth checking out.