Will This Organic Modular Controller Enable Greater Expression Than Classic MIDI Keyboard?
Music controllers tend to be based on traditional interfaces. The Joué aims to make our performance interaction more flexible and allow us to change the layout. Founder, Pascal Joguet tells us more.
Oh, MIDI. Over 30 years old and somehow not entirely showing your age.
MIDI is still the communicate protocol of choice for 99% of studio and stage musicians and producers. But, perhaps the biggest limitation when it comes to playing virtual instruments using a MIDI keyboard controller is the keyboard interface. While keyboards can be played expressively, it's not exactly suited to playing a harp like you would the real thing. Or a guitar. Or a marimba. You get the idea. It's great for pianos and triggering sounds, but doesn't emulate the feel or layout of most other instruments.
The ROLI Seaboard has gone some way to evolving the tried and tested keyboard by adding new dimensions and ways to interact with it. No longer is it note on/note off. ROLI give you the ability to slide along each "key". So, what about the image at the top of this page? It's not a ROLI or a traditional keyboard. It's a Joué, the creation of Pascal Joguet, co-founder of the original JazzMutant Lemur.
Joué, in a nutshell, consists of a base instrument with MIDI voer USB that you can hold or place on a desk with a grid with swappable silicon pads. Each pad has different functions, e.g., a keyboard interface, drum pads, and so many strange and wonderful pads. And the pads almot demand to be touched and felt like a real instrument. Once programmed these pads intelligently remember their function so you can remove and replace pads easily.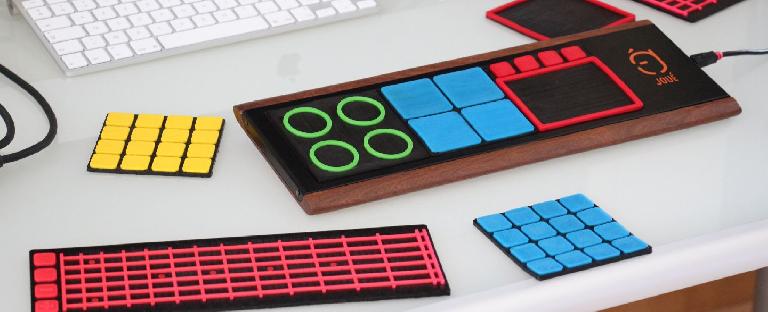 You may have already seen our introductory article on Joué and you may even be aware it is on Kickstarter now and has almost reached its goal!
But, here are three things you may not know:
Yours truly got hands on with a prototype of the Joué late last year on a rainy afternoon in Bristol and really enjoyed it.
Jordan Rudess has been playing with one (see the video below)
Pascal has chatted with us about the Joué and we're ready to spill the beans on this exclusive interview now (see below).
Here's Jordan Rudess exploring the Joué for the frst time:
AskAudio: Tell us what inspired you to create Joué.
Pascal Joguet: I have always dreamed of a modular controller. Even before working on the Lemur concept, I was looking for a way to build a physical modular controller but it was impossible to do at that time, the technology was not ready. Then, after being involved in the development of unique touch sensors during more than a decade, I realized that by adding physical modules on top of a pressure sensor, I could transform it to anything I wanted. My dream was becoming true!
The second part of inspiration is expressivity. I've always been interested in hardware but as a musician, I'm still very frustrated by the classic MIDI keyboard and knobs/buttons interfaces. To me, textures and materials are almost as important as the modular aspect of the Joué. I do believe that musicians can be more expressive thanks to more organic devices. I mean elastic, soft and deformable shapes instead of buttons, slides and knobs.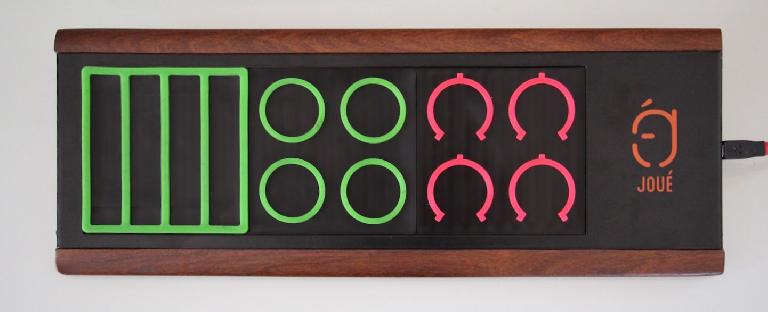 Why you think Joué is the next step forward for controllers?
Joué brings a new way of thinking how a MIDI controller should work. In fact, even the word « controller » is a bit limitative because it sounds like controlling parameters as a technician will do while one of the Joué goal is to play with sound parameters, like a musician does with an instrument. It's really a new trend in digital music and we are not the only ones to think that way. Also, the fact that Joué can evolve brings exciting prospects for the future.
What makes Joué different/special from regular performance-based controllers?
The most revolutionary aspect of the Joué is definitely the usage of its smart modules. It is possible to exchange modules in real time and to switch from a keyboard to a drum pad within a second. Thanks to that, the live set can evolve during the performance and this feature brings a totally new way of playing digital music.
You recently performed using the Joué. What instruments were you using?
The performance is based on 2 Live sets running on 2 synchronized computers. Several virtual instruments are loaded on each track such as Native Instruments synths or Sample Modeling instruments. Then, sound effects are added to each track such as overdrive, delays, beat repeater, etc. The 2 Joué allow us to play the virtual instruments in real time, to modify the FX but also to launch loop recording.
How easy was it to setup?
The setup is very easy to operate because each track of the Live set is loaded with one instrument with its own effects. Then, each Joué module controls one of these instruments or one on the FX. Each time we put a module on the surface, the instrument is ready to be played instantaneously. Then, we can concentrate on playing music instead of controlling things.
Any plans you can reveal after the Kickstarter is over?
Well, the project is still very fresh and we have just succeeded our crowdfunding campaign. Now there are plenty of things to come. I can't give you more details for the moment but let's say that we are working on crazy modules as well as accessories that will for sure make Joué users more than happy. So stay tuned!