Over the past decade, Beatport.com emerged as the primary digital retailer for dance music DJs. While the site may not cater to more avant-garde tastes, they've managed to maintain a significant level of industry dominance by exclusively offering new releases from a wide range of established and underground labels alike for the first two to four weeks of their release—which means if you want the latest, say, Drumcode or Poker Flat track while it's still fresh, Beatport is where you're headed.
Numerous design updates have steadily expanded Beatport's cross-platform compatibility and market accessibility, yet have consistently failed to provide professional users with the enhanced functionality they crave. The Beatport desktop app attempted to bridge this gap with a more personalized user experience and, to my eyes, a more appealing design than the latest version of their website—yet still fell prey to some of the fundamental user experience shortcomings of their website.
Enter the Crates
Built by San Francisco's Mark Slee and Jason Wohlstadter, the founder of the streaming radio & music label distribution platform Proton, Crates.co makes clever use of Beatport's API to provide a few key features lacking from Beatport itself. Currently officially supported only on Chrome (though it worked just fine for me on Safari), go to www.crates.co and log in with your existing Beatport username and password to access your Beatport account through their interface—replete with favorite artists and label preferences, hold bin, and shopping cart.
Once logged in, an attractive dark-hued minimalist design welcomes you to the Crates experience. By default, you'll be looking at the "My Beatport" feed—a page of releases from your favorite artists and labels, organized by release date. One thing you may notice is that a number of the tracks are shaded out, which means that they're not actually new but re-released tracks, packaged for some new compilation or other. The argument in favor of these ubiquitous digital compilations is to introduce artists to a wider audience, but to whatever extent that's true, they also dilute a shopper's curated feed to such a degree that it can often be difficult to find genuinely new material. Crates.co cleans all that up with one simple box that can be toggled in the upper-right of their interface at all times: "Shade Re-Released Tracks."
Nifty, right? Going one better, with any track playing back in preview mode, you can click the "Full-Length YouTube Search" button in the track detail sidebar on the left of the Crates.co interface. Instantly, the search button turns up any results on YouTube that match the track's artist and title fields; click one of the links (if any turn up—it has to have been uploaded to YouTube by someone) and the corresponding full-length video automatically begins playing from the beginning right there in the sidebar, while simultaneously pausing the preview player up top. Slick indeed—and no more wondering what comes after a track's breakdown that Beatport's preview ended so inconveniently in the midst of.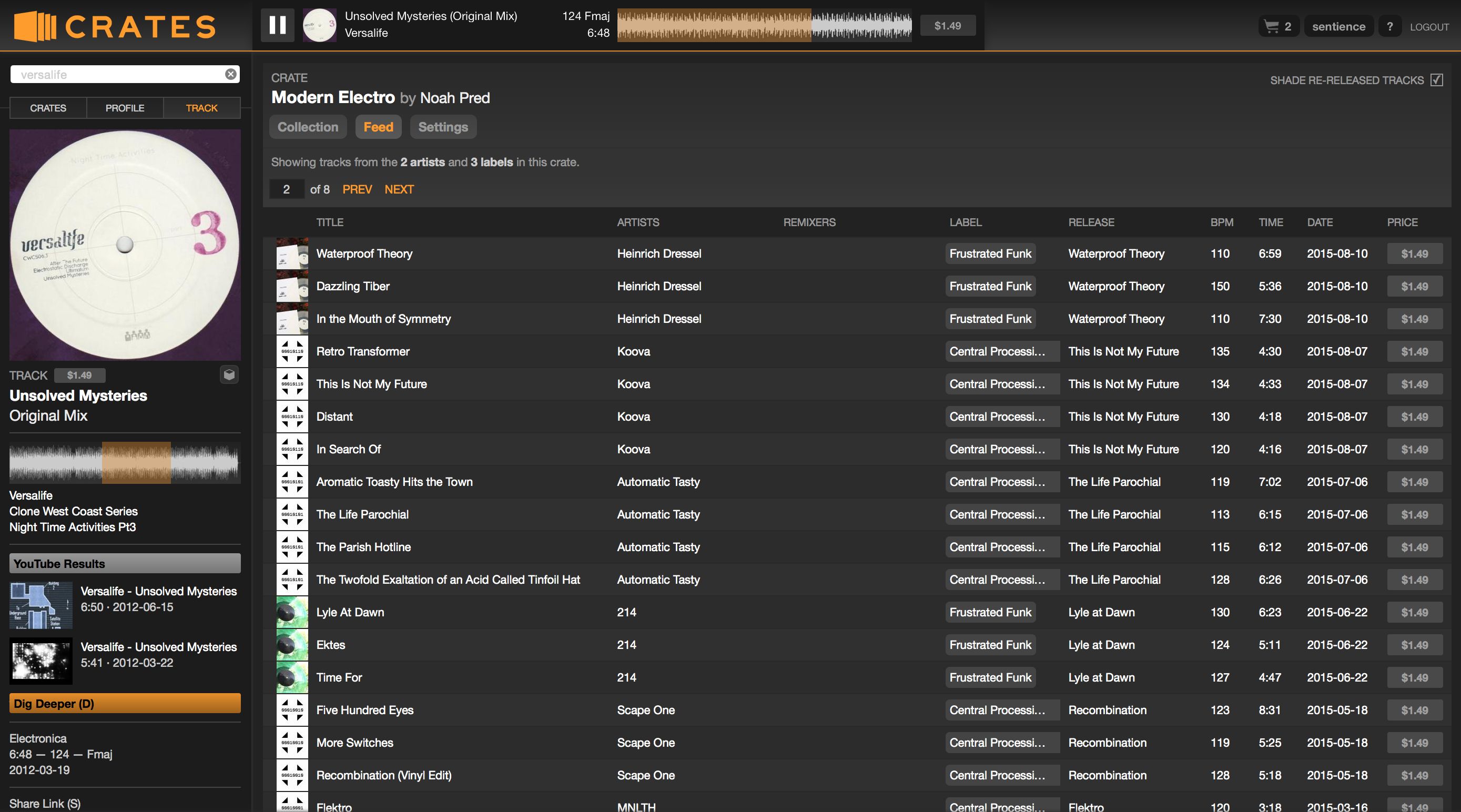 A track found in a Crate populated by two artists and three labels, with two different full-length YouTube clip options.
The multiple Crates themselves are a great function of the site. Beneath "My Beatport" in the Crates tab of the sidebar, you can click Add Crate to create as many crates as you want. Once you've created a few crates, whenever you hover over a track, release, remixer, artist, or label, you can select a Crate to add it from a convenient hovering pop-up menu. Each Crate essentially becomes a micro-curated mini-"My Beatport" list, populated every time you check in with new material from the artists and labels—categorized by genre or otherwise—that you've added to that Crate. There's even an option to make your Crates public for future sharing opportunities soon to be integrated in the site.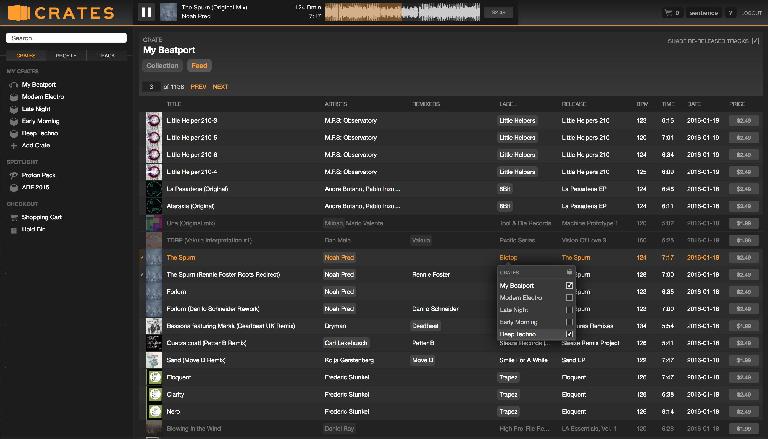 Adding Biotop Label to my Deep Techno Crate from the My Beatport feed, with re-released tracks shaded out.
Hot keys (revealed by the "?" button at upper right) help make navigating the site a breeze, while the Dig Deeper algorithm provides a glimpse of similar tracks to the one currently selected—though the results aren't yet as accurate as they could be.
Keeping in mind the site remains in beta, the additional functionality Crates.co delivers should make many digital DJs happy, and may even lure previous customers who had otherwise written off Beatport's latest retail iteration.
Clicking the Check Out button redirects you to your updated shopping cart on Beatport's home site, so there's no question who your money is going to in the end—which begs the question, what does Crates.co stand to gain here? Until they sort that out, Beatport users can take full advantage of the API-enhanced feature set Crates.co offers and get back to digging as deep as they can.
Web: crates.co