October 14th 2020, Wavesfactory, Artà, Spain - the company behind the acclaimed Trackspacer, Cassette, and Spectre announce their latest plugin Echo Cat, one of the world's most beloved tape echos perfectly replicated as an audio plugin. Retaining the original sound and offering modern features like ducking, M/S and tempo sync.
Based on a classic
Invented in 1958 by Charlie Watkins*, the Copicat* delay was an instant hit. Featured in countless albums from the 60s and 70s and used by great bands like The Shadows and Pink Floyd. Primarily designed for guitar, it's now a sought after piece of equipment in studios around the world.
Echo Cat brings back the sound and behaviour of the original unit with authentic tape simulation and three playback heads. With added extra features that any modern delay plugin should have. These include M/S processing, tempo sync delay times, filters on the feedback path, varispeed, modulation and ducking.
Authentic sound
Wavesfactory has meticulously modelled the sound of the original unit by analysing a high number of signals through Copicat.
Features At A Glance
Authentic tape behaviour simulation.
Precise audio control of each head.
Motor control.
Tempo sync.
Ducking feature.
M/S.
Highly configurable filters.
Stereo widener.
Pro presets.
Low tape cost and minimal head wear during plugin lifetime.
Heads Section
Each head can be controlled in great detail. The user can either have it time synced to the tempo of the host or can set the time freely in milliseconds. Volume, pan and LP/HP filters are included for each head. Three led indicators show you if there is signal present on the selected head.
Tape Section
Control the sound of the tape loop. Echo Cat Includes mono/stereo hiss, artifacts (or cat-ifacts) containing wow and flutter for recreating the fluctuations of the tape speed, tape age with asperity noise and erasures, and signal loss which is random high frequency compression. The "Loop Gap" parameter mimics the tape loop joint, where the tape is physically looped.
Motor Section
The "Motor" section offers control over HUM (low frequency noise produced by electric current). One Copicat* model in the 1970s featured Varispeed, with which you could control the speed of the motor at will, Echo Cat offers this. With Echo Cat the user can also modulate the Varispeed amount using a LFO.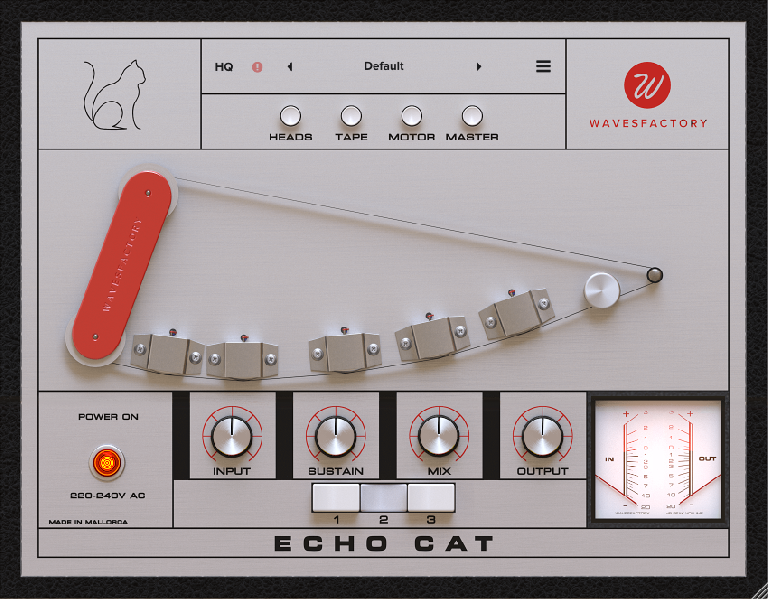 Master Section
Lower the volume of the wet signal when the dry signal is present using Ducking and don't let the delay signal get in the way of the main signal. Apply filters outside the feedback loop. Control the mid and side volumes separately.
Make Echo Cat mono, stereo or fake stereo with a 5ms delay only in the right channel.
Regular price: €79 / Intro price: €39 - 50% OFF until December, 3rd 2020.
Copy protection: No iLok or challenge response. At the time of the purchase you will receive a username and serial number.

Product web page https://www.wavesfactory.com/audio-plugins/echo-cat/