KNOXVILLE, TN, November 26, 2018 — Waves Audio, a leading provider of digital signal processing solutions and digital music production tools, introduces the Flow Motion FM Synth, an addition to its expanding line of virtual instruments.
Design deep basses, screaming leads, rich pads and growling FX with this hybrid FM synth, featuring an innovative 16-step snapshot sequencer, rich presets, and an intuitive graphic interface that makes FM synthesis playful and easy. Flow Motion combines the best elements of FM (frequency modulation) and analog-style subtractive synthesis in one powerful instrument.
The Flow screen eases your way into FM synthesis, with a uniquely designed graphic FM modulation matrix that connects four powerful mono/polyphonic oscillators with independent waveform and pan controls. You can easily modify assignments between the oscillators, using four independent floating LFO/envelope modulators with intuitive drag-and-drop manipulation.
The Motion screen lets you further control filters, amplitude, EQ and FX in a "traditional" subtractive way, for added power and flexibility.
The 16-step snapshot sequencer enables you to easily capture 16 different states of the synth and switch between them in real time. With 16 recallable snapshots per patch, you can quickly create jaw-dropping sequences, on the fly and in the flow.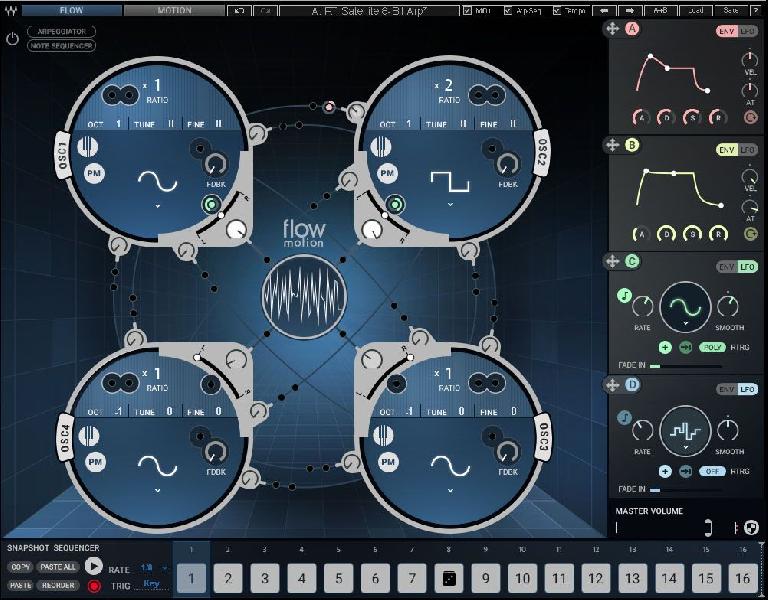 Flow Motion FM Synth Features
Hybrid FM synth combining FM and subtractive synthesis
Intuitive graphic FM modulation matrix with instant visual feedback
1000+ strong preset library, including exclusive artist presets
4 high-resolution oscillators
4 flexible LFOs and envelope modulators
16-step snapshot sequencer: sequence up to 16 recallable snapshots per patch
Built-in note sequencer/arpeggiator
State-of-the-art studio-quality FX
Use as standalone instrument or plugin, in the studio or live
NKS-ready for NI Komplete Kontrol and Maschine
With an additional 16-step note sequencer/arpeggiator and built-in FX, this hybrid synth will let you take your ideas to new sonic territories. Huge on tweakability, but light on the learning curve, Flow Motion will advance your creative flow whether you're a beginner or an expert synthesist. The Flow Motion FM Synth is included in the Waves Mercury bundle.