Here's what Waves Audio tell us about the new eMotion LV1 digital mixing console:
The eMotion LV1 mixer is available in three configurations: 64, 32 or 16 stereo channels. eMotion LV1 includes four Waves eMo plugins: eMo D5 Dynamics (Gate, Compressor, DeEsser, Limiter, Leveler), eMo F2 Filter, eMo Q4 Equalizer, and eMo Generator. For online operation, eMotion LV1 must be connected to a SoundGrid interface and a SoundGrid server.
eMotion LV1 is a revolutionary digital mixing console for front-of-house, monitor and broadcast engineers. Based on Waves SoundGrid technology, this software mixer delivers the superior sound quality for which Waves is renowned, as well as the quick and convenient workflow needed in demanding live environments.
Limitless Control over Your Live Sound
eMotion LV1 gives you unprecedented control over every aspect of your live sound. Each of the mixer's channels has its own plugin rack capable of running up to eight Waves and third-party plugins. This means you can mix live with hundreds of your favorite plugins—all running inside the mixer itself. All plugin presets and chains saved in eMotion LV1 can be shared with the Waves MultiRack and StudioRack plugin hosts, enabling you to move seamlessly between live and studio environments.
LV1 Channel Strip – Waves eMo Plugins
The mixer's channel strip—its standard EQ, filters and dynamics processing—is provided by Waves eMo plugins: eMo D5 Dynamics, eMo F2 Filter and eMo Q4 Equalizer. All three are designed for maximum clarity and efficiency in a live environment. All three are included with the eMotion LV1 mixer.
Intuitive Workflow, Diverse Control
You can control eMotion LV1 using industry-standard hardware controllers, multi-touch screens and diverse portable devices, ranging from four touchscreens to a single laptop or tablet. No matter which device you are using, eMotion LV1 has the same intuitive workflow, with a user interface built for flexibility and speed.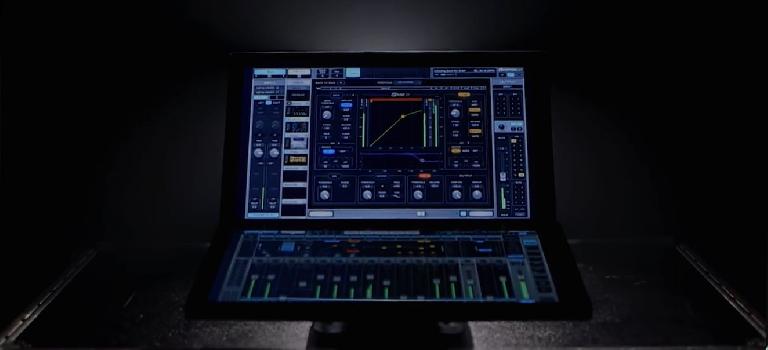 Total Portability
eMotion LV1 uses the SoundGrid infrastructure for audio networking. It can be configured as a portable or stationary setup, and can connect to any SoundGrid-compatible I/O or server. This means you can easily carry your mixer with you and run it anytime, anywhere—at home, in your hotel room, on the tour bus, or at the live venue. This way you can have all the time you need to work on your sessions, whether offline or with full-on audio, and make sure you are 100% ready for your show.
Features At A Glance
64 stereo/mono input channels, 36 buss/return channels
Run 8 SoundGrid-compatible plugins directly on each channel
Standard channel processing provided by Waves eMo plugins
16 auxes, 8 audio groups (stereo/mono), L/R/C/Mono, 8 matrixes
16 DCA faders, 8 mute groups, 8 user-assignable shortcut keys
32-bit floating point mix engine; up to 96 kHz sample rate
Compatible with industry-standard control surfaces
Connect to diverse SoundGrid I/Os & drivers and to multiple DAWs
Windows/Mac 64 bit-compatible
Price: $1149 USD
Web: http://www.waves.com/mixers-racks/emotion-lv1#introducing-emotion-lv1-live-mixer