Toronto, Canada: Highly acclaimed, forward-thinking music software company WaveDNA has announced a time-limited 50% discount on Liquid Music (includes Liquid Rhythm). Available as a VST, AU & Max for Live plugin you can get Liquid Music half-price—until August 31st, 2016...
Liquid Music is a powerful software plug-in that helps you instantly produce original song ideas. No more waiting around for inspiration to strike. Simply create inspiring beats, chord progressions and melodies using a unique visual workflow. It's the quickest way to inspire new ideas and conquer writer's block. No more piano-roll tedium, no more MIDI noodling—just exhilarating, effortless creation on your terms.
Paint melodies, harmonies and chords using the revolutionary Sketch tool
Make unique beats instantly using a collection of rhythmic building blocks
Tweak and evolve song ideas in real-time using five layers of control
Available in VST / AU / Max for Live plugin formats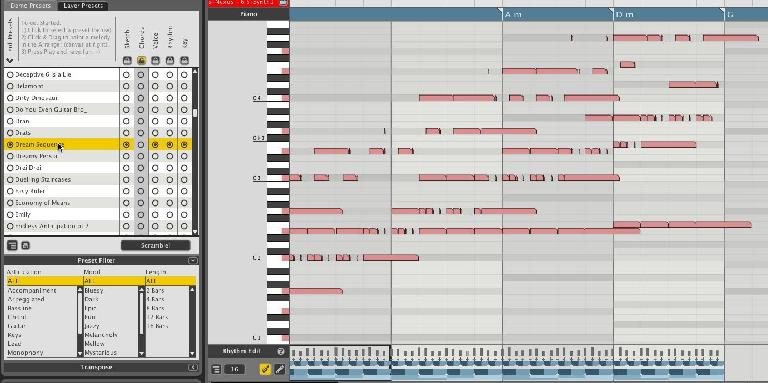 Testimonials
"This software is a pleasure to work with. It multiplies creativity. It lubricates an idea and feels so intuitive. I've said 'wow' out loud a dozen times. I've wanted to get ideas out of my head for years and nothing has come close to giving me a platform to do that like Liquid Music." ~ Rick Toxic
"With Liquid Music I never get stuck finding the right note and harmony variations for my songs. This is pure creativity!" ~ Broombeck
"An amazing app for quickly and easily building up complex melodic parts in less time than it takes you to make a sandwich." ~ G.W. Childs
As of 24 August, 2016, Liquid Music can be ordered online and directly downloaded from WaveDNA for a time-limited promo price of $99.99 — representing a 50% saving over its $199.99 MSRP — from here: https://www.wavedna.com/liquid-music/sale/.
This 50% Deal brought to you by AskAudio & WaveDNA is time-limited and ends on 31st August, 2016.