Onda Alchemy anunciou o lançamento de Percussão Afro-Latina uma nova colecção de loops de percussão acústica e ritmos orgânicos, perfeito para mergulhar com os actuais sucessos bateria one-shot ou a construção de seus próprios conjuntos de percussão.

Afro-Latin Percussion Vol. 1 centra-se em instrumentos de percussão "light" afro-latinas, incluindo, vários shakers, cabaça, guiro, claves, varas, sinos, blocos de madeira e muito mais ...

O que está incluído no pacote de amostra?
683 de 24 bits, 100% royalty-free loops de percussão acústica e acertos individuais organizados em quatro seções principais:

1. Percussão Loops Raw
588 autêntico percussão Afro-Latin laços e preenche, cuidadosamente registradas em 126 BPM com uma seleção bem pensada de microfones high-end e pré-amplificadores. A fim de captar o som autêntico, dinâmica e energia de Eds técnica de execução, os loops, enche e performances nesta pasta foram deixadas completamente cru, com a edição só é muito menor, e zero de pós-processamento

31 cabasa laços

41 voltas clave

155 cowbell laços apresentando vários ritmos expressivos e preenche a partir de uma variedade de diferentes sinos de percussão

49 guiro e críquete laços / fx

65 conjuntos de percussão mistos apresentando performances cuidadosamente em camadas a partir de múltiplas fontes de som para criar conjuntos rítmicas expressivas e loops em camadas / preenche

16 caxixi laços

36 maraca laços

27 voltas shekere

shaker laços com uma grande variedade de padrões de 13 shakers e brinquedos diferentes

Loops de vara 22

24 voltas pandeiro

Loops de nove triângulos

53 loops de xilogravura

2. Loops de percussão Hora corrigida
456 tempo corrigidos loops de percussão - cuidadosamente criados editando os loops de percussão matérias e performances

Os laços dessa pasta foram criados especificamente para os produtores que necessitam de máquina de tempo firme em sua música. Cada circuito tem tempo corrigido editando e movendo-se com cuidado transientes / acessos individuais a partir das performances

3. Percussão Loops Rex
515 Rex2 laços criados a partir de loops de percussão matérias e performances

4. Acessos únicos
95 one-shot batidas de percussão e samples FX, gravado completamente seco, deixando muito espaço para o pós-processamento

16 amostras clave

41 cowbell / sinos amostras

16 amostras FX percussivos

7 amostras triângulo

15 amostras xilogravura

5 remendos amostrador / kits em SFZ, bateria, Reason NN-XT e formatos Kontakt

Preço: 27,95 (45,00 dólares)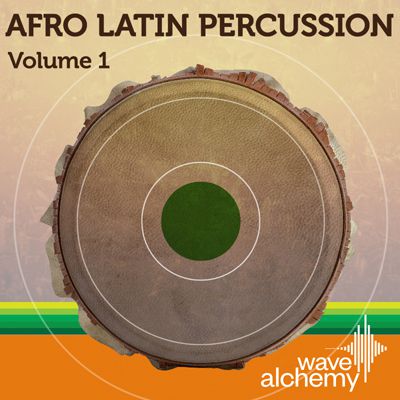 Onda Alchemy Afro Latin Percussion Vol. 1
Web:
Saiba mais sobre o The Making of Percussão Afro-Latin parte aqui .