Wave Alchemy a annoncé la sortie de la percussion afro-latine une nouvelle collection de boucles de percussions acoustiques et les rythmes biologiques, spécialement pour les femmes avec des coups de tambour one-shot existants ou construire vos propres ensembles de percussion.

Percussions Afro-Latin Vol 1 met l'accent sur les instruments de percussion «légères» afro-latins, y compris, plusieurs shakers, cabasa, guiro, claves, bâtons, cloches, blocs en bois et plus encore ...

Ce qui est inclus dans le pack d'échantillons?
683 24 bits, 100% libres de droits boucles de percussions acoustiques et de visiteurs uniques organisées en 4 grandes sections:

1. Percussion Loops Raw
588 authentique percussion afro-latine boucles et remplit soigneusement enregistré à 126 BPM avec une sélection bien pensée de microphones haut de gamme et pré-amplis. Afin de capturer le son authentique, la dynamique et l'énergie de Eds technique de jeu, les boucles, les remplissages et les performances de ce dossier ont été laissés complètement cru, avec l'édition que très mineur et de post-traitement zéro

31 cabasa boucles

41 boucles clave

155 boucles sonnaille Doté de multiples rythmes expressifs et remplit d'une variété de différentes cloches percussion

49 guiro et le cricket boucles / fx

65 ensembles de percussion mixte offrant des performances bien en couches à partir de plusieurs sources sonores pour créer des ensembles rythmiques expressives et des boucles en couches / remplit

16 caxixi boucles

36 maraca boucles

27 boucles shekere

Shaker Loops, avec une multitude de modèles à partir de 13 shakers et des jouets différents

22 boucles de bâton

24 boucles tambourin

9 boucles triangle

53 boucles sur bois

2. Percussion boucles temps compensé
456 boucles de percussions temps corrigées - soigneusement créés en éditant des boucles et des spectacles de percussions premières

Les boucles de ce dossier ont été spécialement créé pour les producteurs qui ont besoin de la machine timing serré dans leur musique. Chaque boucle a été le temps corrigé en éditant soigneusement et en déplaçant transitoires / hits individuels à l'intérieur des performances

3. Percussion Loops Rex
515 REX2 boucles créées à partir des boucles et des spectacles de percussions premières

4. Single Hits
95 one-shot coups de percussions et des échantillons FX, enregistré complètement sec, laissant beaucoup de marge pour le traitement post

16 échantillons clave

41 sonnaille / cloches échantillons

16 échantillons FX percussion

7 échantillons de triangle

15 échantillons sur bois

5 patchs sampler / kits dans des formats Kontakt SFZ, batterie, Reason NN-XT et

Prix: 27.95 ($ 45.00)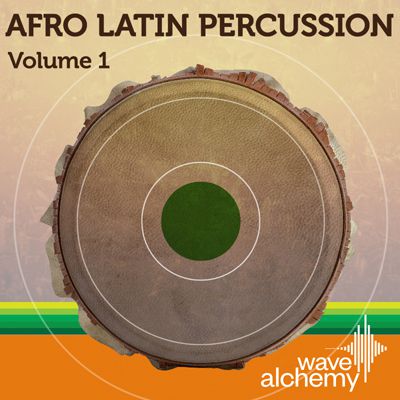 Wave Alchemy Afro Latin Percussion Vol 1
Web:
Pour en savoir plus sur The Making of Afro-Latin partie de percussion ici .