Wave Alchemy has announced the release of Afro-Latin Percussion – an exciting new collection of acoustic percussion loops and organic rhythms, perfect for layering with existing one-shot drum hits or building your own percussive ensembles.

Afro-Latin Percussion Vol 1 focuses on 'light' Afro-Latin percussion instruments including; multiple shakers, cabasa, guiro, claves, sticks, bells, wood blocks and more...

What's included in the sample pack?
683 24-bit, 100% royalty-free acoustic percussion loops and single hits arranged into 4 main sections:

1. Percussion Loops – Raw
588 authentic Afro-Latin percussion loops and fills, carefully recorded at 126 BPM using a well thought-out selection of high-end microphones and pre-amps. In order to capture the authentic sound, dynamics and energy of Ed's playing technique, the loops, fills and performances in this folder have been left completely 'raw', with only very minor editing and zero post processing

31 cabasa loops

41 clave loops

155 cowbell loops – featuring multiple expressive rhythms and fills from a variety of different percussive bells

49 guiro and cricket loops/fx

65 mixed percussive ensembles – featuring carefully layered performances from multiple sound sources to create expressive rhythmic ensembles and layered loops/fills

16 caxixi loops

36 maraca loops

27 shekere loops

shaker loops – featuring a wealth of patterns from 13 different shakers and toys

22 stick loops

24 tambourine loops

9 triangle loops

53 woodblock loops

2. Percussion loops – Time Corrected
456 time-corrected percussion loops - carefully created by editing the 'raw' percussion loops and performances

The loops in this folder have been specifically created for those producers who require 'machine tight' timing in their music. Each loop has been time-corrected by carefully editing and moving individual transients/hits from within the performances

3. Percussion Loops – Rex
515 REX2 loops created from the 'raw' percussion loops and performances

4. Single Hits & FX
95 one-shot percussion hits and FX samples, recorded completely dry, leaving lots of headroom for post processing

16 clave samples

41 cowbell/bells samples

16 percussive FX samples

7 triangle samples

15 woodblock samples

5 sampler patches/kits in SFZ, Battery, Reason NN-XT and Kontakt formats

Price: £27.95 ($45.00)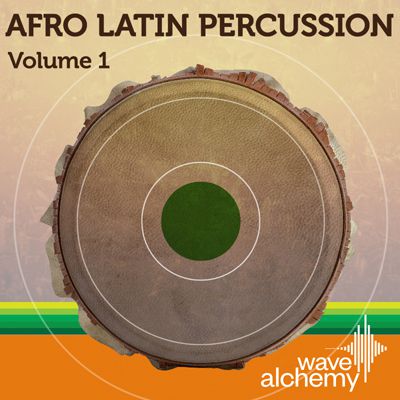 Wave Alchemy Afro Latin Percussion Vol 1
Web: http://www.wavealchemy.co.uk/afro-latin_percussion_vol_1/pid104
Find out more about The Making of Afro-Latin Percussion Part here.