No sooner did we start celebrating 808 day - yes, even iconic drum machines have birthdays - with a retrospective look at the first Roland TR-808 video advert, we came across this rather tasty recent video demo of the Yocto. The Yocto from e-licktronic.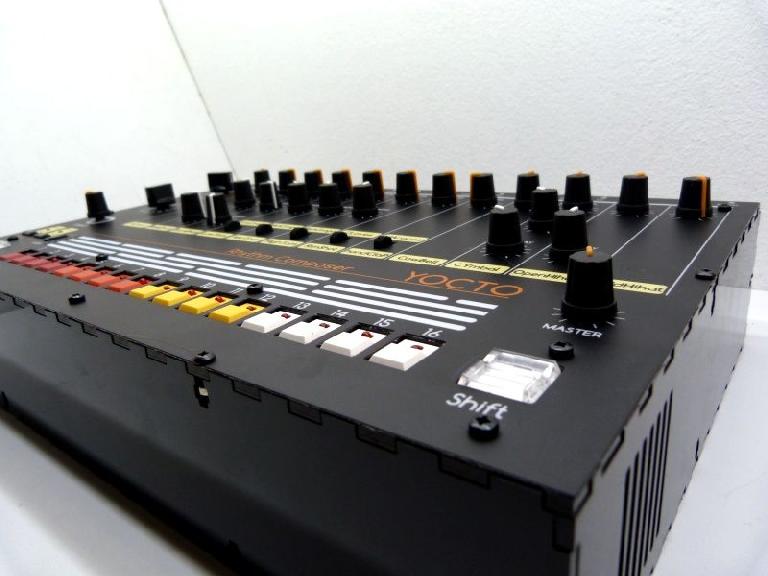 According to their website, Yocto is "an exact reproduction of the analog part of the TR - 808 (with the exception of the BA662 VCA Clap has been replaced by a BA6110) coupled with a MIDI sequencer. You can store up to 256 patterns organized into 16 banks of 16 patterns in a Non-volatile EEPROM. Various functions have been added such as the ability to mute every sound, to chain patterns as you want, copy, paste, clear patterns ..."
It comes in kit form, so you'll need to assemble it yourself. Great for budding DIY synth enthusiasts. The kit comes with eveyrthing you need except the wall wart power transformer alimentations. (The transformer must be a 15VAC or 16VAC 1000mA.)
Features
The ergonomics of YOCTO follows that of the TR-808 with 16 edits buttons , two rotary switches for instruments and modes.
11 drums 100% analog cloned the TR-808
A common Accent for all drums
16 banks of 16 patterns from 1 to 32 steps
16 songs of 256 patterns
11 separates OUT, one for each drum
A Mono Master OUT
2 Trigs Output that allow you to trig a external instrument (a third one is in option on the board)
Midi IN, OUT, THRU
Din sync24 IN/OUT to synchronize other machines with same standard
Update firmware via Sysex
It looks like the Yocto is no longer for sale which is a shame. For further details contact the company via their website below.