Back in the 90s Sony experimented with lots of different music storage and player formats. The Sony NT looks just like a miniature cassette tape. However, it borrows technology from the DAT tape world, and apparently simplifies it while sacrificing a bit on quality.
The NT2 machine that plays the NT cassettes has some excellent features (see the eject mechanism). I personally miss mechanical features like this on modern music players/phones.
What I also loved about Sony tech from the 90s is how multi-functional they could be. For example, the NT2 comes with a port where you can plug-in a stereo microphone and has analog line in and line out ports enabling anyone to turn the NT2 into a high-quality portable recording device.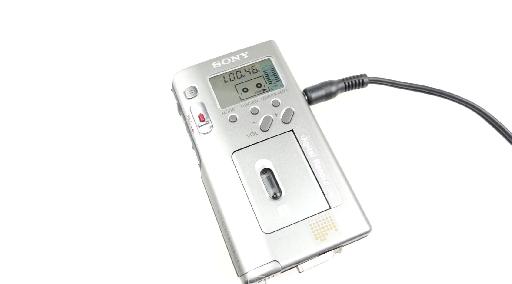 The Sony NT-2 cassette player & recorder.
Suffice to say the NT cassette wasn't a roaring success. This 120 minute miniature cassette tape was pushed out in favour of the transition to MiniDiscs and digital formats. Still, it's interesting to see what could have been on this walk down music format memory lane :)
Via: Techmoan