Rats get a bad press. But anyone that knows a little bit about our furry rodent friends knows they're incredibly intelligent, loving, and responsive to humans (when treated well!) The students at Arizona State University have been on a mission to get the word out that rats are cool and trendy in a bid to change the unfavourable reputation humans have rather unfairly lumped on them.
Andrew Sanchez (student at ASU) has created a music project called Ratsputin where his two pet rats collaborate on a composition.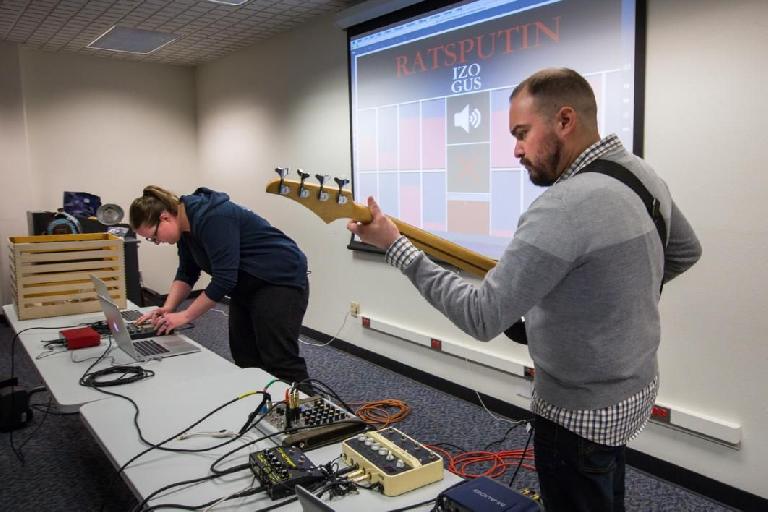 Jennifer Anderson & Andrew Sanchez adding sounds to the Rasputin project. (Photos by Charlie Leight/ASU Now)
Sanchez explains "this was achieved by placing four Apple iPads at the bottom of an enclosed wooden crate. The rats crafted sounds by their movements on the tablet, which was then run through a Kaossilator Pro, a palm-sized synthesizer that features a wide array of sound and loop recordings. Once Gus and Izo began to perform — thanks to a decent supply of kale and cucumbers — Sanchez droned on his bass while Anderson filled in spaces of silence with carefully chosen sounds and effects on her synthesizer, adding textures and timbres that complemented and played off their smaller counterparts."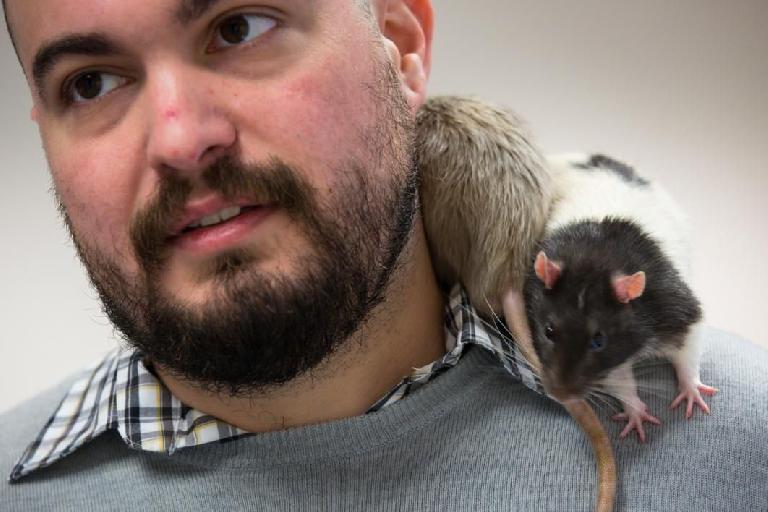 Andrew Sanchez with the two star performers. One is a little shy... (Photos by Charlie Leight/ASU Now)
The atmospheric bleeps and circulating rhythms and loops wouldn't sound out of place on a Bjork or Thom Yorke record... And it's got me thinking about the possibility of rats performing ambient music live. Why not?
Credits:
Via: Electronic Beats
Web: https://asunow.asu.edu/20160104-creativity-giving-rats-good-rap
Photos by Charlie Leight/ASU Now