Watch: First Video Demo of MS-20 Clone, Behringer K-2
The Behringer K-2 (Korg MS-20 clone) is an analog, semi-modular synthesizer with dual VCOs, ring modulator, external signal processor, 16-voice poly chain and eurorack format. Now you can hear it...
In this short video from Heinakroon Overlays & Accessories we get the chance to listen to the latest synthesizer from the Behringer labs, the K-2. A clone (and improvement?) on the Korg MS-20, the Behringer K-2 looks set to be released around the €299 mark and brings eurorack compatability to this beast.
Unfortunately, we don't get a chance to listen to the K-2 dry without reverb and delay units added. While this makes for an atmospheric sound it doesn't help to judge the sound of the synth on its own merits. Plus, we suspect either the hardware effects or the recording device is adding noise to the recording, not the K-2 itself.
The video does show off the filters a little inside the 2 minutes. Think of this as more of a tempting taster than an in-depth demo!

Now the K-2 is out in the wild expect more demos to start popping up on YouTube. Better still, wait for an in-depth video review of the Behringer K-2 here at Ask.Audio coming in a few weeks once we're able to get hands on with a unit.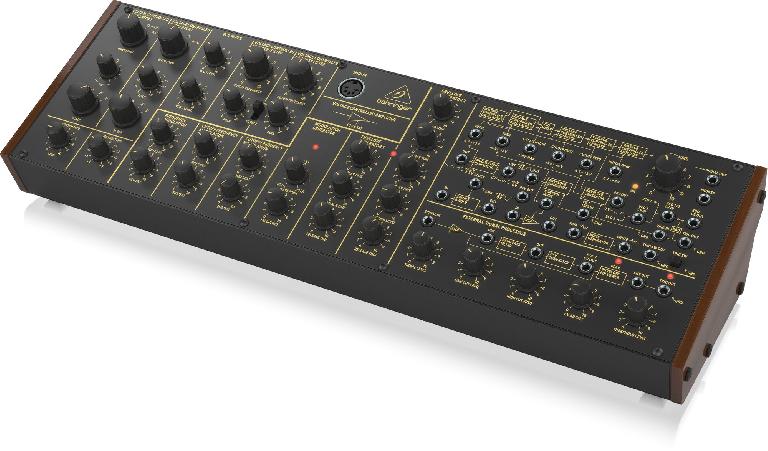 Official Behringer K-2 Features
Amazing analog synthesizer with dual VCO design allows for insanely fat music creation
Authentic reproduction of original circuitry with matched transistors and JFETs
Pure analog signal path based on authentic VCO, VCF and VCA designs
Semi-modular architecture with default routings requires no patching for immediate performance
First and second generation filter design (high pass/low pass with peak/resonance)
4 variable oscillator shapes with variable pulse widths and ring modulation for ultimate sounds
Dedicated and fully analog triangle/square wave LFO
2 analog Envelope Generators for modulation of VCF and VCA
16-voice Poly Chain allows combining multiple synthesizers for up to 16 voice polyphony
Complete Eurorack solution. Main module can be transferred to a standard Eurorack case
36 controls give you direct and real-time access to all important parameters
External audio input for processing external sound sources
Comprehensive USB/MIDI implementation with MIDI channel and Voice Priority selection
3-Year Warranty Program*
Designed and engineered in the U.K.

Learn synth tips and tricks in the Ask.Audio Academy
here
.