Watch First Sound Demo of Futuristic Genesis 1 Hardware Synthesizer Based on Ableton Live
Our teaser video for the Genesis 1 hardware synth that merges analog feel & digital convenience (and runs Ableton Live) got lots of attention. Here's the first proper sound demo video. It's stunning.
Last week we spoke with the creator behind the awesome (I don't use that word lightly) Genesis 1 hardware synthesizer, 2BTruman and premiered the teaser video. His futuristic synthesizer looks like something from a sci-fi film set. Sporting two large large touch screen displays and a Mac Mini inside running Ableton Live, 2BTruman's Genesis 1 is more than the sum of its parts. It's an innovative take on combining the convenience of digital software synths and the tactile pleasure we get from hardware.
2BTruman created a custom HTML5 interface which is why unless you knew it already, you'd never know Genesis 1 is running Ableton Live.
Interest in the Genesis 1 has naturally been high both in traditional hardware synth circles and amongst digital audio software users. But, one question on everybody's lips since October 2nd has been, "what does it sound like?"
And here's the first video sound demo of Genesis 1, which 2BTruman wanted Askaudio to have an exclusive on, (you may have seen it posted yesterday on a different site with next to no details). 2BTruman tells us he utilises UVI Apollo, UVI Emulation 2, Air xpand2 to showcase the PolyPatch(R). If you like expansive, ambient, dreamy, cinematic sounding synths you're going to love this:
There are more videos in the works to showcase different aspects of what Genesis 1 is capable of too... so stay tuned!
How Genesis 1 Came Into Being
We spoke with 2BTruman, based in Paradiso in Switzerland, to find out more about Genesis 1 which is essentially a custom-built live music workstation based on Ableton and using touch screens to adjust parameters and controls. There's a Mac Mini inside handling all the computing and processing.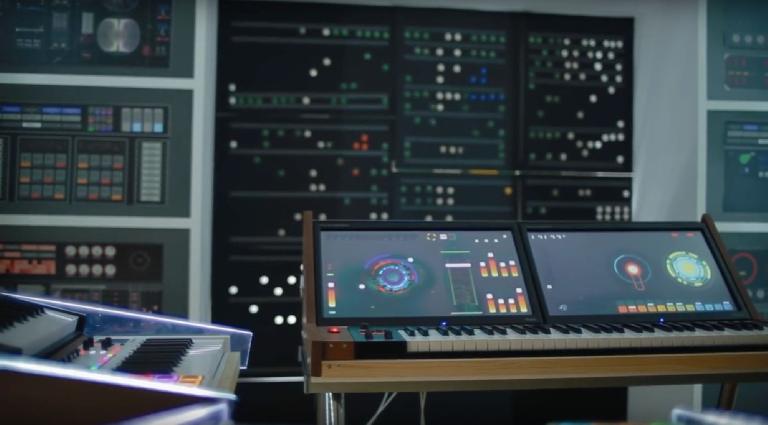 He describes the inspiration behind building Genesis 1 "because I wanted to be able to make live beat making and live music composing without having to deal with a computer interface."
"The first step is preparing the sounds and setting a loop length for each sound and assigning the parameters that I need to the touch controls which are channel independent. I can play sound A while changing the cutoff of sound B.
"Then i disconnect keyboard and mouse." Then the next time Genesis I is powered on it boots Ableton and some other software, and the touch screen GUI. "All I have to do is press start and then I can compose, jumping from a sound to another in real time. It is like working with analog synths and drum machines connected to a hardware sequencer. A dream!"
The GUI is customised and tailored for different composing needs.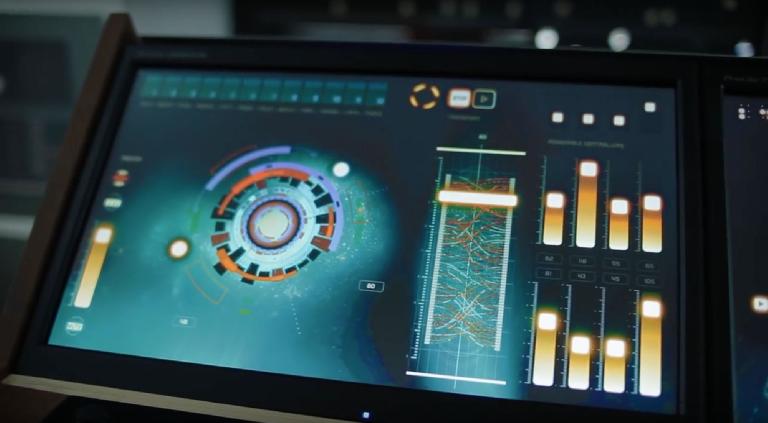 Bringing together the analog and digital worlds is what Genesis 1 is all about. 2BTruman wanted his synthesizer to have "the analog feel, and the software power. Genesis is a portable keyboard, with an AC cable, 8 USB inputs, 8 audio inputs and 8 audio outputs, it looks and feel like a analog synth and there is no sign of the presence of a computer inside. It let's you feel it's analog, but at the same time you can push its brain, Ableton Live, to the extreme."
Another feature that helps Genesis 1 stand out from the crowd of software and hardware synths is its ability to "play many different patches, with different notes. I mean, you can select a patch, play it, press hold, and select another patch and so on, building, for example, a progressive song." This feature is a bit like an evolved version of the Sequential Cirquits Six Trak.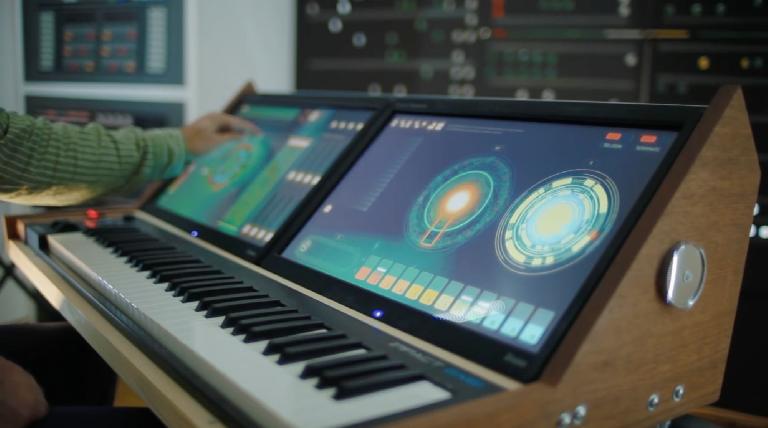 Genesis 1 Hardware Spec
Another interesting feature of Genesis 1 is its 8 USB connections, so you can connect as many MIDI controllers as you want and let them all interact. 2BTruman gives an example of how "a dancer with a MIDI device fitted with an accelerometer can interact with (my) music in real time."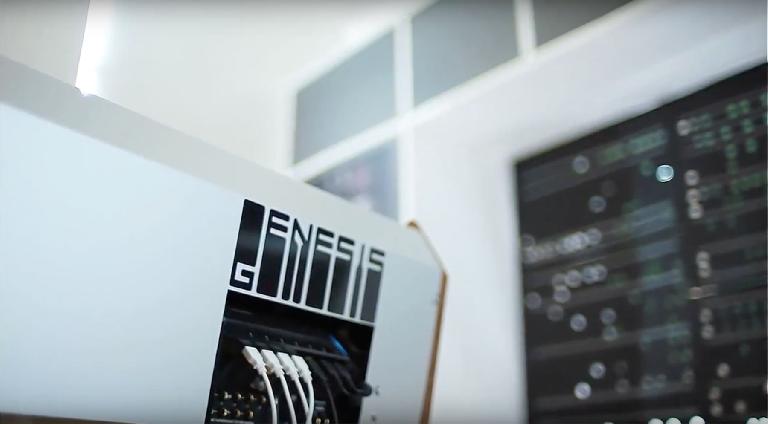 In terms or audio I/O, Genesis 1 packs in "8 audio inputs and 8 audio outputs for real time multichannel sound processing and surround mixing because (he) wants to tour not on stages but in... cinemas, taking advantage of the pre existing surround systems and big screens, in order to make true surround concerts with 4k cinematic VJ."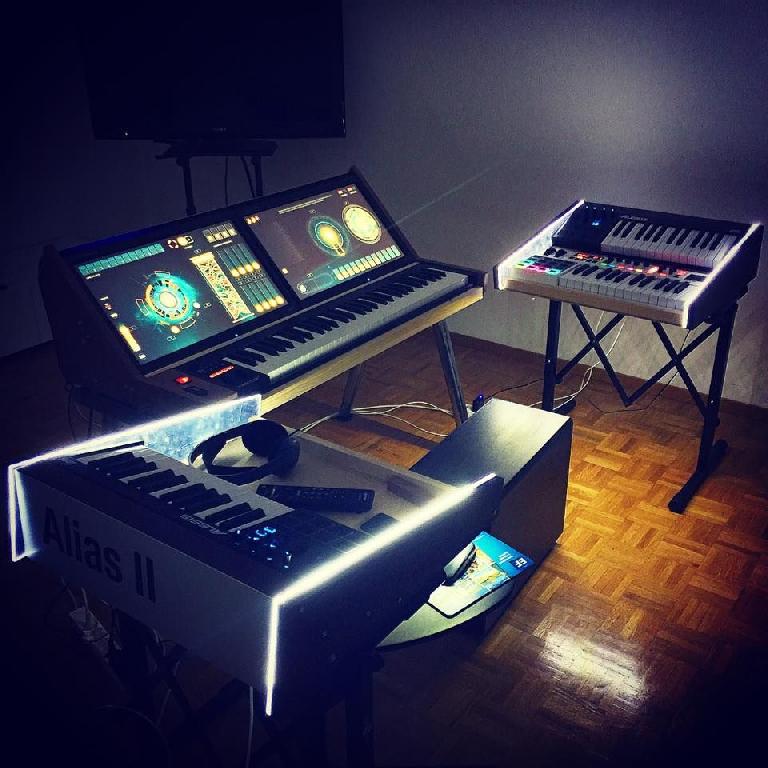 There's 8 audio inputs and 8 audio outputs for real time multichannel sound processing and surround mixing.
Oh and in case you were wondering about retro-future background picture in the videos above. 2Btruman tells us that "will be used for live streamings on Facebook, Youtube and Periscope. My stage is my studio."
We understand curently there are no plans to bring Genesis 1 to market. But who knows what the future holds if there is enough demand and interest from potential software and hardware companies...
Links