With the vcf1, Waldorf now provides the highly praised analog filter from its Rocket synthesizer and the 2-pole for the Eurorack modular system.
The elegant vcf1 module features a typically clean – and therefore intuitive – Waldorf 18 HP design which can be perfectly combined with the four other Waldorf modules already available. All relevant sound parameters can be accessed via the sturdy knobs made of actual metal. All inputs and outputs are screwed onto the front panel.
A genuine classic
It would be a waste of time to try to write anything about Waldorf filters – they have being among the most sophisticated filters designs for decades, coveted by musicians and producers in all four corners of the world. All Waldorf units distinguish themselves due to their blending of a smooth warmth and an aggressive punch.
The vcf1 features a 12 dB per octave slope and can be used as HP, LP or Bandpass filter. Furthermore, the smooth Resonance filter can be driven to self-oscillation at will.
Open to the outside
The Distortion section, located before the filter in the signal path, provides yet another option to shape sound, including the possibility to generate new harmonic structures. And in case the user craves for more filth and energy, there is a Drive section right after the filter to be used as an afterburner. The Distortion section can also be used independently to process other signals.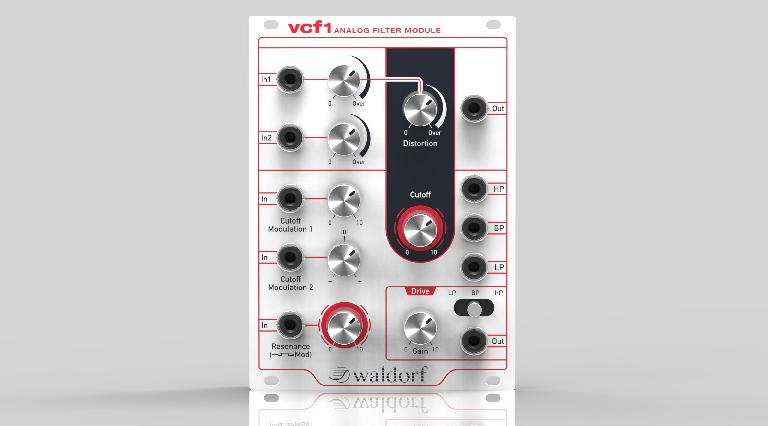 KEY FEATURES
Analog 12db/octave multimode filter with distortion
Signal path: Distortion -> Filter -> Overdrive
2 audio inputs with gain
Resonance up to self-oscillation
2 CV inputs for cutoff, one featuring bipolar control
CV input for resonance
Independently usable pre-filter distortion with level control
Post-filter overdrive with adjustable gain
Distortion output
Individual outputs for low-pass, band-pass and high-pass
Drive output
Pricing and Availability