Although most of the synth manufacturers have abandoned Musikmesse in favor of Superbooth, Waldorf are still here in Frankfurt and chose today to preview their brand new eight-voice hybrid poly synth, Waldorf Quantum.
Here's a video from SonicState:
And here's some details picked up by MatrixSynth:
Hybrid Digital/Analog 8 voice polysynth

Some specs from the video:

3 Oscilators featuring:
Wavetable - waldorf wavetables
Waveform - traditional analog waveforms
Partical - granular sampler
Resonator - resonator filter bank

Nave synthesizer with speech and spectrum functionality built in - waveform & spectrum will display on the screen like in the app.

All three oscillators are freely assignable. On the original Waldorf uWave & XT, you had two oscillators that shared an assignable wavetable. On the Waldorf Q and Blofeld you had three oscillators, two freely assignable wavetable oscillators (the Q had two sub oscillators for each), and a third oscillator with more standard waveshapes.

Two dual analog filters. Voice inserts, inserting into the digital voice, going out to the analog, and two OTA filters for each voice that goes back into the voice.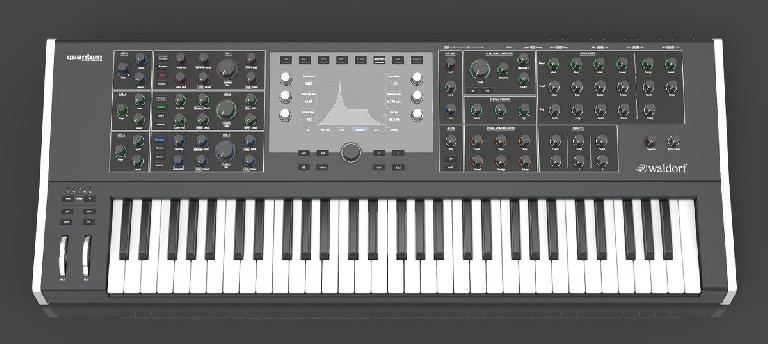 Another digital former - drive, bit crusher, digital filters, etc...
Six envelopes - three on the panel. Envelope curves.
Three Digital Effects
Multistage envelope, glide...
Six LFOs
Touch display
Two layers for multi-timbral
Arpeggiator
And more...
There's no official pricing or availability info on the Waldorf website yet. Keep checking back.