Rumours and speculation on the new machine from Waldorf were popping up around the web last week. Now, the German synth company have confirmed the existence of Iridium. Here's what they tell us about it:
The mighty synth engine from Quantum is now available in a compact form. Tracing the footsteps of its bigger brother, Iridium features all the synthesis elements of Quantum as well in a rack-compatible format. The combination of the powerful engine, incredible flexibility and detailed sound shaping facilities creates sheer endless possibilities of sound. Yet, the comprehensive layout and easy-to-understand structure lets you design your own sounds in no time. Sporting a solid metal casing and the same high level of craftsmanship like Quantum, Iridium is now ready to take over studios and stages throughout the world.
Contributing another entry in Waldorf's rich history, Iridium joins the family as a direct descendant of the PPG Wave. Though, Iridium offers much more than its ancestor. Five different synthesis models are provided by Iridium for each of the three oscillators.
Read more about Iridium on the Waldorf website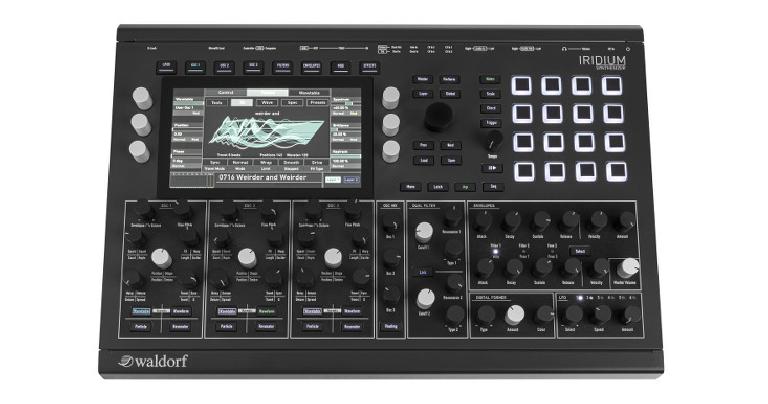 Here's a first-look of Iridium by Tom from Synth Anatomy where we talks to Waldorf Iridium developer, Rolf Wöhrmann:
Soundsets for Quantum and Iridium
Quantum Soundsets. Waldorf have just released 5 soundsets for Quantum and Iridium. Tim Shoebridge put together his favourite 55 carefully curated presets that provide an excellent starting point for writing your own scores. This sound set is free of charge.
Well known sound designer Kurt Ader produced a series of 4 sound sets with 64 presets each. From vintage analogue recreation synths, Epic and Cinematic Pads, Wavetables, Resonator, Granular, to FM Signature sounds the KA-leidoscope collection boosts a comprehensive variaty of sounds for Quantum and Iridium. We have a special price for the 4 sound sets in a bundle package with some extra presets.