REMAGEN, GERMANY: having teased the musical masses last year, then turned heads and opened ears when unveiling a preproduction prototype at The 2019 NAMM Show in Anaheim, California earlier this year, with repeat showings Stateside (at Synthplex 2019 in Burbank, California) and closer to home (at SUPERBOOTH19 in Berlin), high-quality synthesizer developer Waldorf Music is proud to announce availability of Kyra — its eagerly-awaited 128-voice, FPGA (Field Programmable Gate Array) processing-powered VA (virtual analogue) synthesizer.
As a truly multitimbral instrument it features eight independent 'parts' with up to 32 notes per PART, each effectively being a complete synthesizer with sound sources (OSC GROUP 1, OSC GROUP 2, SUB 1, and SUB 2); FILTERS; modulators (EGs, LFOs, and MOD MATRIX); multi-effects unit (EFFECTS); and a USB 2.0 connection — can exchange MIDI (Musical Instrument Digital Interface) information, as well as send the audio from each stereo PART to a computer as eight stereo 24-bit streams at 96kHz (with 48kHz downsample mode available) and one stereo audio return from the computer supporting a single 24-bit stereo audio stream from the host DAW (Digital Audio Workstation).

With that being said, the only other resource they share are the four balanced, stereo output pairs — OUT A (Right and Left), OUT B (Right and Left), OUT C (Right and Left), and OUT B (Right and Left) — using 32-bit DAC (Digital-to-Analogue Conversion) running at 96kHz sampling rate connected to four internal stereo busses and that powerful pool of 128 hardware voices. Versatility further abounds as each PART has a dedicated multi-effects unit comprising nine stereo effects modules — namely, three-band EQ, Formant filter, input Limiter, Distortion module, Delay module, six-state Phaser, Chorus flanger, Stereo reverb, and output Limiter — with dedicated audio stream via USB (Universal Serial Bus).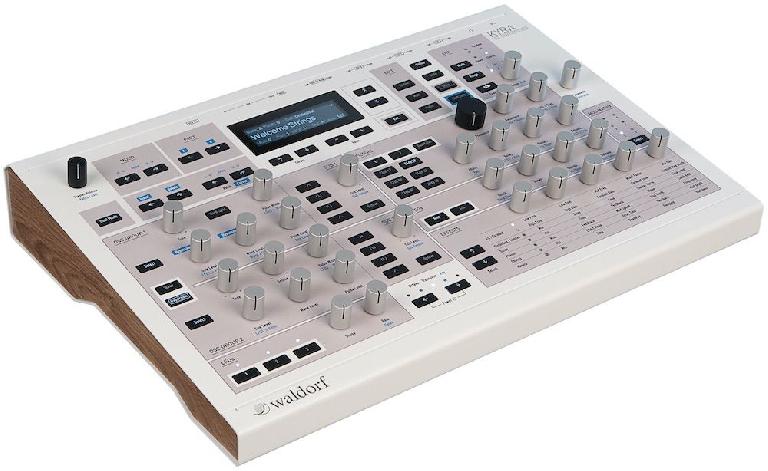 Onwards and upwards, three fast-response ADSR (Attack, Decay, Sustain, Release) envelope generators with EG Slope setting are also at hand. Helpfully, one is assigned to the VCA (Voltage Controlled Amplifier), another to the filter, while the third can be freely assigned. All are available in the MOD MATRIX (modulation matrix), itself being a six-channel affair with up to three destinations per channel giving a maximum of 18 routings. It is also worth noting that the three LFOs (Low Frequency Oscillators) — with 128 wavetable shapes, monophonic, polyphonic, random, anti-phase, and quadrature stereo phase settings — are also available in the MOD MATRIX and additionally as a MIDI clock sync source.
Price
The Kyra VA Synthesizer is available through Waldorf Music's growing global network of distributors at an SRP (Suggested Reseller Price) of €1,843.00 EUR (excluding tax).