LOS ANGELES, Oct. 8, 2014—Pro Audio leader VocoPro announced its new UHF 8900 wireless microphone system for vocalists and performers who are tired of static filled sound that varies by location. The UHF 8900 system is available at major music stores nationwide and online retailers by late Nov. for $1,599.00 MSRP.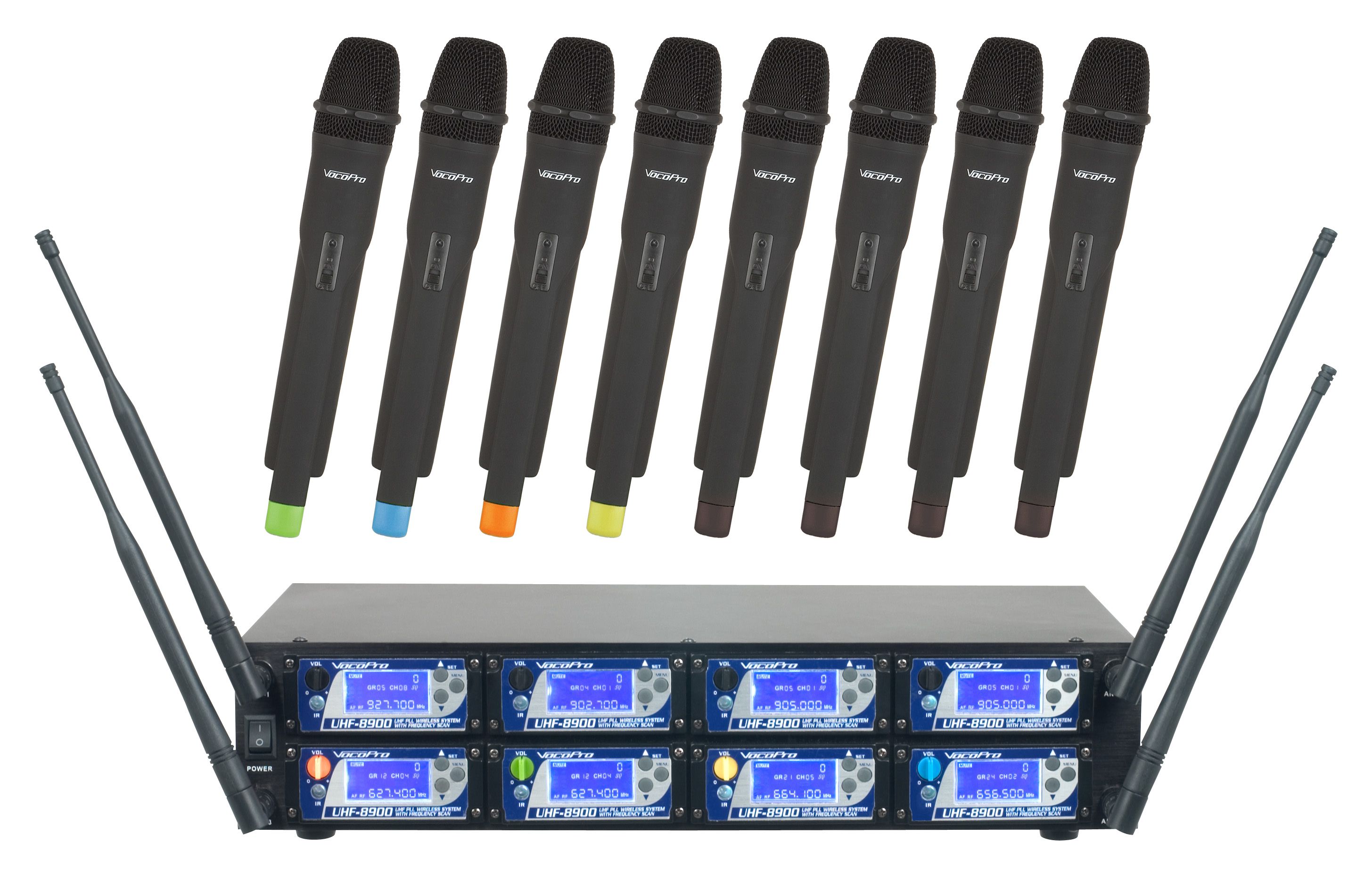 The system includes eight high-quality UHF PLL VocoPro wireless mics, enough for any band, church group or A/V implementation requiring multiple mics. The UHF 8900 has a Frequency Scan feature that examines more than 150 wireless frequencies and selects interference-free channels for maximum quality.
Product Specifications:
8 UHF PLL wireless microphones

Frequency scan feature finds interference-free channels

More than 150 wireless frequencies available

LCD display shows frequency and other info

19" rack mountable chassis, uses just two rack spaces

Independent power knob and volume control per channel

Eight balanced XLR outputs

Two 1⁄4" unbalanced mixed outputs

Includes two 1⁄4" unbalanced microphone cables and metal carrying case.

One year warranty

Production dimensions" 8.125" W x 9.5" H x 4.5" D

Product weight: 3.75 lbs

About VocoPro
VocoPro is a California-based professional audio company that was founded in 1991. For more than two decades, the VocoPro name has been synonymous with professional karaoke systems, and still holds the number one spot for high-end professional karaoke products. Providing the highest level of customer service in the industry, VocoPro understands that it takes more than a great product to keep a customer happy. A few of their many "world's first" designs include an all-in-one entertainment P.A. system, and a dual tray multi-format hard drive player. In addition to their many innovations, VocoPro's multi-channel wireless microphone systems reign as the top-sellers for most major music retailers. For more information about VocoPro, please visit www.vocopro.com.