Traktor is an excellent digital DJ application but the ever-expanding range of both iPad and hardware-based accessories for it demonstrate pretty clearly that a lot of people prefer to get hands-on with their performances. Indeed as Traktor has gained more and more flexibility and features, the mouse has become an increasingly outmoded way to interact with it. NI now makes a number of Traktor controllers ranging from the slimline X1 through to the flagship S8 at a range of price points to suit different users' needs.
The Traktor Kontrol D2 is placed somewhere around the middle of the price spectrum of NI's controllers, though it's at the upper end in terms of technology, thanks in part to being the very newest. If you've read my review of the S8 you will know that it blew me away somewhat with its cutting edge capabilities. The D2 is more or less one of the controller sections of the S8 transplanted into a separate device. It is a controller and doesn't have the audio side that the S8 does, plus the effect section is relocated, but essentially it's most of one side of an S8. Interestingly, NI allows you to link two D2s using the special USB hub on the rear, and there's even a special split power supply. Add your own mixer and you've got a twin controller and audio system.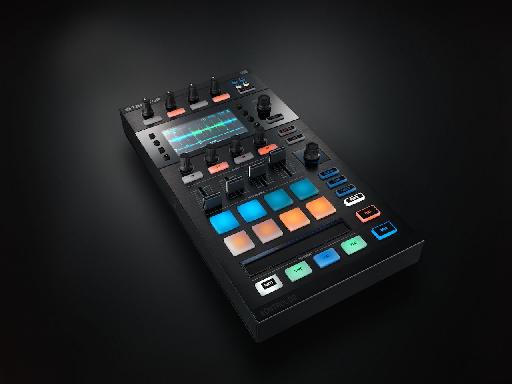 Traktor D2 in all its glory.
Details
Focusing in on the D2 though, let's look at what you get. The unit is lightweight and sturdy, just like all of NI's hardware, and comes with a power supply and a USB cable as well as a copy of Traktor Pro 2. Underneath are four separate feet which can be used to raise it up to a more ergonomic angle, depending on how you're positioned. Raise all four feet to bring the D2 up to the height of NI's audio mixers.
Traktor auto detects the controller when you plug it in, and that's your setup taken care of. At the heart of the D2 is a large, backlit color screen as found on the S8 and Maschine Studio. These are key to achieving the goal of removing focus from your computer and allowing full performance from the hardware. You can get feedback from a proper screen in a way that's just more useful than relying on backlit buttons. It's surprisingly detailed too, with various sections that slide in and out when required and let you view and change all kinds of parameters. The large Browse button is touch sensitive and can be made to open the browser when you brush it, or when you press it down. Tracks can be loaded in any deck with proper tag and artwork views, and you can toggle between decks by pressing the Deck button.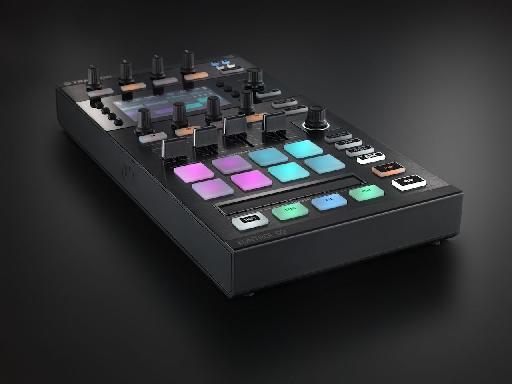 Traktor D2's Touch Strip is useful for scrolling through a track and scratching.
Decisive Control
Skipping down the unit to the bottom, transport controls are available and there's also a button to activate Flux mode, the clever system where you can mess around with loops and scratching and it will always jump back to where the track should be once you are done. There's a touch strip that can be used to scroll around a track in small or large steps, and for scratching as well. There are lights to show what's happening as you do this and it's configurable in Traktor's preferences. Moving up, the Performance section lets you work with hotcues, loops, track freeze and Remix mode, any of which can be activated from the buttons on the right. The eight backlit pads change color and function depending on your mode and the knob to their right can be used to change loop lengths and more.

The Remix features, as on other Traktor hardware units, really open up the platform and make them more of a creative tool rather than simply a way of playing back tracks. Using them with loops and Freeze mode is incredible fun, and there are four sliders for mixing these special decks as well as on/off buttons and touch-sensitive dials. Capture and Edit buttons let you capture loops into Remix decks and then you can mangle and mash them up, plus any other loops you want to bring in, for a really flexible performance. The D2 will work with NI's new Stems audio format too, though this hadn't been released at the time of testing.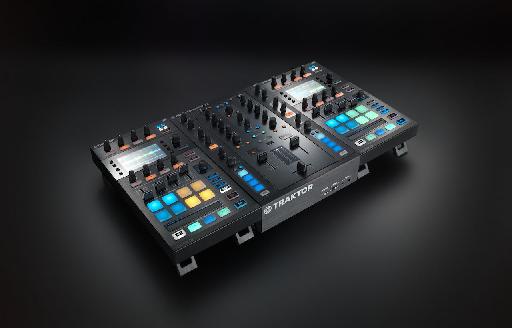 You can link two Traktor D2's together to make them work as one.
Deep Effects
Zooming up to the very top of the front surface you find the effect controls. The FX Select button opens the effect chooser with a nice GUI on the screen, and touching any of the four dials reveals the settings for the current effect. Again this is great because it means you can see what's currently loaded without having to actually alter it to make it appear on screen. The four effect on/off buttons and dials make effect punching and tweaking simple, and there's a deck effect assignment section at the top right hand corner as well. To top it all off, the unit can be switched to MIDI mode and there's the free Controller Editor software so you can make your own maps for any software.
Done and Dusted?
The Traktor Kontrol D2 is an excellent controller unit that pairs perfectly with Traktor. The addition of the touch sensitive controls and the large colour screen make it far more tactile and intuitive, and really help you pay attention to performance rather than the mouse. As noted earlier it's essentially one of the controller sections from the S8, so everything that worked so well there also does so here. It's a single controller of course, so you'll have to flip between decks to tweak them, and add your own audio mixer, though for many DJs this is good news as they may already have a preferred model. You can link two D2s together to make them work as one.
This new road NI seems to be going down with its Traktor controllers is really commendable. I know they take lots of feedback from their customers and it shows in the excellent feature set, clever design and great workflow on show in the D2. Bring your own audio mixer to the party and the D2 will provide all the hands-on creative control of Traktor that you could wish for.
Price: £429 GBP / $499 USD
Pros: Really well designed. Excellent visual feedback. Touch sensitive controls. Live performance made easy. Mashup and remix on the fly. Touch strip is effective and saves space. MIDI mode for use with other software.

Cons: It's a controller so you'll need to add your own audio mixer.